With seasons changing and holidays coming up, many Canadian shoppers have started to purchase new items to fill their wardrobes, homes, and anything else they need. If you want a more accessible and comfortable way to buy what you need, shopping online is definitely the key.
This blog post will provide a curated selection of top US stores that ship to Canada. Whether you're in search of the latest fashion trends, tech gadgets, home decor, or any other desired products, let this be your go-to reference guide for hassle-free cross-border shopping.
What US online stores that ship to Canada?
Are you a Canadian shopper looking to explore the vast world of online shopping in the United States? You're in the right place! Discover the best US online stores that make international shipping to Canada a seamless and accessible experience. Happy shopping!
What are the US clothing stores that Ship to Canada?
While there are thousands of Canadian stores selling goods, it wouldn't hurt to expand your options. Suppose you're a fashion-forward Canadian shopper searching for the season's latest trends and wardrobe essentials. In that case, various US clothing stores extend their offers across the borders, shipping directly to Canada.
Anthropologie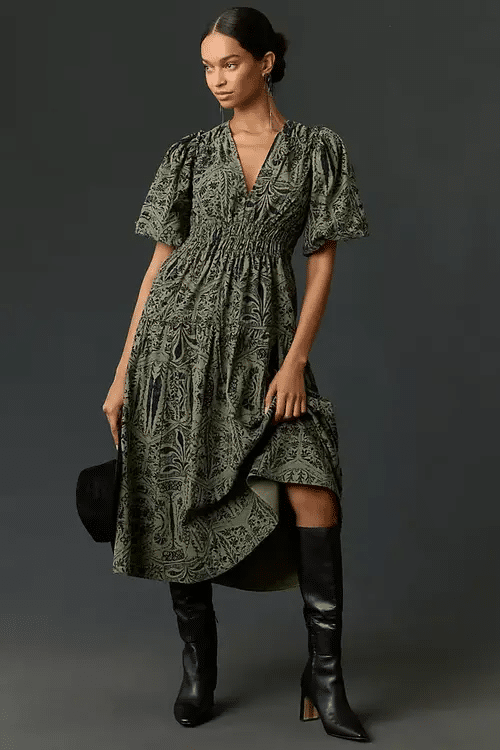 *Photo taken from www.anthropologie.com
Anthropologie, a celebrated women's clothing, accessories, and home décor brand, is owned by URBN, Inc., the same company that owns renowned labels such as Urban Outfitters, Free People, and BHLDN. It was founded in 1992 by Richard Hayne, a co-founder of Urban Outfitters, and has since carved out a unique place in the fashion and lifestyle industries.
They are known for their unique and eclectic style, combining different styles like bohemian influences, vintage finds, and global inspiration. This results in an enchanting, ever-evolving array of clothing and home décor beckoning individuals seeking a curated and artistic fusion of creativity.
Anthropologie is committed to inclusivity and offers a diverse selection of sizes catering to various shoppers, ranging from size 0 to 30. This inclusive size range reflects their dedication to ensuring everyone can embrace and enjoy their styles, regardless of their body shape or size.
Everlane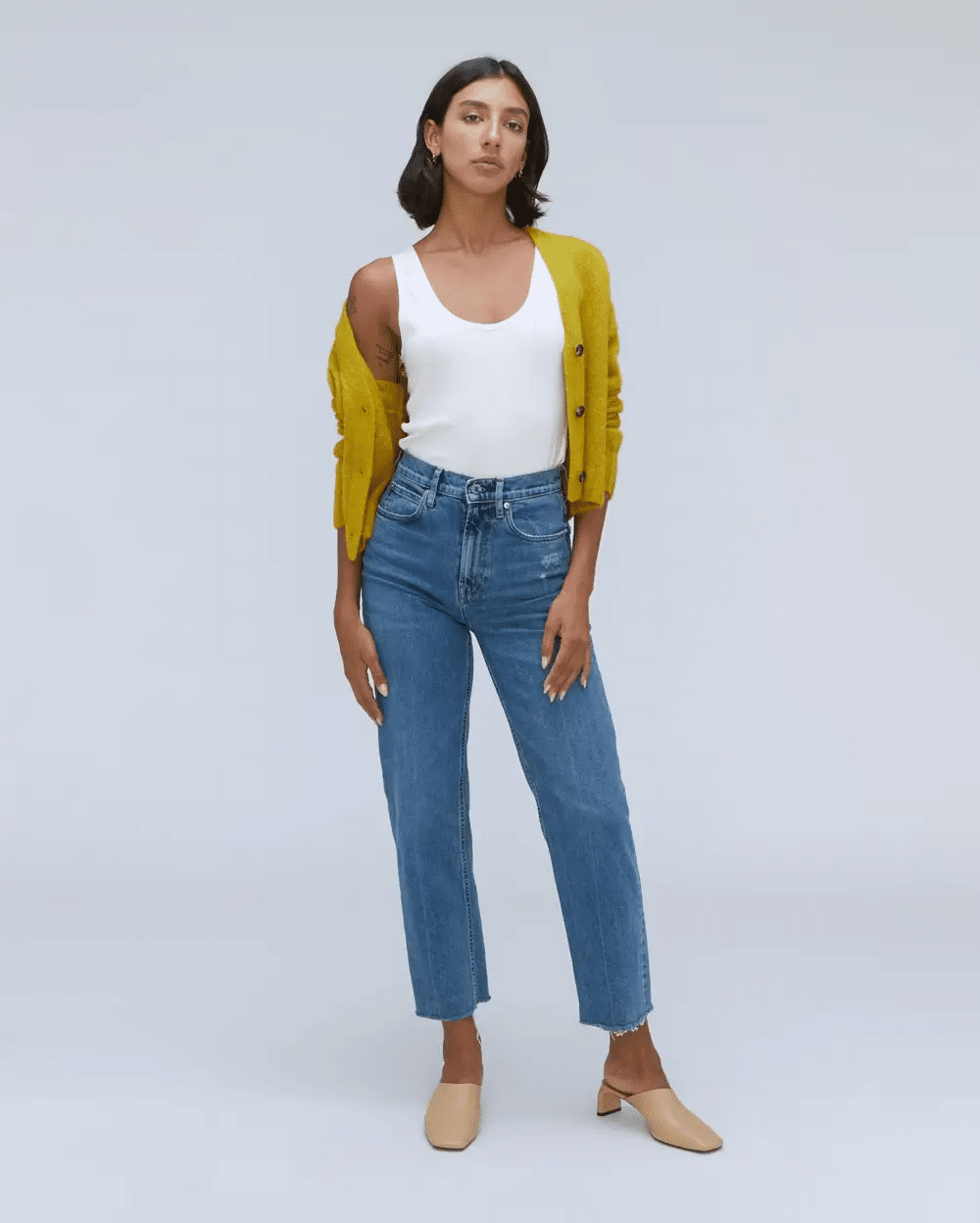 *Photo taken from www.everlane.com
Everlane is a direct-to-consumer clothing company established in 2010 and known for its transparent pricing and commitment to ethical and sustainable practices. Their clothing is made from high-quality materials designed for timeless versatility.
Instead of focusing on what's trending, Everlane aims for customers to enjoy their pieces for years. Because of this, they meticulously look for the finest materials and collaborate with top-tier factories to produce timeless items such as Grade-A cashmere sweaters, Italian shoes, and Peruvian Pima tees.
With a focus on quality, transparency, and sustainability, Everlane has built a significant social media following and has been featured in prestigious publications like Vogue, Harper's Bazaar, and The New York Times.
ModCloth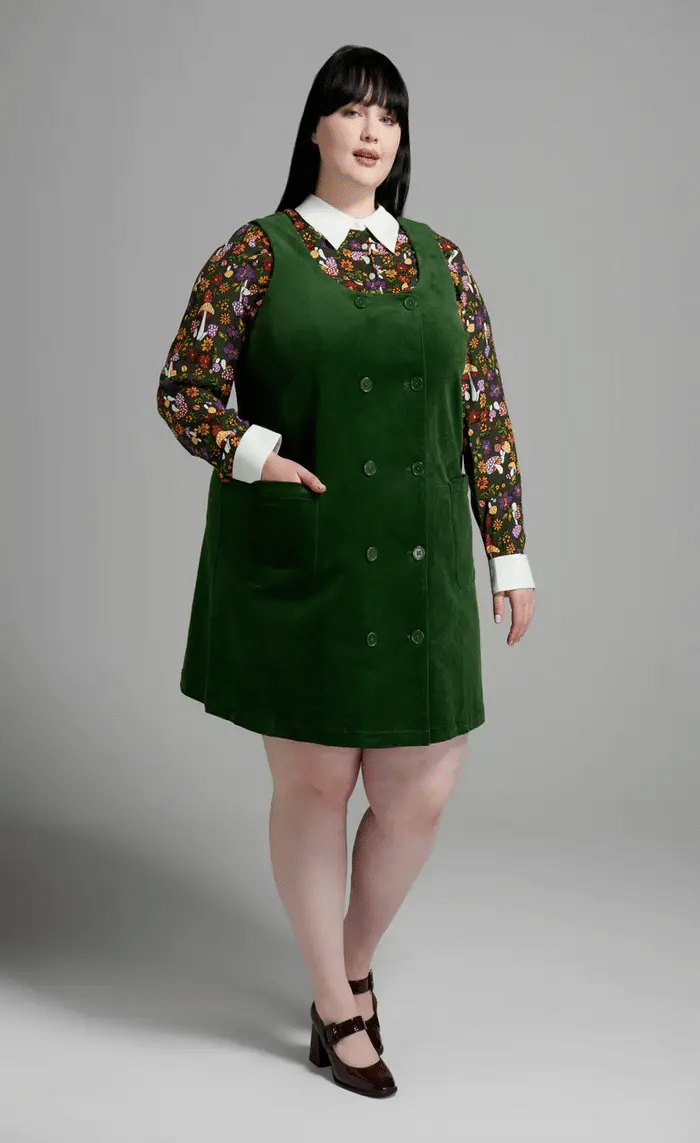 *Photo taken from https://modcloth.com
ModCloth is an established online retailer renowned for its diverse collection of vintage-inspired and indie clothing and accessories designed exclusively for women. It is celebrated for its distinctive and fashion-forward clothing collections, often drawing inspiration from various eras and styles. The company has been serving fashion-conscious shoppers since its inception in 2002 and has gained recognition for its distinctive and assorted fashion offerings.
With a commitment to inclusivity, the company offers an extensive range of sizes, satisfying a wide range of clients from XS to 4X. ModCloth is not only a haven for fashion enthusiasts but also a brand that is equally committed to sustainability while offering reasonable prices. Their commitment to sustainability extends beyond fashion, reflecting their dedication to reducing their ecological footprint.
What are the US shoe stores that ship to Canada?
If you're a shoe enthusiast, you'll be glad that many US shoe stores graciously extend their reach to Canadian customers. Whether you're searching for athletic sneakers, chic boots, or designer heels, these stores have it for you.
Footlocker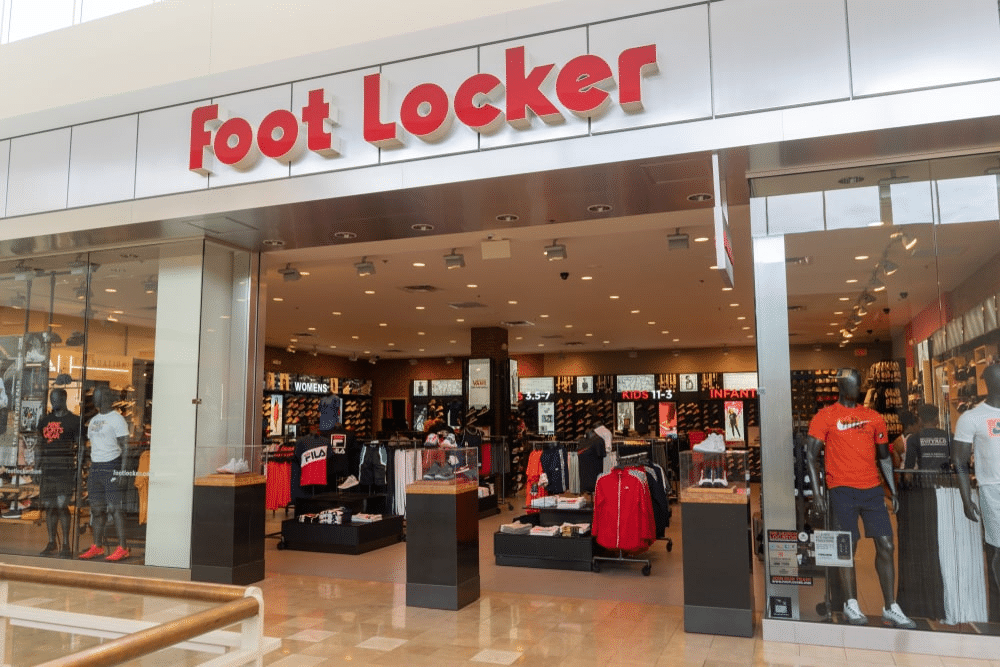 Foot Locker is a global retailer specializing in athletic footwear and apparel since its establishment in 1947. Foot Lockers has its headquarters in the heart of New York City, New York, and operates over 3,000 stores spread across 28 countries.
It is known for its expansive inventory, proudly featuring products from renowned brands like Nike, Adidas, Jordan, and Puma. However, what sets Foot Locker apart is its offering of exclusive items not found in other retail outlets.
Catering to consumers pursuing the latest and finest athletic gear, Foot Locker is celebrated for its competitive pricing and diverse sizes, making it a favoured destination for those seeking top-notch athletic fashion.
Cole Haan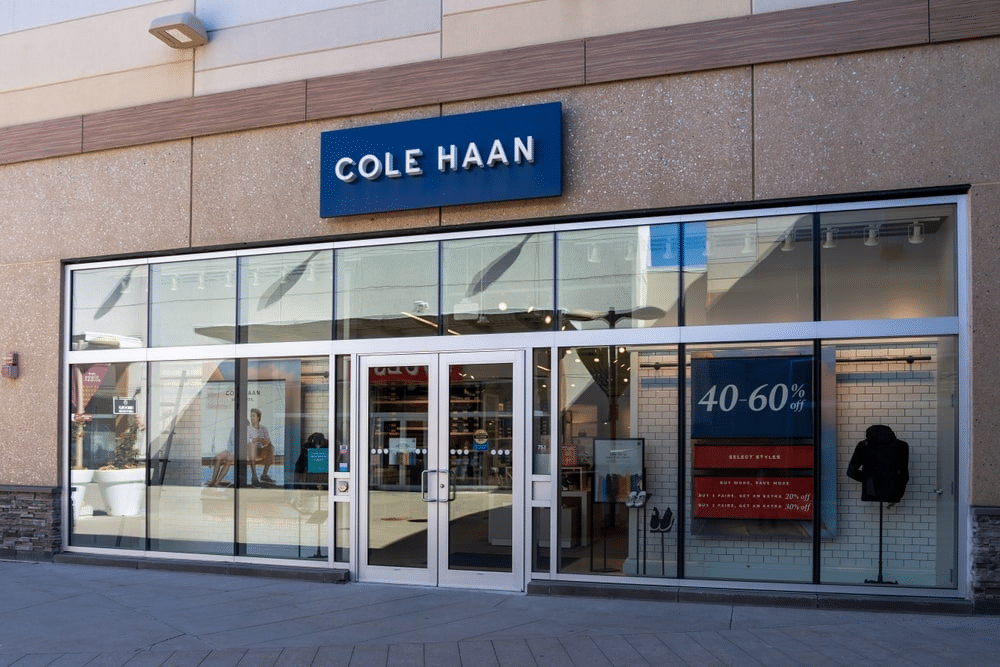 Cole Haan is an American brand famous for its men's and women's footwear and accessories, extending its presence across global markets. The brand's roots trace back to its founding in 1928 in Chicago, Illinois, and maintains headquarters in New York City and Greenland, New Hampshire, United States.
It has earned its reputation for delivering a fusion of style and comfort through its high-quality shoes and accessories. Cole Haan caters to various preferences with a wide selection of dress shoes, casual footwear, boots, and sandals. In addition to footwear, the brand also sells a line of handbags, wallets, and other accessories.
Madewell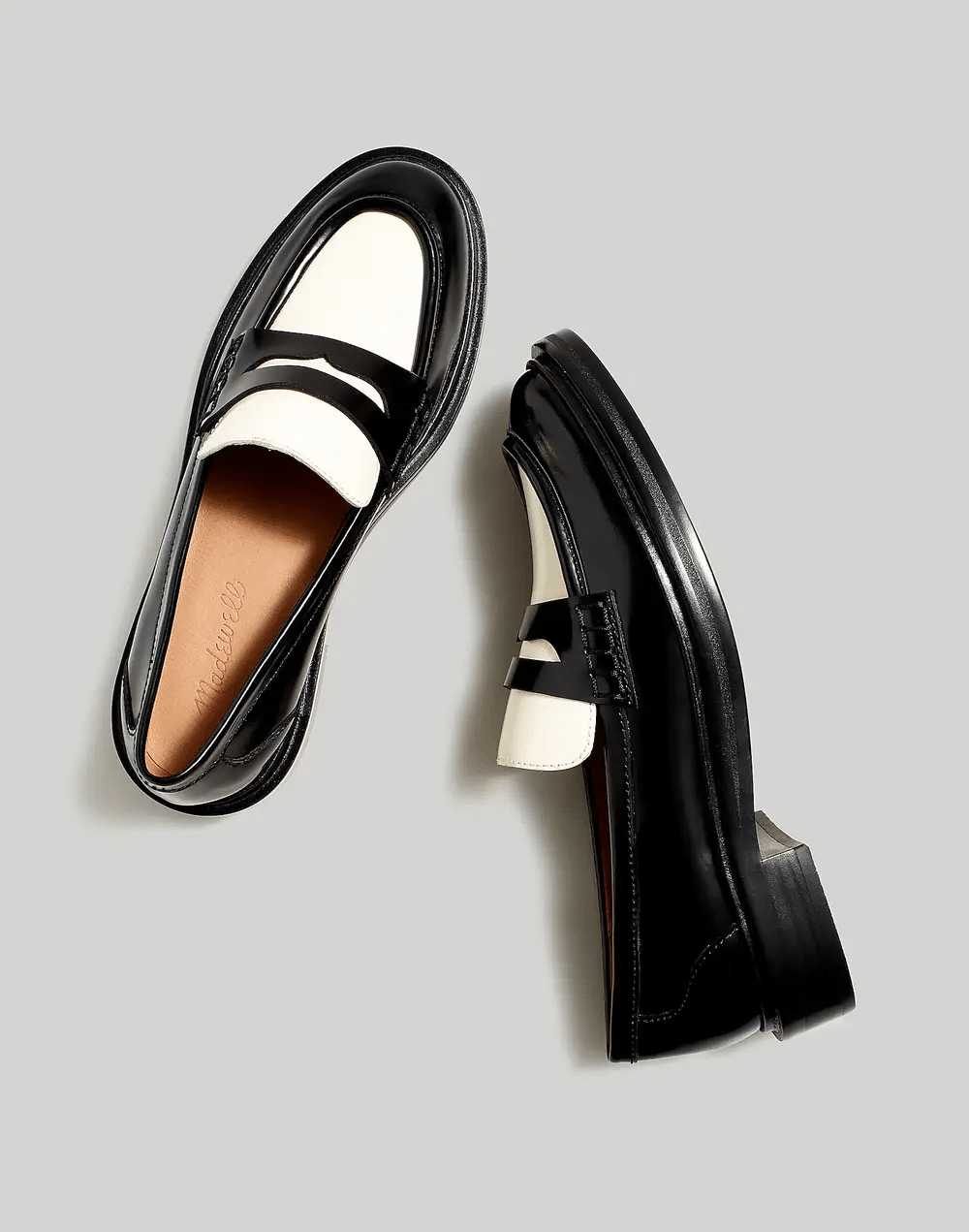 *Photo taken from www.madewell.com
While Madewell is primarily a clothing and accessories brand, it still presents a diverse array of footwear, from sneakers and sandals to boots and flats. This brand is celebrated for its enduring, feminine designs and consistent commitment to using premium materials and craftsmanship.
Madewell's shoes are famous for their comfortable fit and chic aesthetics. The brand's comprehensive size and width options ensure a perfect Madewell shoe for everyone. A sought-after choice for women seeking style, comfort, and quality, Madewell's commitment to sustainability and ethical manufacturing practices further distinguishes it in the world of fashion.
What are the US bookstores that ship to Canada?
Delve into the world of literary exploration as we unveil which bookstores offer you a passport to literary treasures that can be delivered right to your doorstep in Canada.
Powell's Books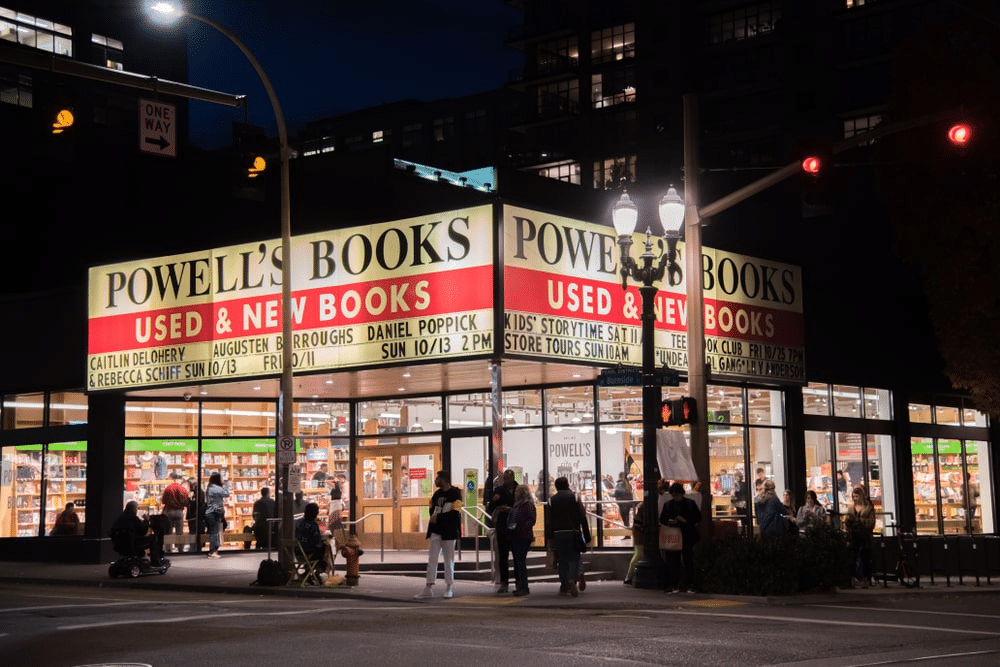 Powell's Books is an independent bookstore located in Portland, Oregon. It is the world's largest independent bookstore, housing an impressive inventory of over one million books. Additionally, it's famous for its extensive and diverse collection, encompassing new and used books, rare finds, and out-of-print gems. Complementing this literary haven is a sizable children's book section and an inviting coffee shop.
Powell's Books is a cherished haven for bookworms, attracting visitors from around the globe. The store is celebrated for its erudite and helpful staff, fostering a warm and welcoming ambiance and exhibiting a dedication to the literary world. In addition, it hosts numerous events every year, such as author readings, book signings, and engaging writing workshops.
Books-A-Million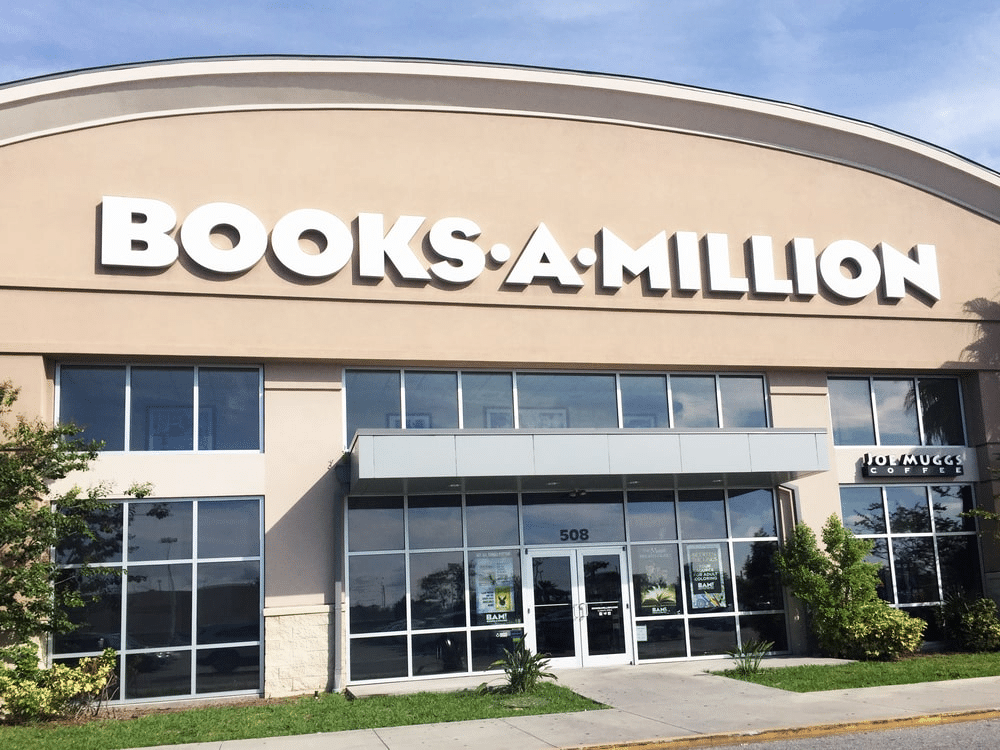 Books-A-Million is an American book retail chain based in Birmingham, Alabama. It is the second-largest book retailer in the United States, trailing Barnes & Noble. With a presence in 33 states, Books-A-Million operates in over 200 stores.
It offers numerous book selections, including new and pre-owned volumes and rare and out-of-print editions. The store also features a wide children's book section and an impressive toys and games assortment. A welcoming coffee shop and cafe add to the inviting bookstore experience. The store also hosts numerous events and activities annually, like engaging story time sessions for children.
Indie Bound
IndieBound is an online platform and a promotional hub for independent bookstores in the United States. This initiative operates under the effort of the American Booksellers Association (ABA), a trade association representing more than 1,700 independent bookstores nationwide.
It empowers customers to explore and purchase books from independent bookstores. Each book transaction through IndieBound is directed to the customer's chosen local bookstore to support small bookshops and their communities.
In addition to connecting readers with indie bookshops, IndieBound provides a wealth of resources to support these establishments, including marketing materials, training programs, and networking opportunities. Thus, if you are looking for new and engaging books while helping local bookstores, IndieBound presents an excellent avenue.
What are the US consumer electronic stores that ship to Canada?
From cutting-edge gadgets to must-have gizmos, let's check with consumer electronic stores that can ship to your Canadian destination.
Best Buy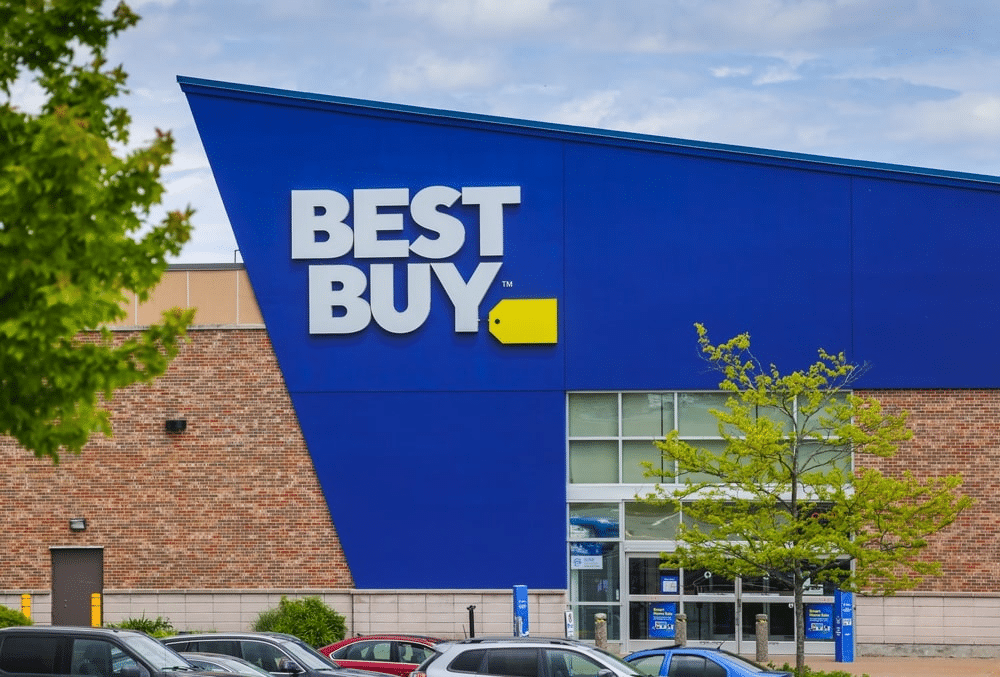 Best Buy is a well-known American multinational retailer specializing in consumer electronics. The brand was established in 1966, and its headquarters is currently located in Richfield, Minnesota. Best Buy stands as the largest consumer electronics retailer in the United States and ranks among the world's largest. Its retail network exceeds 1,000 stores, spanning across the United States and Canada.
It offers numerous consumer electronic products, ranging from televisions and computers to appliances, smartphones, tablets, and video games. Beyond products, the company extends a range of services, including installation, repair, and technical support, to cater to customer needs.
Adorama
Adorama is a privately owned American electronics, photography, and computer equipment retailer. It is headquartered in New York City, with Manhattan and Long Island stores and a warehouse in Edgewater, New Jersey. It boasts a strong online presence and a comprehensive array of electronics, from TVs and computers to cameras and more. It is known for competitive pricing, expert staff, and stellar customer service. It's a go-to for consumers seeking the latest electronics and photography gear, standing out for convenience and diverse services.
B&H Photo Video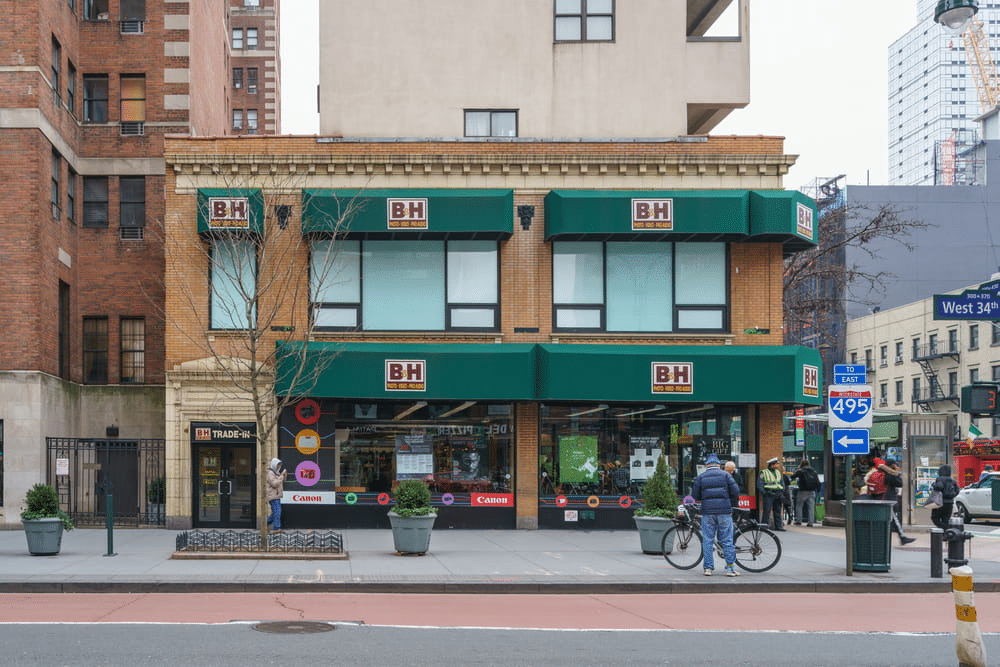 B&H Photo Video is a well-established American retail company specializing in consumer electronics, photography, and computer equipment. Its headquarters is in the vibrant heart of Manhattan, New York City, but its primary operations revolve around online eCommerce for consumers and catering to business-to-business sales. Founded in 1973, it has a quirky twist – the store closes on Fridays and Saturdays in observance of the Jewish Sabbath. This unique tradition stems from the company's Orthodox Jewish ownership.
What are the US cosmetics and body care stores that ship to Canada?
Dive into beauty and self-care; check the top-notch brands, eco-friendly skincare, and luxurious bath essentials.
Sephora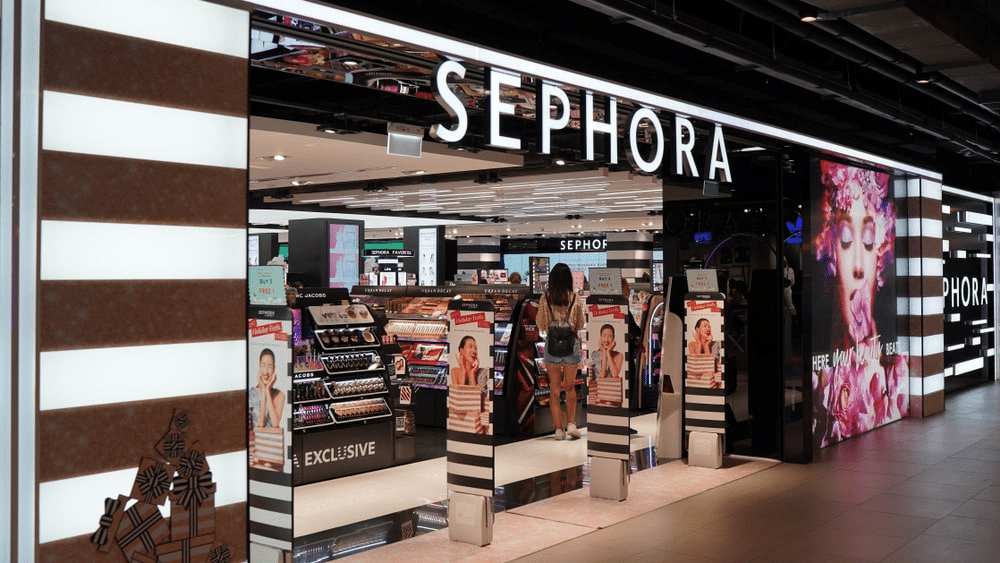 Sephora is a cosmetic wonderland for many beauty enthusiasts. Founded in France in 1970, Sephora is famous for its beauty products and world-class customer service. It entices shoppers with various brands, from classics to emerging stars in the makeup world.
It has a special offer called the "Beauty Insider" loyalty program, boasting millions of members worldwide. It provides perks like birthday gifts and exclusive launches. The Sephora Innovation Lab, nestled in San Francisco, explores tech-driven beauty solutions. What sets Sephora apart is its commitment to inclusivity, offering an extensive range of shades and products for all. It's the ultimate beauty destination, both in-store and online.
Ulta Beauty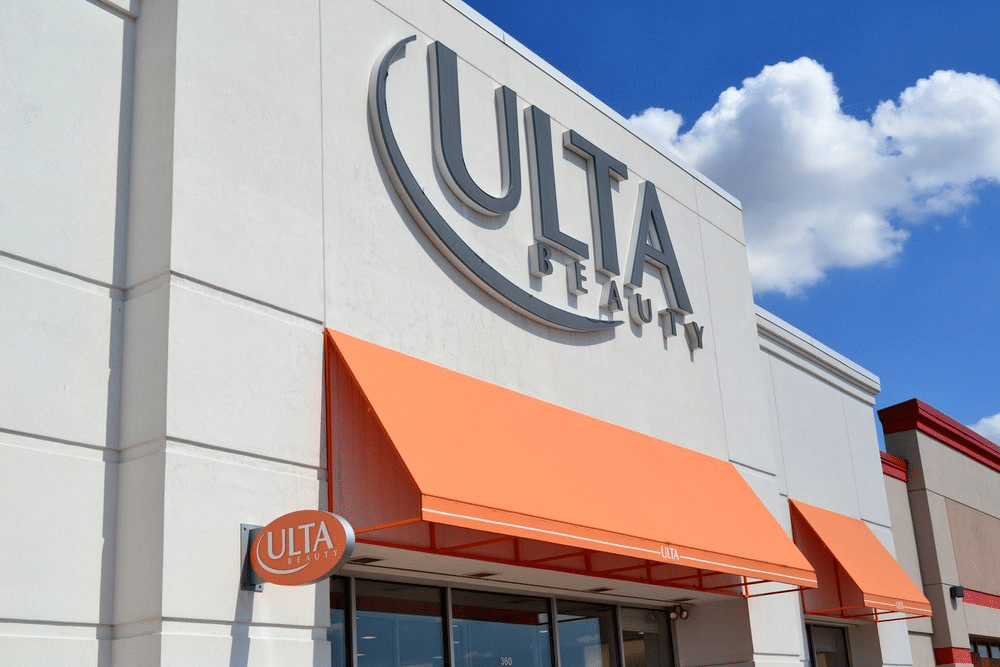 Ulta Beauty is a paradise for many makeup and skincare aficionados. This beauty powerhouse was established in 1990 and has flourished to become a one-stop shop for all things beauty. It offers a blend of high-end and drugstore brands under one roof.
Its "21 Days of Beauty" promotion rewards program offers beauty enthusiasts irresistible deals and exclusive perks. With over 1,200 stores across the United States, it's hard to miss Ulta's pink-and-white branding. They even have salons and in-store services for a complete beauty experience.
Anastasia Beverly Hills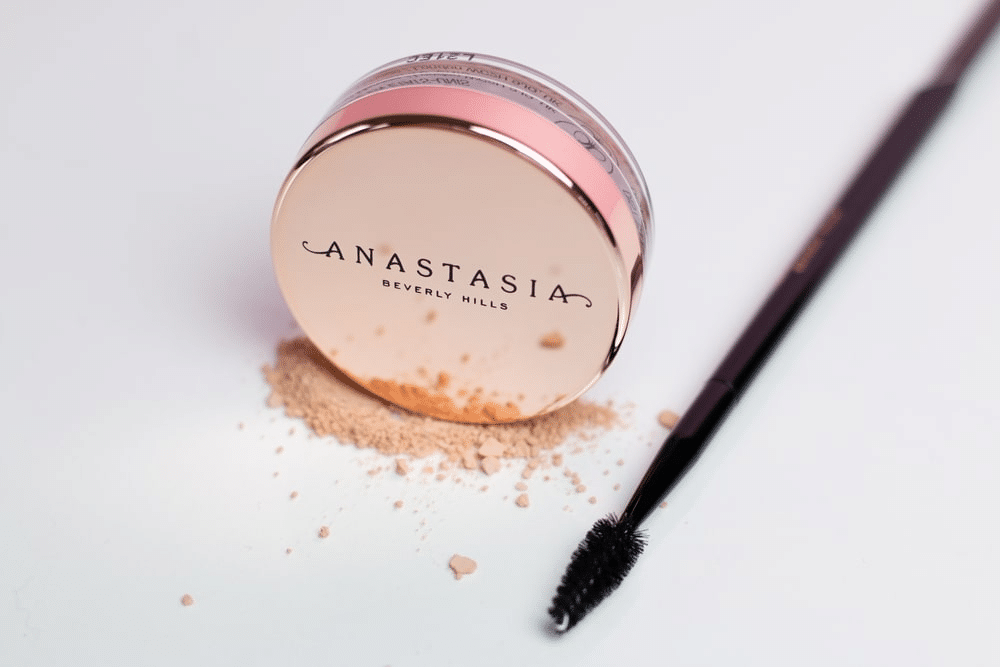 Anastasia Beverly Hills is a cosmetic brand founded by Anastasia Soare in 1997. Iconic for its Brow Wiz and Dipbrow Pomade, the brand has grown to encompass a range of makeup products, from eyeshadow palettes to lipstick, all renowned for their high-quality and pigmented formulations. The brand is famous for its collaborations with beauty influencers and its commitment to cruelty-free cosmetics.
Did you know? Anastasia Soare is known as the "Eyebrow Queen" and is responsible for popularizing the art of perfectly shaped brows. Her clients have included some of Hollywood's biggest stars.
What are the US household goods stores that ship to Canada?
Explore the world of home essentials and décor as we check some US household goods stores extending their reach to Canada.
Wayfair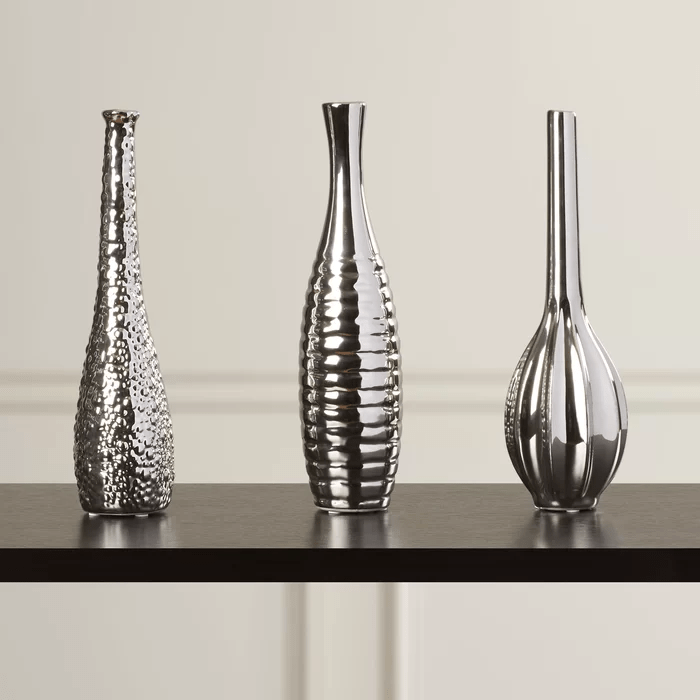 Wayfair is an online furniture giant established in 2022. It offers an extensive array of furniture, decor, and home goods, making it a one-stop destination for interior design. Its name combines "way" and "fair," signifying a fair and smooth shopping journey. With over 14 million items, it's hard not to find something you adore. Wayfair is renowned for its user-friendly website and convenient shopping experience. The annual Way Day sale, an exclusive event for great deals, adds to the excitement.
Bed Bath & Beyond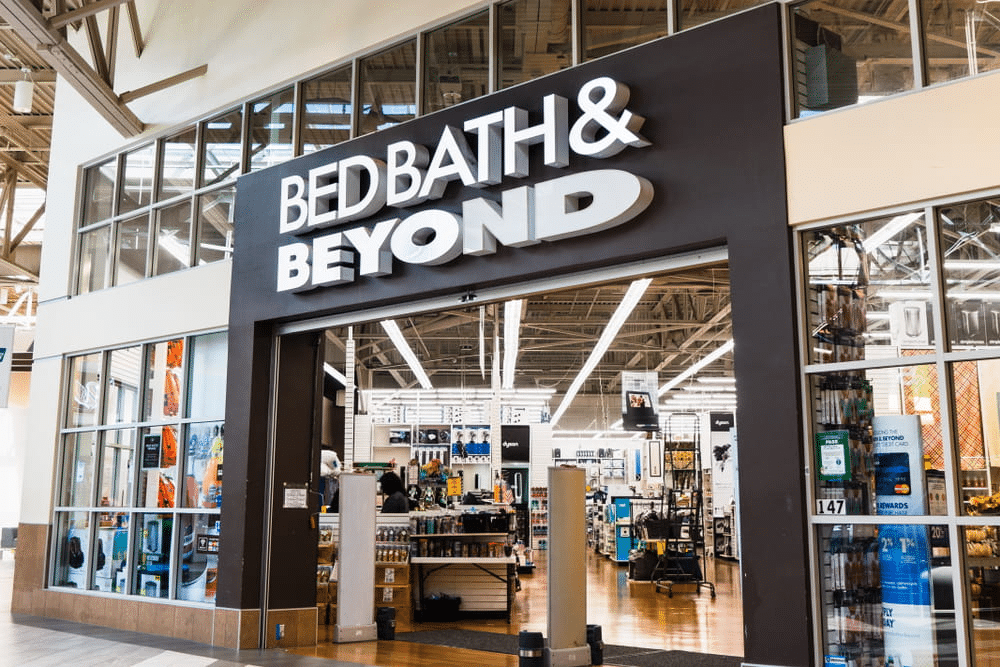 Bed Bath Beyond is an American retail giant that offers a treasure trove of home essentials, décor, and beyond. The store's signature blue and white coupons have become iconic. What is interesting about this company is they accept expired coupons, giving shoppers even more savings. With over 1,500 stores across North America, it's a go-to destination for all things home.
Their popular bridal and gift registries make special occasions even more memorable. Beyond their extensive inventory, Bed Bath & Beyond's personalized customer service and "Beyond+" membership program provide discounts and free shipping.
Lowe's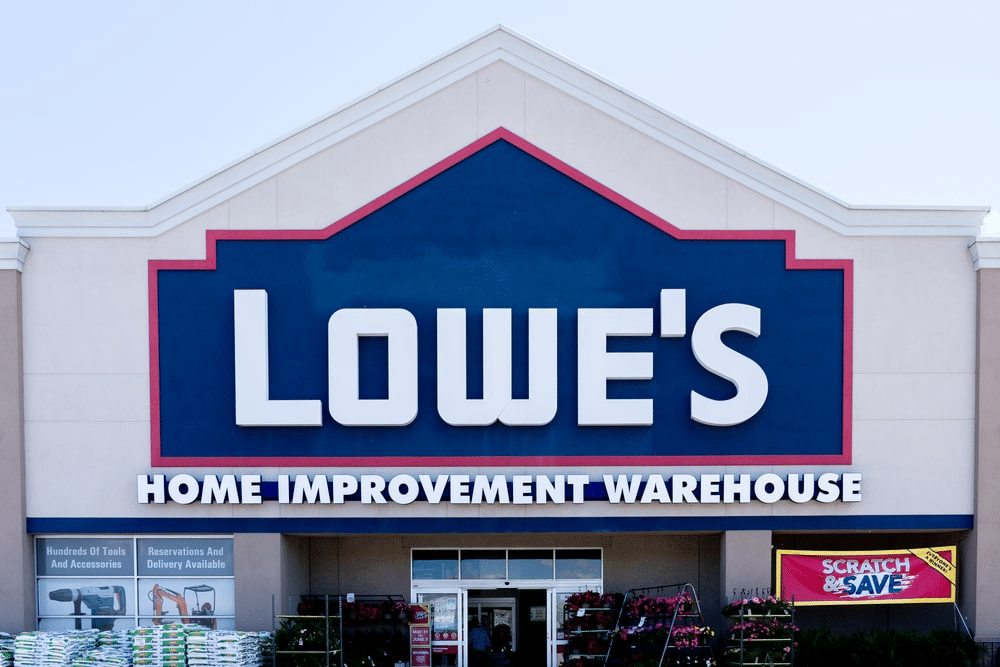 Lowe's is a leading American home improvement retailer founded in 1946. The remarkable history of this brand began as a small hardware store in North Wilkesboro, North Carolina. Now boasting over 2,000 stores in North America, Lowe's offers everything from power tools to paint, making it a go-to destination for DIY enthusiasts and contractors alike. The company's commitment to sustainability is evident through initiatives like recycling centers for old holiday lights. Lowe's even provides how-to workshops.
How to Shop Online from USA to Canada?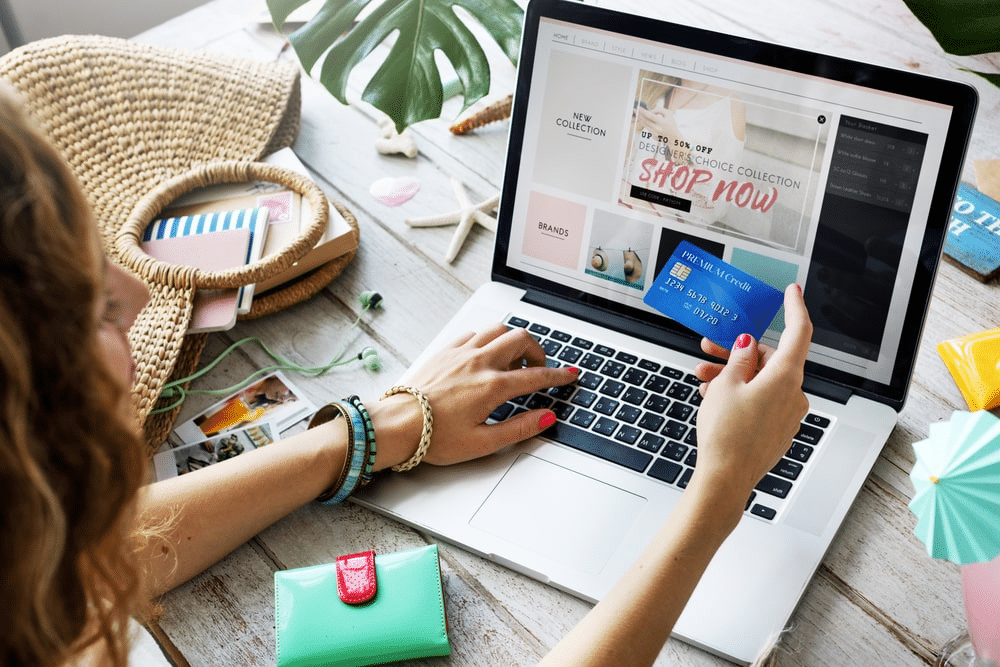 Here are five steps to guide you on how to shop online from the USA to Canada:
1. Research and Select Online Stores
Let us say none of the brands above pique your interest. In that case, you can start by looking for and selecting online stores that offer international shipping to Canada. Many US-based eCommerce sites provide this service, but verifying their shipping fees, policies, and delivery times is essential.
Do they offer express delivery? Are there hidden fees? Are the packages shipped directly to your local address? These are just some questions the US store must address before checking out your international orders.
2. Check Shipping Costs and Import Fees
Before purchasing, carefully review the shipping fees, potential import duties, taxes, and customs fees. These additional expenses can significantly impact the overall cost of your order.
3. Create An Account and Set Up a Shipping Address
Most, if not all, online stores require their customers to create an account with them before they can purchase anything. Thus, if you need to have one, do so and set up your delivery address in Canada as your delivery location. Ensure all details are accurate to prevent any delivery issues.
It's crucial to double-check address details to avoid complications during shipment. Entering the wrong delivery address can lead to misdirected packages or delivery failures. In such cases, the recipient is often responsible for correcting the error, resulting in delays, additional shipping costs, or even shipment loss.
4. Add Items To Your Cart and Checkout
Once you've decided which products to buy, select the items, add them to your online shopping cart, and proceed to checkout. Double-check your order, payment details, and shipping address during this process. Some websites might offer shipping options or even the ability to calculate import fees before completing the purchase.
It's important to note that you need to be certain of the items you buy. Being 100% sure when purchasing items online is necessary to avoid costly mistakes. It ensures that you receive the right products, prevents potential fraud, and minimizes the risk of returns or exchanges. Careful consideration of product details, seller reputation, and payment security guarantees a positive online shopping experience.
5. Track Your Order and Be Patient
After your order is placed, you'll typically receive a tracking number. Keep an eye on the shipping progress and estimated shipping time. Be patient, as international shipments might take longer, especially during peak seasons or due to customs processing.
Tracking the packages shipped provides real-time information, allowing you to plan and ensure someone is available to receive it. It also offers peace of mind and the ability to address any delivery issues promptly.
How Much Are The Shipping Costs?
Below are the estimated shipping rates from the United States to Canada for a package weighing 2.26 kg.
| Shipping Carrier | Shipping Service | Estimated Shipping Cost (CAD) |
| --- | --- | --- |
| USPS | First-Class Package International Service | $20-$40 |
| USPS | Priority Mail International Service | $40-$65 |
| USPS | Priority Mail Express International | $80-$130 |
| UPS | Worldwide Expedited | $80-$130 |
| UPS | Worldwide Express | $130-$260 |
| FedEx | International Economy | $80-$130 |
| FedEx | International Priority | $130-$260 |
Please note that these shipping rates are only estimates and are subject to variations based on the shipping method, carrier, and other factors, so it's advisable to confirm the most accurate rates with the chosen shipping provider. You can also visit their website and use their shipping calculator to get the prices.
Shop From Any US Brand With Shippsy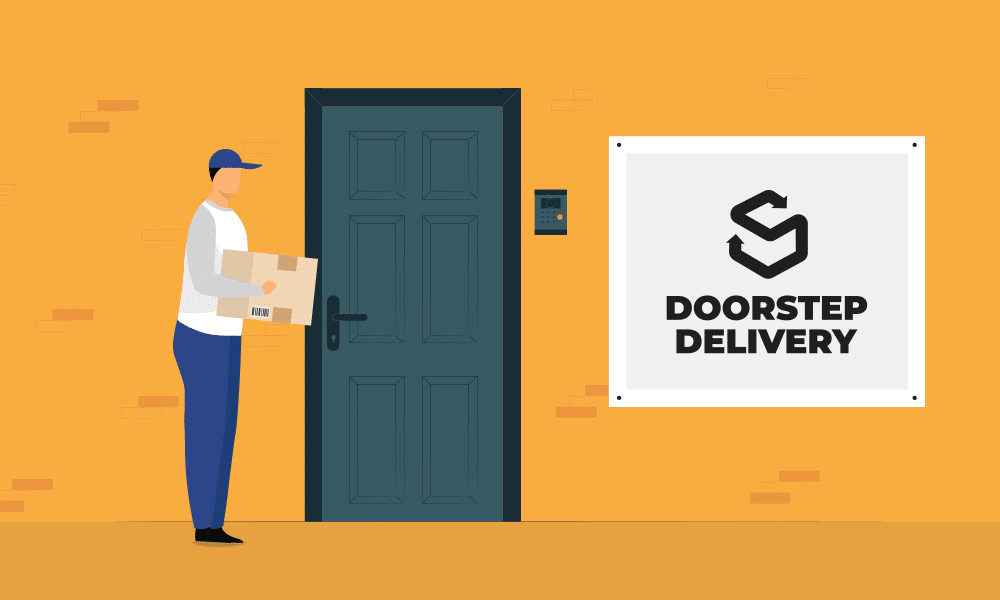 Shippsy is Canada's leading package forwarding company, offering budget-friendly and practical cross-border shipping from the US to Canada. By providing customers with a free US address, they can purchase from US stores that may not typically offer shipping to Canada.
When Shippsy receives your package at their US warehouse, they efficiently forward it to their Canadian branch, ensuring a seamless cross-border shipping process. This streamlined procedure simplifies international shipping, making it accessible and reliable for Canadian customers.
Shipping Services
With Shippsy, shopping from your favourite US retailers is simple. When checking out, use your unique Shippsy US address (don't forget to copy it as is, especially the unit number)t. Shippsy makes it possible to buy from Amazon US, Target, Disney, and other stores that may not ship to Canada or have expensive international shipping fees.
Shippsy also handles all paperwork and transportation from its US facility to a branch location for your convenience. However, remember your order pickup sheet when claiming your package from the designated Shippsy branch.
If you don't have time to get your parcels in the Shippsy branch, you can request to have them mailed out for doorstep delivery. Once the shipment reaches our warehouse in Canada, our expert team will promptly attach the appropriate label. Shippsy then transfers it to the designated carrier, Canada Post, for the final mile delivery, bringing your package straight to your home address.
Shipping Fees
Shippsy provides customers with access to competitive shipping rates, and the savings can be further maximized by consolidating multiple packages into a single shipment. This option offers cost-effective shipping and the convenience of receiving all your orders in one consolidated delivery, making your cross-border shopping experience even more economical and efficient.
| Location | Delivery Time* | Shipping Fee**  |
| --- | --- | --- |
| Ontario*** | 2-3 business days | CAD 6.99 + applicable taxes and duties |
| British Columbia | 4-7 business days | CAD 7.99 + applicable taxes and duties |
| Québec | 4-7 business days | CAD 7.99 + applicable taxes and duties |
*Please note that delivery times are subject to various factors, including carrier schedules, customs processing, and potential unforeseen delays.
**The shipping fees provided are based on packages weighing up to 4.5 kg (10 lbs). Packages exceeding this weight limit will incur CAD 0.45/lb up to 100 lbs.
*** Receive a 25% discount when you request three or more shipments on the same day.
Does Shippsy offer mail forwarding services?
Unfortunately, Shippsy is not a mail forwarding service company and does not offer any mail forwarding services. While we cannot say which are the best mail forwarding companies nationwide, you might want to check some couriers like UPS, FedEx, and Canada Post.
Benefits of using Shippsy
Enjoy significant benefits when you choose Shippsy as your gateway to US online stores that ship to Canada.
Avail deals exclusively offered to customers with US addresses
Although many stores ship to Canada, most deals and discounts are exclusive to customers with US addresses. Of course, we understand you don't want to miss this opportunity to save money. Thus, using Shippsy's package forwarding service allows you to take advantage of the perks US customers also enjoy.
Get Access to US-Only Stores
While thousands of US stores still do not ship internationally, Shippsy provides the shipping option to deliver the items from the US to Canada. You don't have to wonder whether or not these US stores offer international shipping.
Reliable Customer Support
Shippsy has built a reputation for its dependable customer assistance. They provide an array of communication channels, such as live chat, email, and phone support, ensuring customers can easily reach out. The dedicated customer support team is accessible and always available, ready to assist with any inquiries or concerns.
Key Takeaway
Shippsy's 2023 Guide To US Stores That Ship To Canada is your passport to cross-border shopping. Discover a curated selection of American retailers that offer international shipping to Canadian customers, making it convenient to access a wide range of products, from fashion and electronics to home decor and cosmetics, without leaving Canada.
Have you ever wondered just how many Canadians shop from US-based stores? If you do, you're in luck because we've got the scoop on this cross-border shopping spree. This article contains some eye-opening stats on Canadian shopper's penchant for exploring what our American neighbours have to offer.
How Many Canadians Do Shopping In US Stores?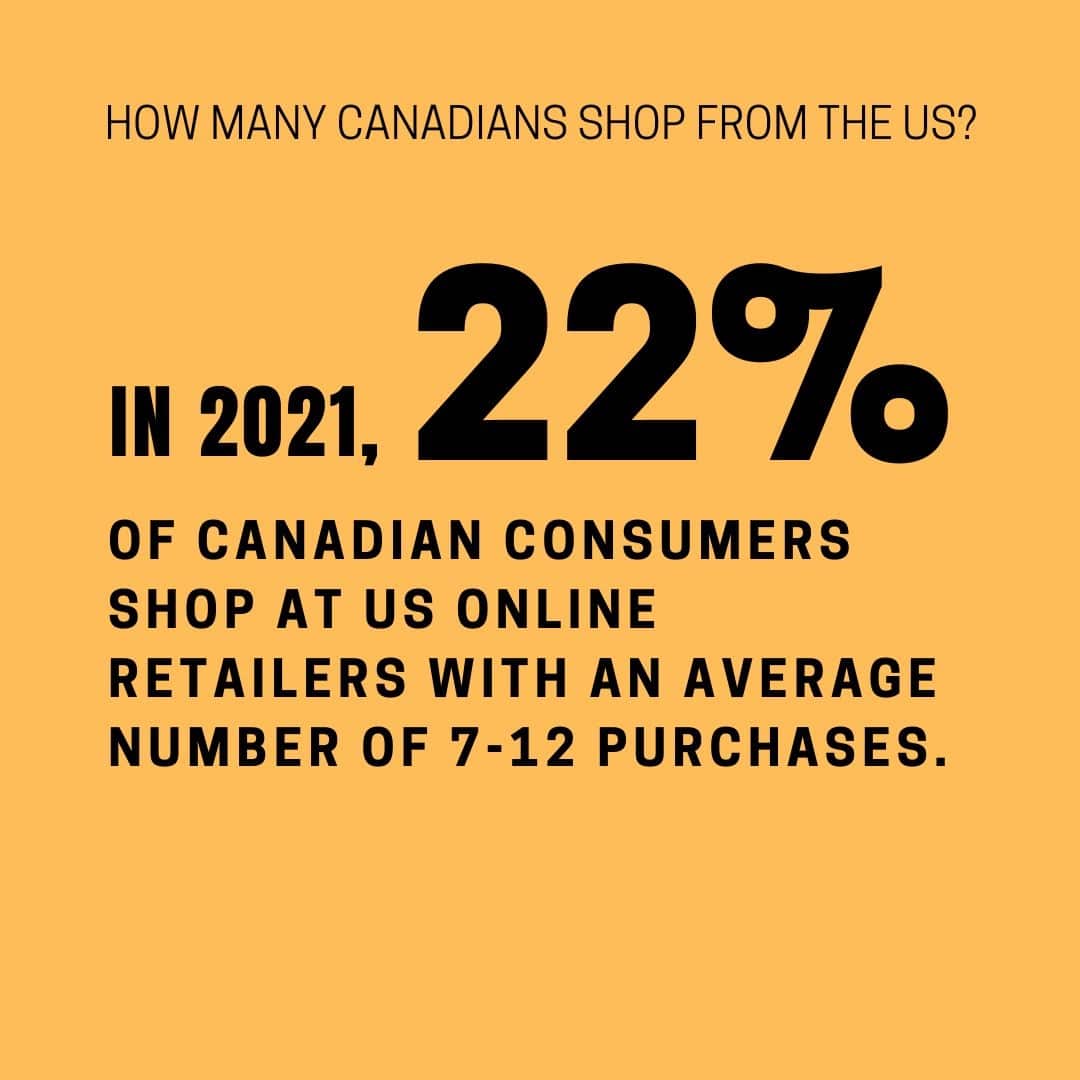 Based on a study conducted in April 2021, approximately 20 percent of Canadian consumers frequently purchase from US-based retailers with an average number of 7-12 purchases. Moreover, recent statistics showed that Canadian shoppers frequently shop online at Amazon USA, followed by eBay and Walmart.
(Source: Statista, ReviewMoose)
Why Do Canadians Think Shopping In The USA Is Better?
While there are lots of Canadian online retailers, many of us still can't resist shopping from the US. But, why is that so? Here's why:
Internet Trend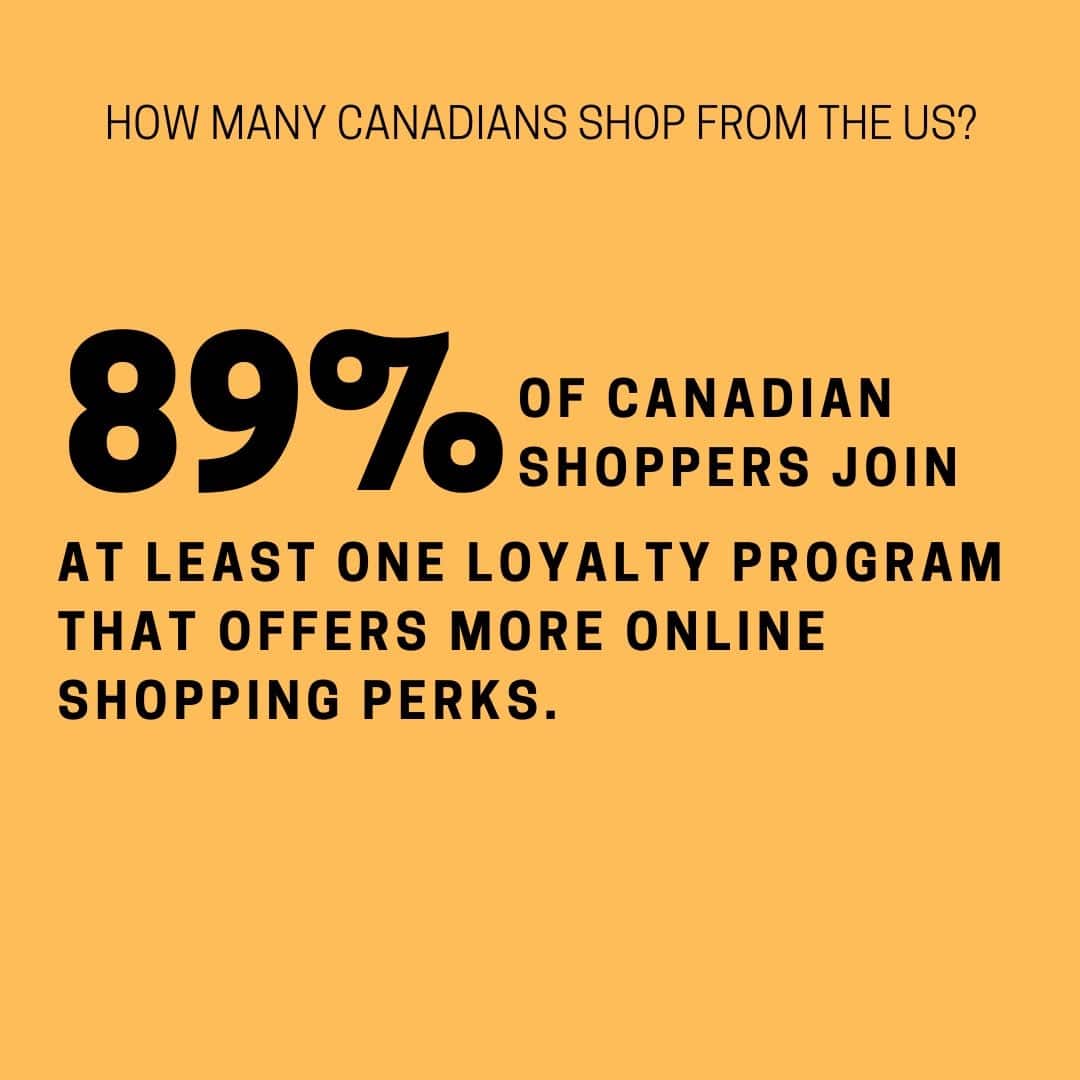 Internet trends play a big part in Canadian consumers' attraction to shopping in the USA. The boom of social media platforms and online shopping made it easy for Canadians to browse a vast world of products and deals across the border.
With the convenience of mobile shopping sites and apps, online coupons, virtual shopping carts, and global shipping options, the internet has made crossing the border more enticing than ever for Canadians seeking variety, value, and convenience. In fact, according to Canadian online shopping statistics, 89% of Canadian shoppers adhere to at least one loyalty program that offers more online shopping perks, making them feel special while shopping.
Shopping sites of retail giants like Amazon, Target, and other major brands from the US became accessible for most Canadians to score everything from gadgets to apparel in just a few clicks. Plus, digital platforms like Instagram, Tiktok, and Pinterest constantly feature American trends, influencing Canadians to explore US brands.
Better Pricing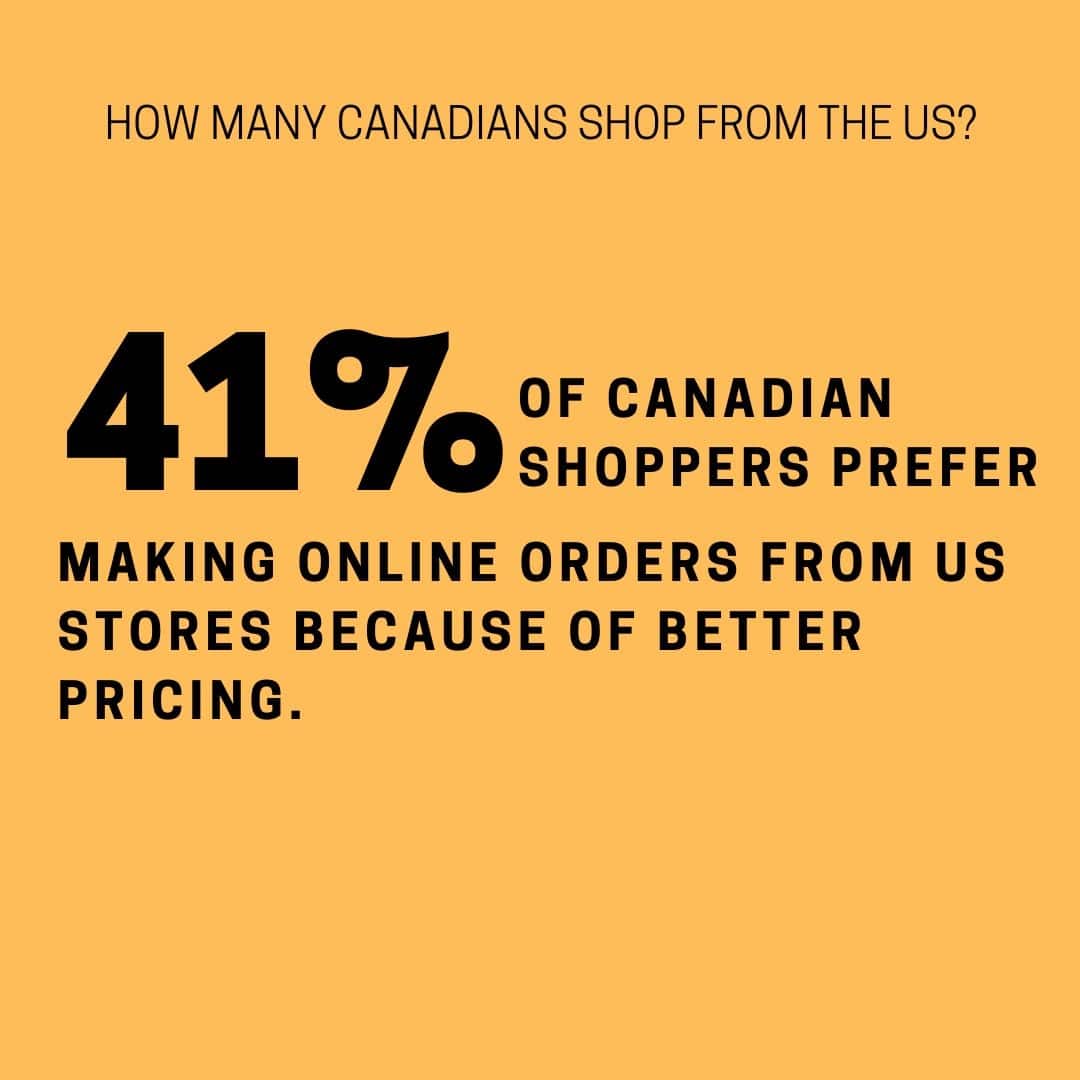 A recent study shows that 41% of Canadian shoppers prefer making online orders from US stores because of better pricing. Most of the time, US goods come with lower prices due to factors like lower taxes and a larger ecommerce market.
Canadians who do cross border shopping get more for their money. It's like a shopping utopia where you can save money on regular items such as electronics, clothing, and even big-ticket purchases. This affordability aspect is a major driving element behind the idea that purchasing in the United States is a wise financial decision for Canadian consumers.
Better Quality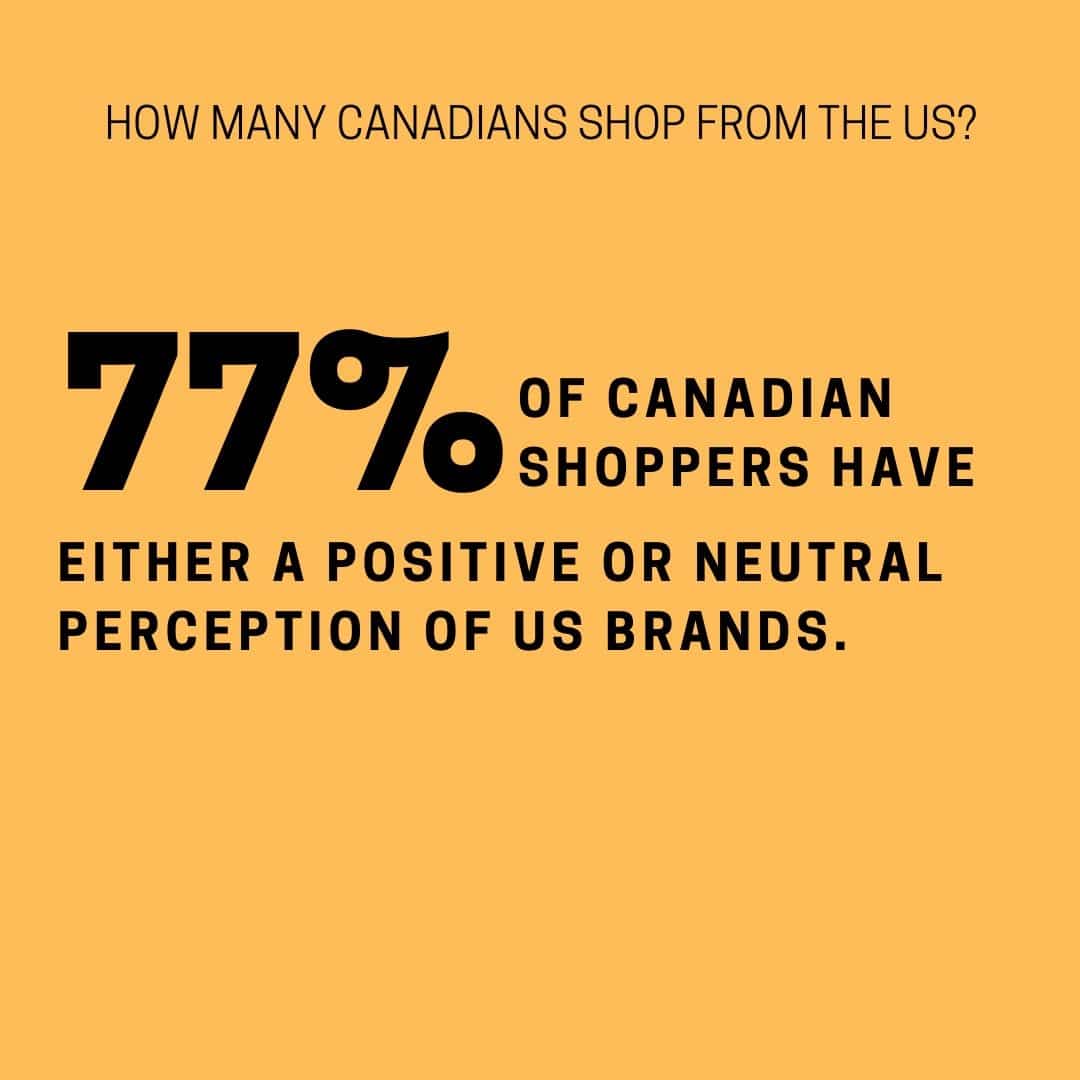 Most Canadians prefer US brands because of their commitment to providing high-quality products and exceptional services. For years, many Canadians considered American-made goods to be durable and reliable.
Moreover, the availability of popular brands and better selection of products are seen as factors in terms of quality and innovation, therefore boosting the Canadian perception of cross-border shopping.
As a result, Canadians are seen to continue shopping in the US online stores, confident that they are investing in products that will stand the test of time, making it a preferred choice for those seeking top-notch quality. This data is proved by a survey conducted in 2020 which showcases that 77% of Canadian consumers have either a positive or neutral perception of US brands.
(Source: pitney bowes, MEI)
Things To Know About Online Canadian Shopping
Learn more about how the Canadian online shopping trend from these recent studies' statistics:
Canada Significantly Contributes To The Online Shopping Statistics
Over 29 million Canadians shop online and, by 2025, Canada's online sales is projected to reach $90 billion. Furthermore, Canadians make major contributions to the global eCommerce industry, which is expected to earn 6.3 trillion dollars for 2023.
Furthermore, the growth of eCommerce can be pinned not only to convenience, but also to lower prices on some retailer websites, particularly during peak buying seasons. In fact, 80% of Canadians make online purchases during Black Friday, Cyber Monday and Boxing Day.
Canadian Online Shoppers Of All Ages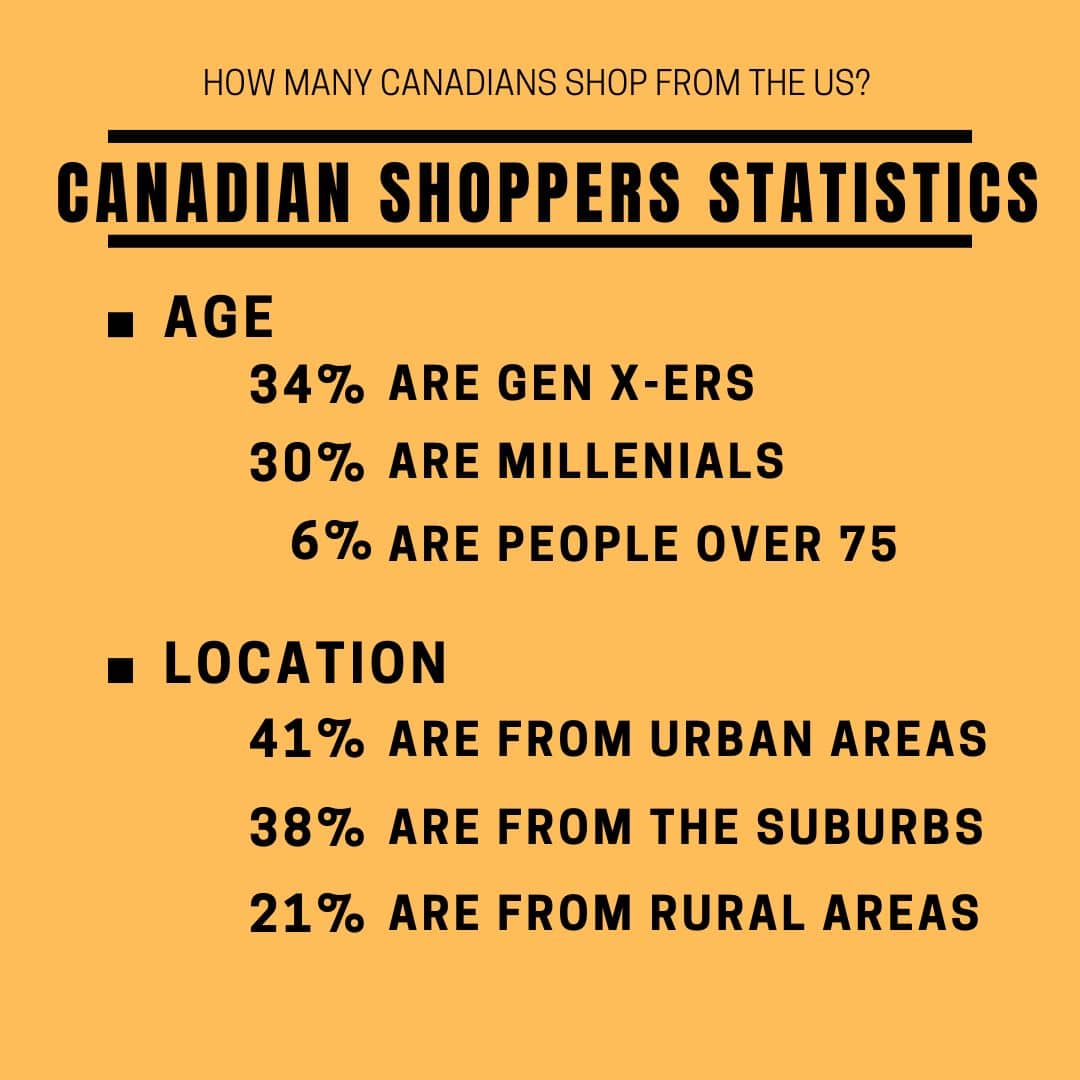 Online shoppers from Canada span all ages from 18 to 74. Currently, 34% of Canadian eCommerce buyers are Gen X-ers, 30% are millennials, and 6% are people over the age of 75. In terms of location, 41% of online shoppers come from urban areas, 38% from the suburbs, and 21% were from rural communities.
While these numbers look promising, it is important to understand that the demographics may evolve.
Canada's Top Online Purchases Are Clothing And Gadgets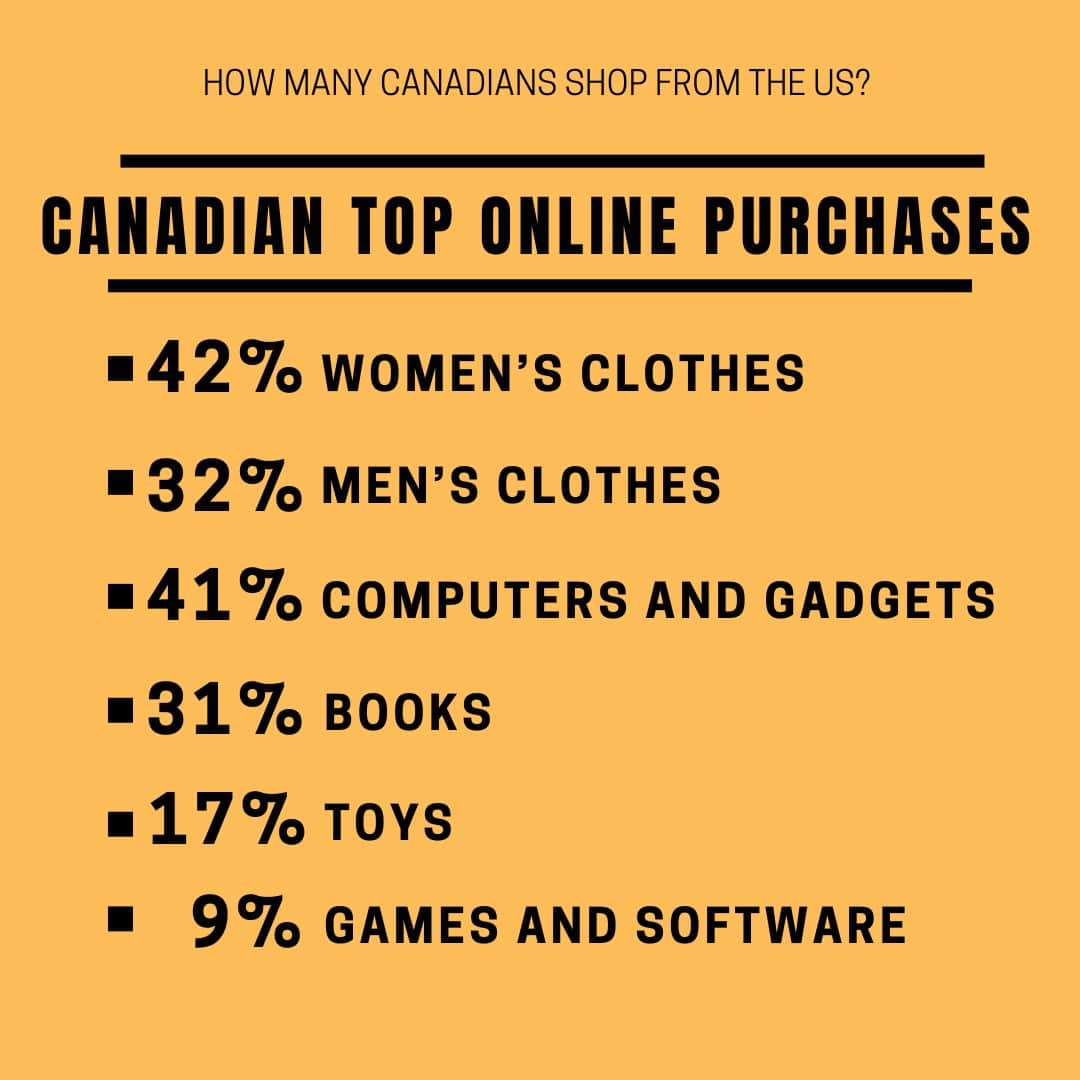 The online shopping trend in Canada shows not only the fashion-forward and tech-savvy nature of Canadian online shoppers but also the variety offered by the eCommerce industry of the USA.
Approximately 62% of Canadian consumers buy clothing online, with 42% buying women's and 32% men's. Computers and gadgets account for 41%, followed by books (31%), toys (17%), and games and software (9%).
(Source: comwave)
Future Trends For Shopping Online
Social Media Marketing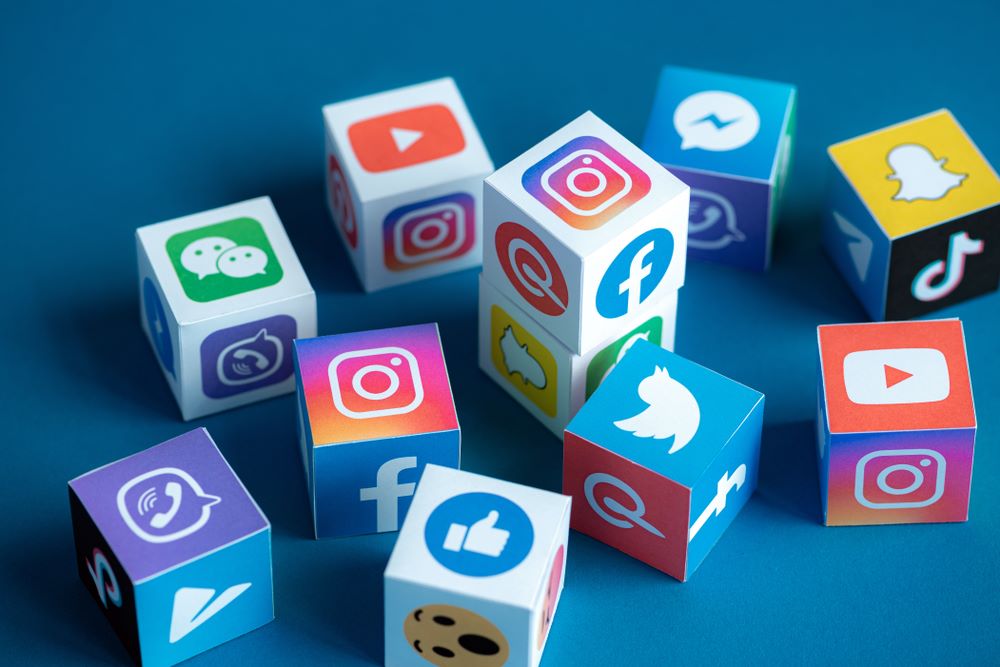 Social media has evolved into a powerful tool for discovering and purchasing items. When you think about it, it's now like having a virtual shopping mall at your fingertips! Different brands and retailers now use platforms like Instagram, Facebook, and TikTok to feature their items, run exclusive promotions, and even allow you to shop without ever leaving the app.
Additionally, with the rise of influencer marketing and shoppable posts, Social Media Marketing is positioned to be a game changer in the future. Through it, different US brands - from the most popular ones to the newly launched companies- can now provide Canadian shoppers with a new and interactive method to discover, explore, and shop for their favourite things.
Virtual Reality And Augmented Reality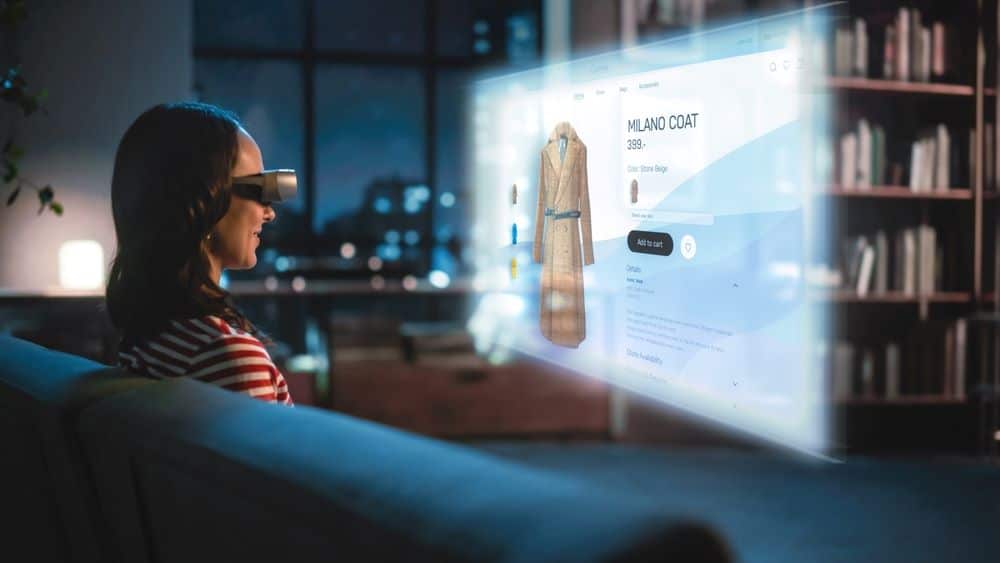 Virtual Reality (VR) and Augmented Reality (AR) are completely transforming the future of online shopping. Soon, you may not only be able to explore products on your screen, but also enter a virtual store!
You'll be able to walk through aisles, pick up things, and see how they fit from the comfort of your own home using VR. AR, on the other hand, will blend digital data onto your real-world perspective, allowing you to virtually try on garments or see how that new piece of furniture would fit in your area before you hit the 'purchase' button.
These interactive technologies are poised to be the next big thing, making online buying feel as authentic and engaging as a shopping trip in person. So, Canadian shoppers, stay tuned; the future of shopping from the US is looking really fascinating and interactive!
Ethical And Sustainable Shopping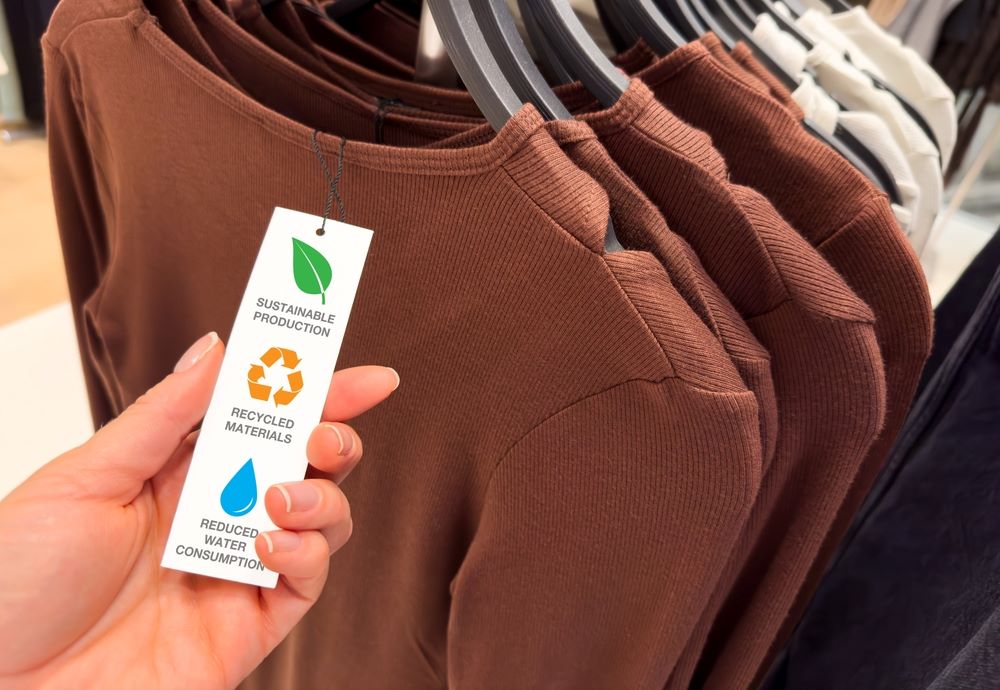 Imagine this: you're browsing your favourite online retailer when you come across a product labelled "ethically sourced" or "sustainably made," which suggests it was made with consideration for workers, the environment, and your own well-being. Lovely, right?
More and more US retailers are getting on board with ethical and ecological practices, offering products that are safer for the environment and the people who manufacture them. So, if you're interested in making a good influence with your buying habits, keep an eye out for these labels, since they're more than a trend; they're the future of guilt-free and environmentally friendly shopping!
Optimized Options For Online Payments'
You know how entering the payment details seem like a marathon at times? That is about to change! Online stores, particularly those in the US, are working hard to make every Canadian shopper's life easier. They are developing new and smarter methods for quicker and more secure payment transactions.
Think about one-click checkouts, seamless mobile payments, and even innovative payment options you've never heard of. It's all about making the buying experience as easy as possible. Believe us when we say that it's the future of stress-free internet purchasing in just one click!
Conclusion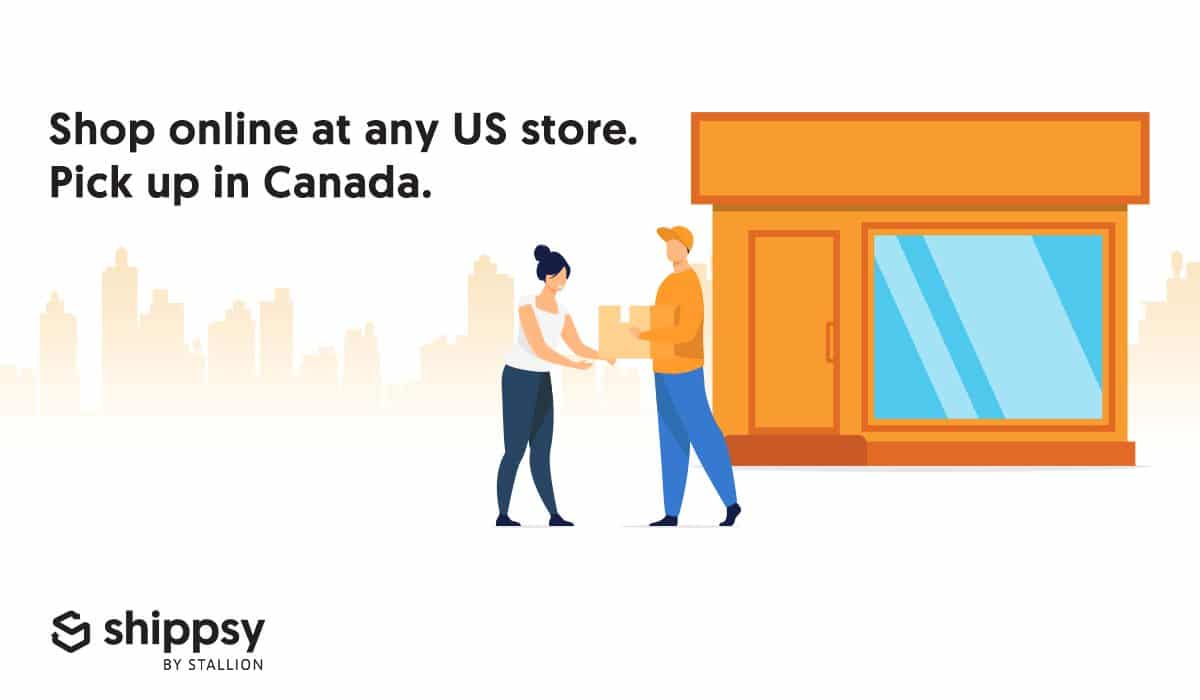 Cross border shopping is now better than ever, and the numbers prove its state. Canadian online shoppers have a world of choices at their fingertips when they venture across the counter.
Of course, apart from the borderless nature of eCommerce shopping, many cross-border shipping providers with great shipping options make it even more exciting!
'Tis the season! As we gear up for the festive holiday season, take a moment to check out our special hours to ensure you can plan your visits accordingly.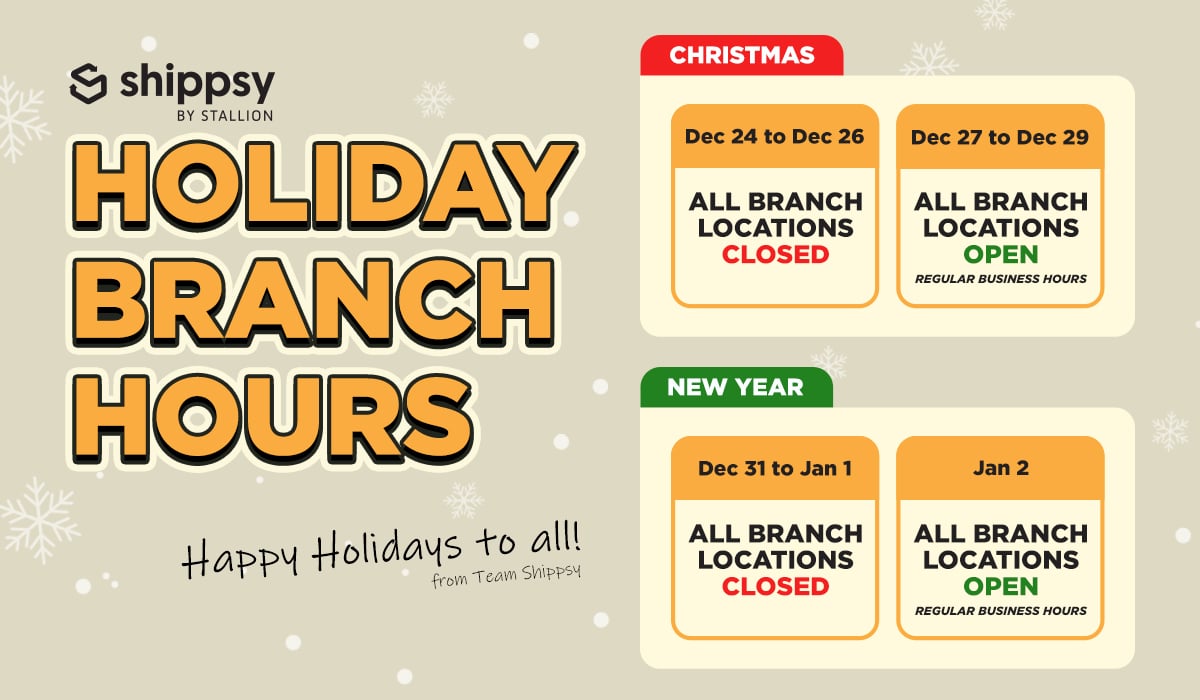 Wishing you a joyous and festive time with your loved ones!
For inquiries or suggestions, allow us to assist you by reaching out to our customer service team at [email protected] or through our toll-free number at 888 - 744 - 7779.
Exciting news at Shippsy - our entire website has gone through a stunning makeover! From the website to the dashboard, we've revamped everything to elevate your user experience.
Discover the enhanced simplicity of our new dashboard, making it a breeze to track all your shipments. Click on the colorful shipment statuses for a streamlined and user-friendly view.
Be sure to catch all the details in our updated How It Works video, available here.
Get ready to enjoy the upgraded Shippsy experience!
As we gear up for the upcoming holiday season, it's also the perfect time to get on the most wonderful shopping extravaganza of the year. Black Friday 2023 is just around the corner, and if you're already envisioning a shopping spree filled with unbeatable deals and irresistible discounts, then knowing the best Black Friday Deals in the US is surely a must for you!
Read through this article as we give you a list of the biggest US retailers' best deals you can enjoy while shopping on Black Friday.
Enjoy Black Friday Deals In Canada From The US
This year's Black Friday Deals lets you get the perfect holiday gifts at a bargain, and shopping online at US stores is always a great idea. Take advantage of back-to-back promos and sales to stretch your dollars further while snagging the hottest items from the US. Here's the list of the hottest Black Friday deals online from the US:
Black Friday Deals At Walmart
Walmart's early Black Friday deal went live on November 8 (3:00 PM ET) and will have its second holiday online deals event on November 22 (3:00 PM ET).
You may enjoy holiday shopping deals on electronics (such as Smart TVs and Apple Watch Series), smart home devices (like vacuum cleaners and outdoor cameras) and fashion must-haves.
Here's a sneak-peek of some of the items you can get at a super affordable price:
Apple Watch Series 9 GPS 45mm Midnight Aluminum Case with Midnight Sport Band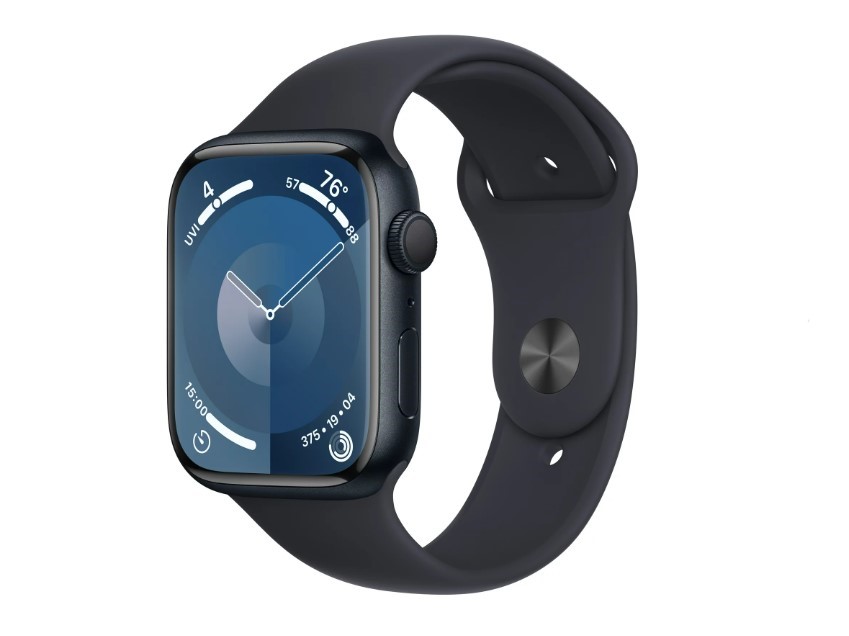 Photo taken from: Walmart
The Apple Watch Series 9 GPS in Midnight Aluminum Case with Midnight Sport Band is a cutting-edge wearable that seamlessly blends style and functionality. With a sleek 45mm display, this smartwatch offers a clear and vibrant interface for various applications.
The Midnight Aluminum Case adds a touch of sophistication, while the matching Midnight Sport Band ensures comfort during wear. Equipped with GPS capabilities, it allows for precise location tracking, making it ideal for fitness enthusiasts or your loved ones who enjoy outdoor activities.
Discount Price: From $429 USD to $379.00 USD
Skullcandy Barrel Party Speaker Xt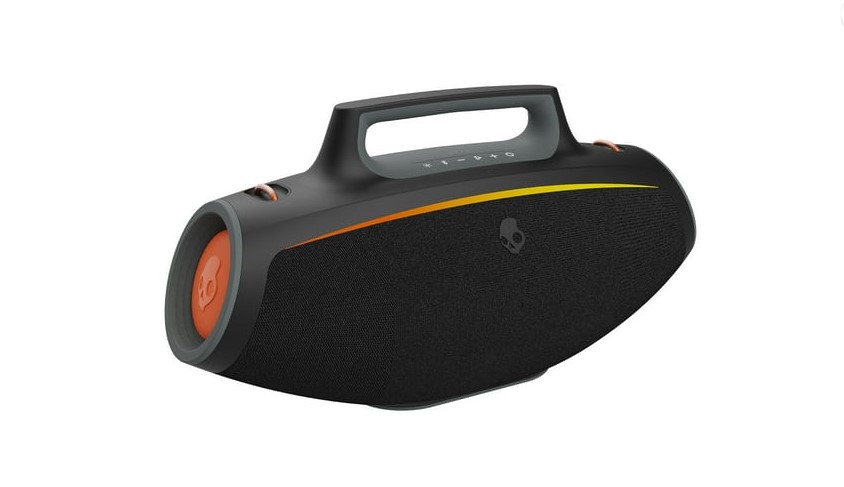 Photo taken from: Walmart
The Skullcandy Barrel Party Speaker Xt in sleek black is the ultimate audio companion for your gatherings. Designed to deliver powerful and immersive sound, wouldn't you think this speaker can set the stage for a true holiday party atmosphere? Its compact yet robust build makes it portable and easy to take wherever the celebration goes.
With advanced features and connectivity options, the Barrel Party Speaker Xt ensures a seamless music experience. Whether you're indoors or outdoors, this speaker adds a dynamic element to your events, ensuring that the beats keep flowing and the party never stops.
Discount Price: From $169 USD to $79 USD
SAMSUNG B-Series 4.1.CH Soundbar & Rear Speakers with Subwoofer and Bluetooth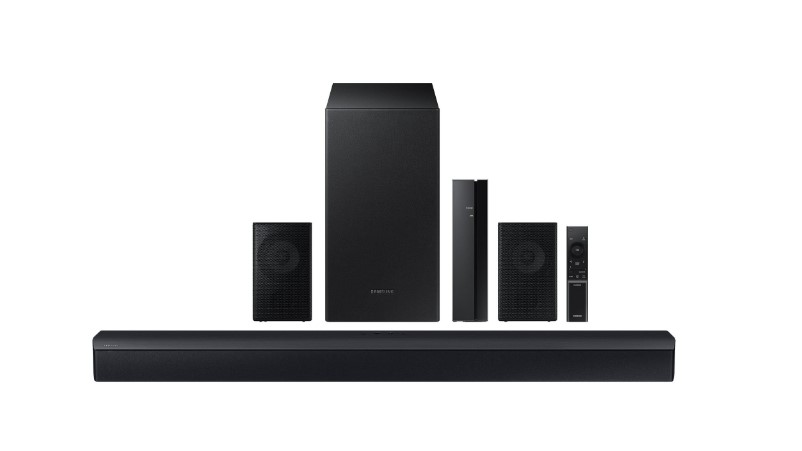 Photo taken from: Walmart
The SAMSUNG B-Series 4.1CH Soundbar & Rear Speakers is a state-of-the-art audio system which is perfect for infusing a lively spirit into your upcoming holiday parties. With a 4.1 channel configuration, it delivers immersive and rich sound, creating a cinematic atmosphere in your living space.
Plus, with its Bluetooth connectivity, this product allows you to wirelessly stream audio from your compatible devices, providing convenience and flexibility. The sleek design of the soundbar complements modern home aesthetics, while the advanced technology ensures clarity and depth in every audio detail.
Discount Price: From $239 USD to $139 USD
Amazon's Black Friday Deals
You may enjoy this year's Black Friday deals with Amazon from November 17 to November 27. Enjoy the lowest price up to 44% on kitchen appliances, 50% on skincare and makeup, and 50% on toys.
Amazon's Black Friday and Cyber Monday shopping pages will feature ongoing price drops, occurring as frequently as every five minutes during selected periods. Stay tuned and visit their pages regularly to be among the first to catch the latest savings.
Check out the cheapest price for the following items on Amazon:
Dr. Martens Unisex Chelsea Boots 2976 Quad
Photo taken from: Amazon
Step up your holiday OOTD while keeping yourself warm and stylish with this Dr. Martens Unisex Chelsea Boots 2976 Quad. Redefining classic style with a modern edge, these boots seamlessly blend timeless charm with contemporary flair, featuring the iconic Chelsea boot silhouette. The 2976 Quad design adds a bold twist with a durable platform sole, providing both style and comfort.
Whether dressing up for a casual outing or adding an urban touch to your holiday look, these boots are a versatile and unisex fashion statement. Crafted with quality materials, the Chelsea Boots 2976 Quad perfectly balances fashion and functionality for individuals seeking a distinctive and on-trend footwear choice.
Discount Price: From $209.95 USD to $157.50 USD
Victoria's Secret Modal Long Pajama Set, Women's Sleepwear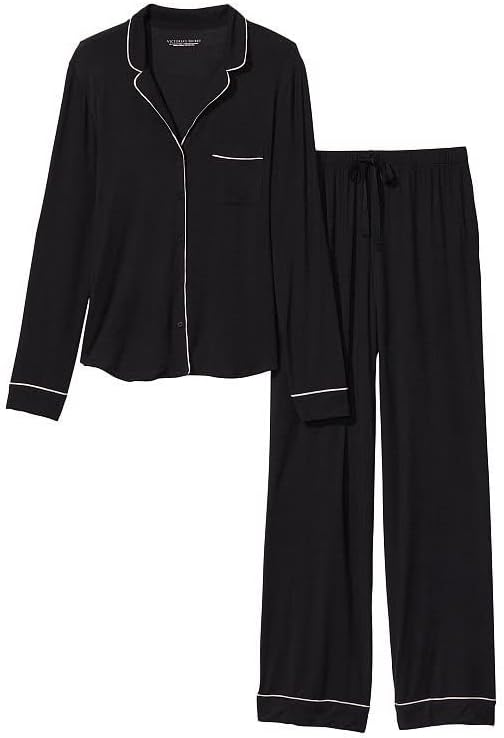 Photo taken from: Amazon
After a long, tiring day of back-to-back holiday season parties, you may want to sleep and indulge in luxurious comfort with this Victoria's Secret Modal Long Pajama Set, a sophisticated choice in women's sleepwear. Crafted with soft modal fabric, this set offers a silky and breathable feel against the skin, ensuring a blissful night's sleep. The long pyjama design provides both style and coverage, making it perfect for lounging in style.
The attention to detail and delicate touches showcase Victoria's Secret commitment to quality and elegance, making this sleepwear set a must-have for those who appreciate both comfort and chic bedtime attire.
Discount Price: From $69.95 USD to $48.96 USD
Amazon eero 6+ mesh Wi-Fi system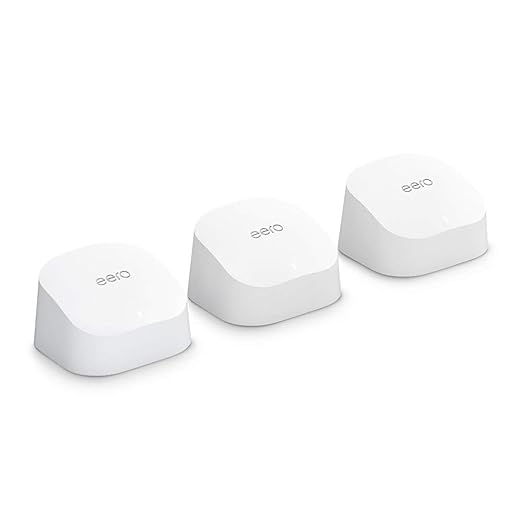 Photo taken from: Amazon
This holiday season, connectivity plays a crucial role in bridging the distance and maintaining a close bond with loved ones living far away. Thus, the Amazon eero 6+ mesh Wi-Fi system can help you stay connected and is a game-changer in the realm of home connectivity. Offering seamless and reliable Wi-Fi coverage, this advanced mesh system ensures that every nook and cranny of your space is bathed in high-speed internet.
With the power of Wi-Fi 6 technology, it not only boosts your network's speed but also handles multiple devices effortlessly. The eero 6+ is not just about connectivity—it's about smart, efficient, and secure networking.
Discount Price: $299.99 USD to $199.99 USD
Best Buy Early Black Friday Deals
Best Buy is among the retailers to launch their early deals for Black Friday. This means you don't have to wait to take advantage of Best Buy's amazing offers. Plus, you may also enjoy the retailer's Black Friday price match guarantee, which means that they can match the price of an item if it goes lower during the holiday season.
Here are some items you should not miss out on Best Buy:
EcoFlow - RIVER 2 Portable Power Station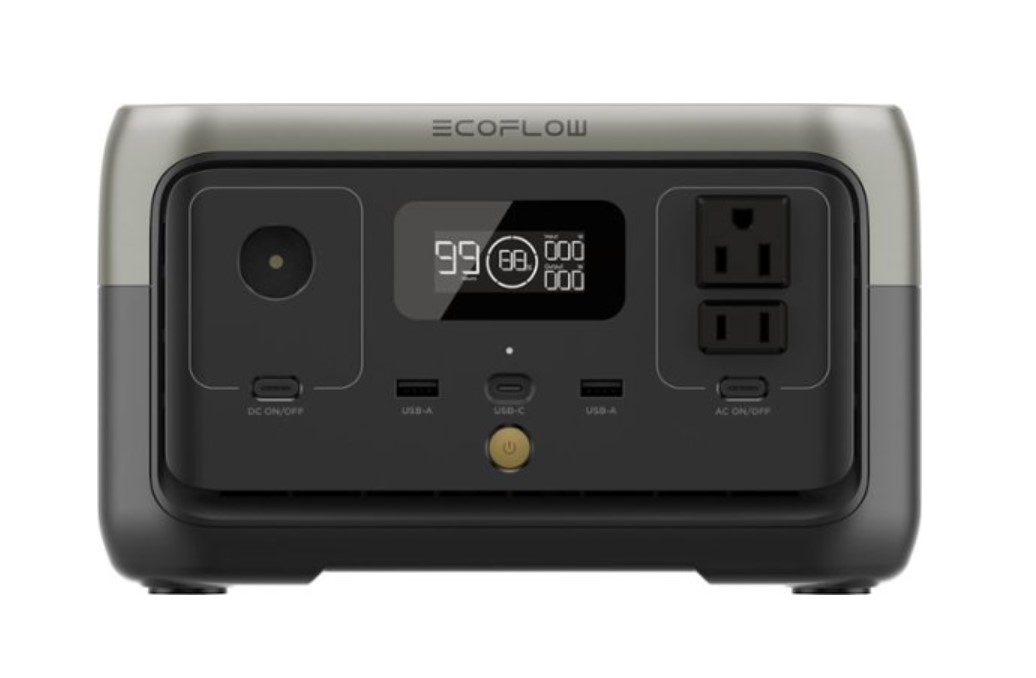 Photo taken from: Best Buy
Don't let unexpected power outages ruin your holiday parties! Get yourself this EcoFlow RIVER 2 Portable Power Station—a compact powerhouse that redefines on-the-go energy. Whether you're camping off the grid, embarking on a road trip, or facing unexpected power outages, the RIVER 2 has your back.
With an impressive capacity and a multitude of output options, it effortlessly charges everything from your smartphone to power tools. The sleek design houses a high-performance battery, and an ultra-fast charging time of only 1 hour - that's 38% faster than the product's previous version.
Discount Price: From $289 USD to $169 USD
Apple - AirPods (3rd generation) with Lightning Charging Case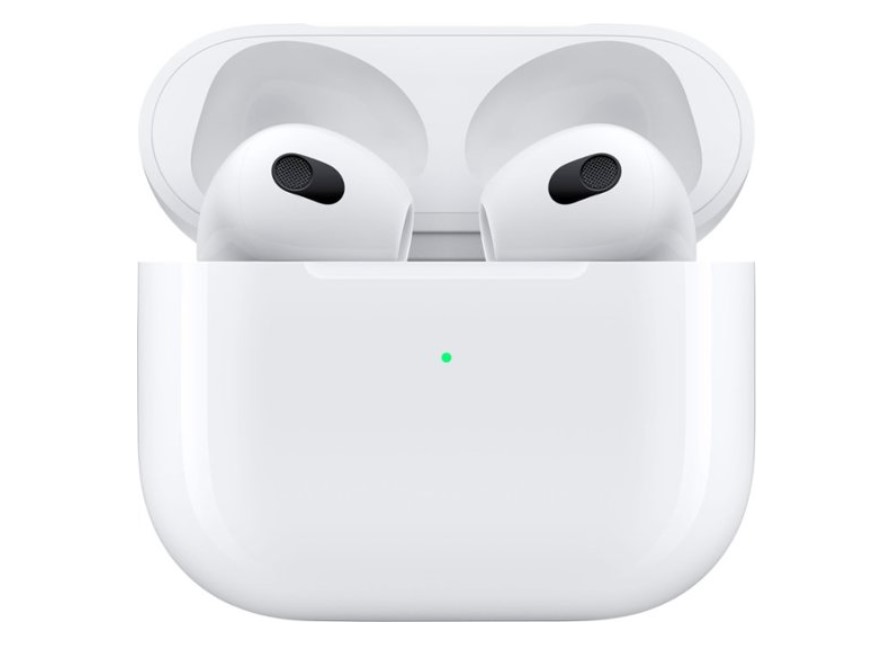 Photo taken from: Best Buy
Immerse yourself in a holiday mood wherever you go by listening to Christmas songs using this Apple AirPods (3rd generation). These sleek, intelligently designed earbuds deliver an unparalleled listening experience, bringing your favourite music, podcasts, and calls to life with crystal-clear sound.
The convenience of seamless connectivity, intuitive touch controls, and Siri activation make these AirPods an effortless extension of your digital lifestyle. Paired with the Lightning Charging Case, you'll enjoy extended listening sessions and quick top-ups on the go.
Discount Price: From $169.99 USD to $149.99 USD
SteelSeries - Arctis 9X Wireless Gaming Headset for Xbox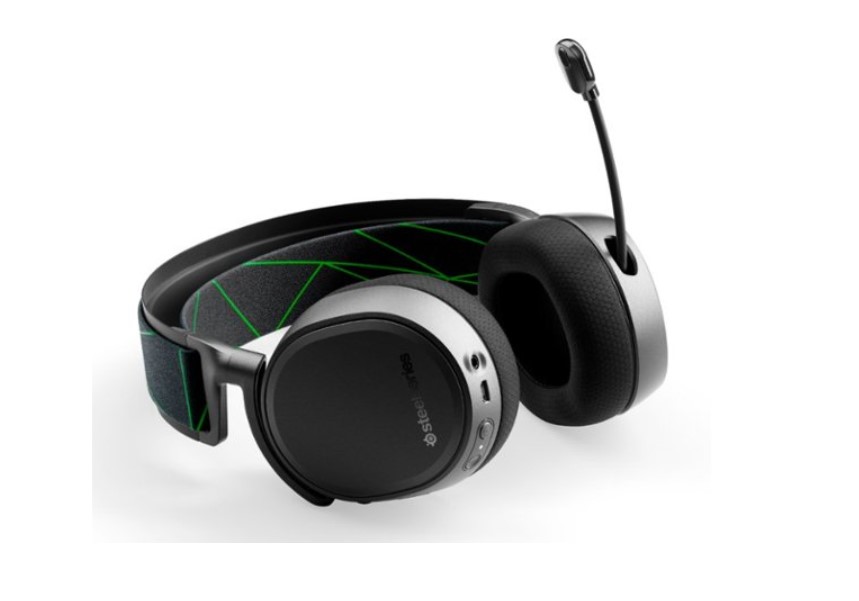 Photo taken from: Best Buy
Surprise the gamers and streamers in your life by getting them this SteelSeries Arctis 9X—a wireless gaming headset designed for Xbox domination - this holiday season. The Arctis 9X ensures a seamless connection with Xbox consoles, providing a wireless, low-latency gaming experience.
Comfort takes center stage with the ski goggle-inspired headband and AirWeave ear cushions, allowing for extended gaming sessions without fatigue. With a ClearCast microphone for clear communication and on-ear controls for convenience, the Arctis 9X is your ticket to unparalleled gaming immersion.
Discount Price: $199.99 USD to $99.99 USD
Macy's Best Black Friday Deals
Macy's has a lot of surprising offers as they begin their Black Friday Early Access on November 10 until November 25. Enjoy up to 75% discount on their products and make your shopping hassle free by checking out their curated items featured in their Holiday Gift Finder.
Check out what you can get on Macy's best early Black Friday sale for this year:
Style & Co Women's Charmanee Tall Boots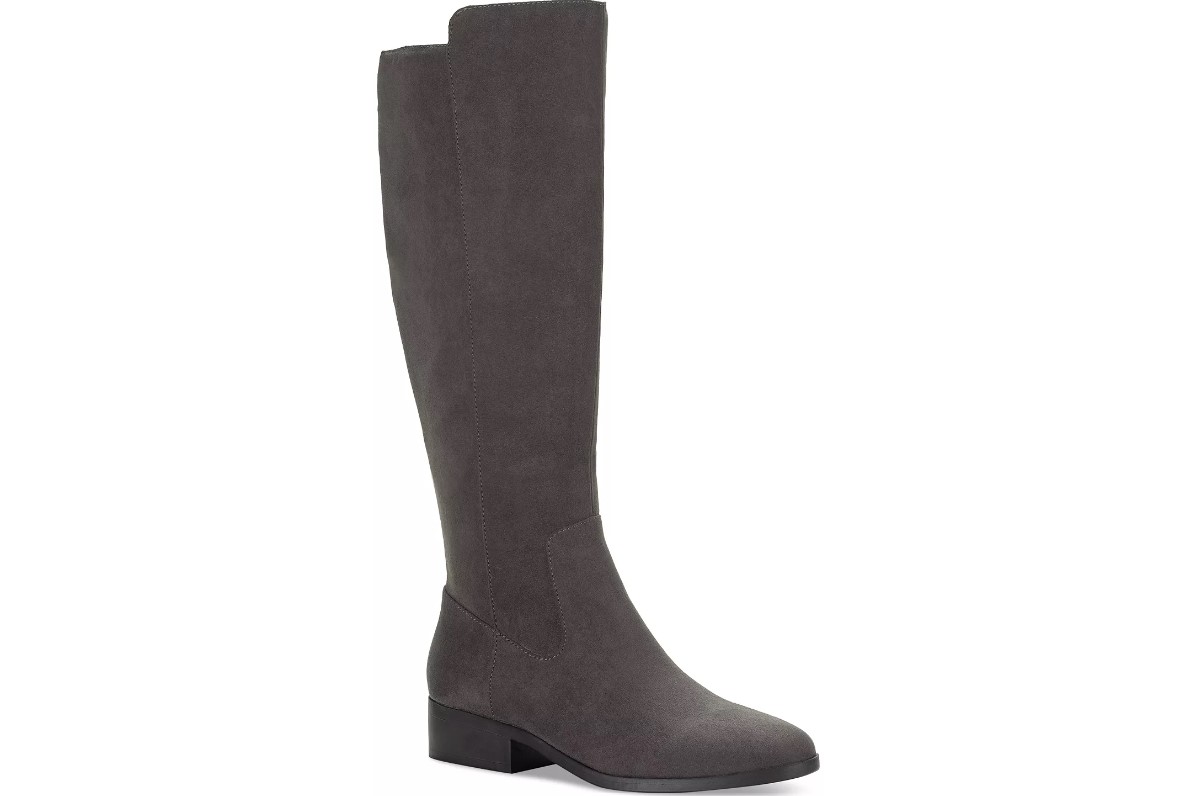 Photo taken from: Macy's
Step into sophistication with Style & Co Women's Charmanee Tall Boots, where fashion meets comfort in every stride. Perfect for your warm, cozy, and stylish holiday OTTD, these stunning boots boast a timeless design featuring a sleek silhouette and versatile appeal. Crafted with quality materials, they provide durability without compromising on style.
The tall shaft and subtle heel add an extra touch of elegance, making them the perfect companion for both casual and dressy occasions. Elevate your footwear collection with the Charmanee Tall Boots, a blend of chic aesthetics and all-day comfort.
Discount Price: $59.99 USD to $39.99 USD
SUNHAM Boucle 4-Pc. Comforter Set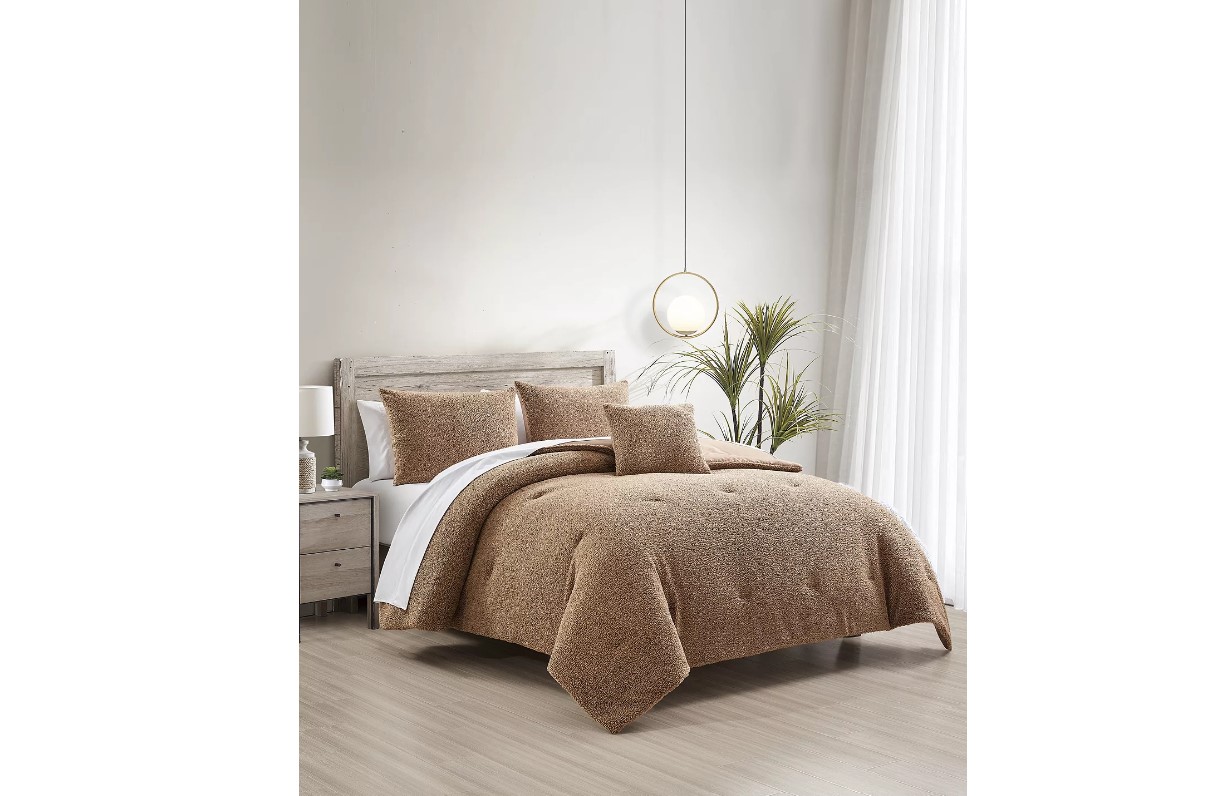 Photo taken from: Macy's
With the SUNHAM Boucle 4-piece comforter set, you can transform your bedroom into a haven of comfort and style where you can relax during the cold holiday nights. This appealing bedding combination mixes soft boucle fabric with a contemporary pattern.
The set includes a luxuriously soft comforter, coordinating shams, and a decorative pillow, seamlessly blending your bedroom design together. Indulge in the Boucle Comforter Set's comfortable warmth and sophisticated style, and improve your place of rest to new heights of refinement and relaxation.
Discount Price: From $160 USD to $48 USD
NESPRESSO by De'Longhi VertuoPlus Deluxe Coffee & Espresso Maker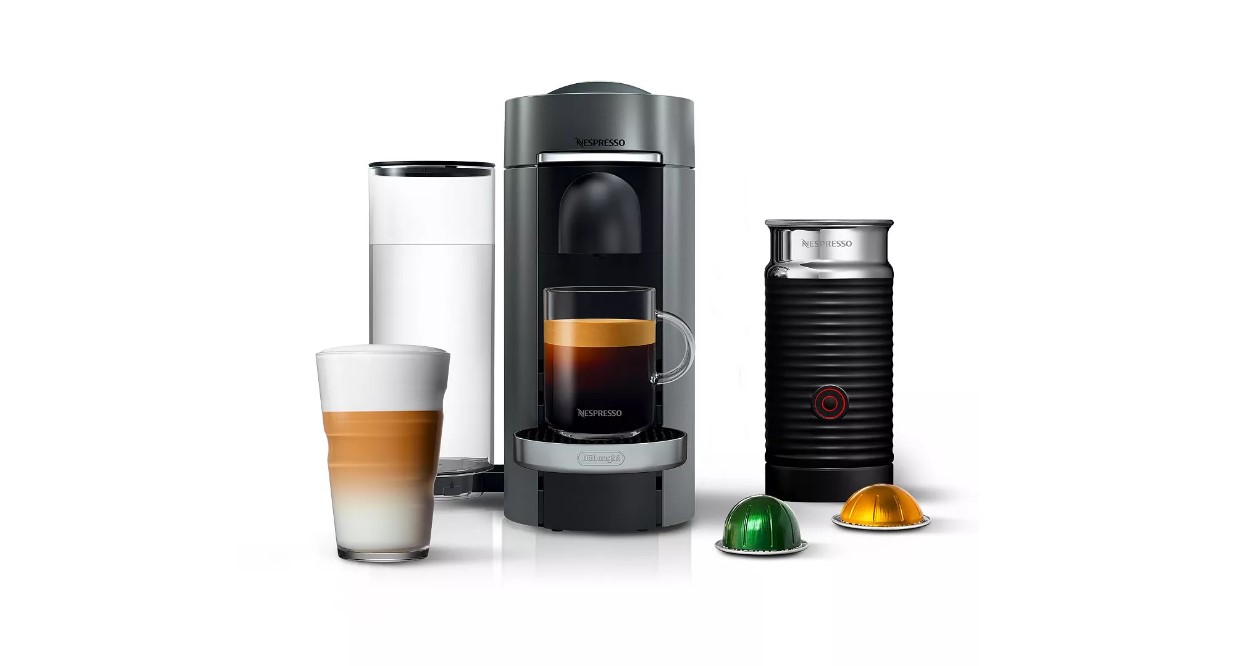 Photo taken from: Macy's
Make your mornings even better this holiday season by making your own cup of coffee. Thus, indulge in the art of coffee perfection with the NESPRESSO by De'Longhi VertuoPlus Deluxe Coffee & Espresso Maker, complete with the Aeroccino Frother for a touch of barista magic. This sleek and sophisticated machine brings versatility to your coffee routine, offering a range of cup sizes and brewing options to suit your taste.
The Aeroccino Frother adds a layer of velvety froth for lattes and cappuccinos, elevating your coffee experience. With innovative technology and a stylish design, this duo ensures every cup is a moment of pure coffee bliss. Welcome the café ambiance into your home with the VertuoPlus Deluxe and Aeroccino Frother combo.
Discount Price: From $249.95 USD to $174.30 USD
Black Friday Sales 2023 With Kohl's
Kohls' Early Access Black Friday deals ran from November 3 to 9. But, if you missed that, you can still enjoy Kohl's main Black Friday event, which will run from November 19 to November 24, where you can get an extra 15% discount. Plus, enjoy Kohl's Super Deals on November 23 and 24, which includes the chance to earn $15 Kohl's cash for every $50 spent.
Here's some items from Kohl's you should not miss on the biggest shopping holiday:
Samsonite Ziplite 5 Hardside Spinner Luggage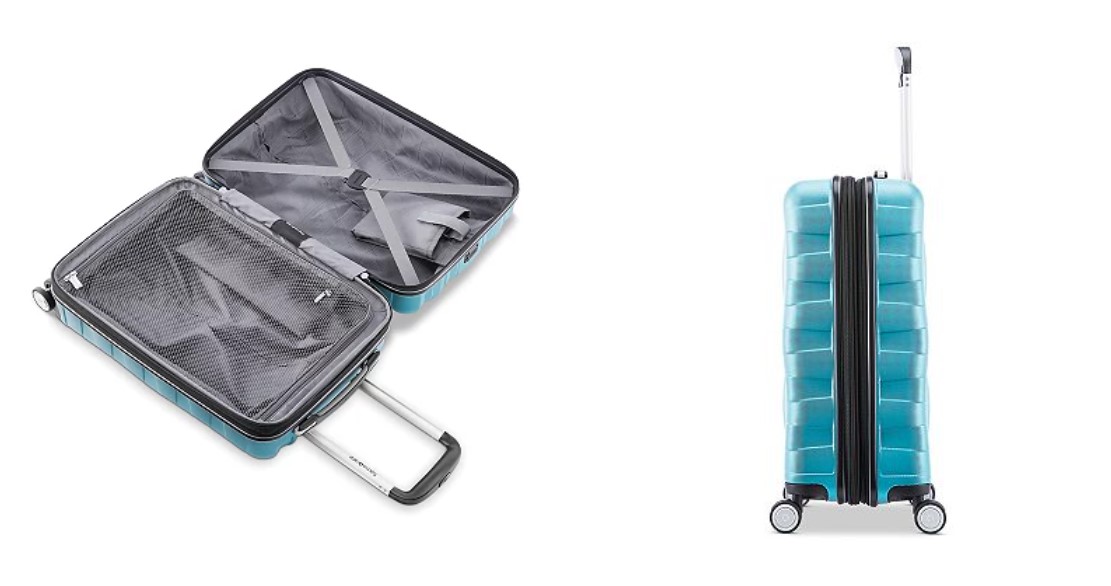 Photo taken from: Kohl's
Going on a holiday vacation or looking for the perfect Christmas gift for a loved one who enjoys travelling? This sturdy and stylish Samsonite Ziplite 5 Hardside Spinner Luggage is the best gift idea! Engineered for durability and convenience, this luggage is crafted with a rugged hardside shell that protects your belongings throughout the journey.
The spinner wheels provide effortless mobility, allowing you to navigate busy airports and terminals with ease. The interior is designed for efficient packing, featuring organizational pockets and compression straps. With a sleek and modern design, the Ziplite 5 not only ensures the safety of your belongings but also adds a touch of sophistication to your travel ensemble.
Discount Price: From $279.99 USD to $118.99 US (with code at checkout)
Ninja Foodi 8-in-1 Digital Air Fry Oven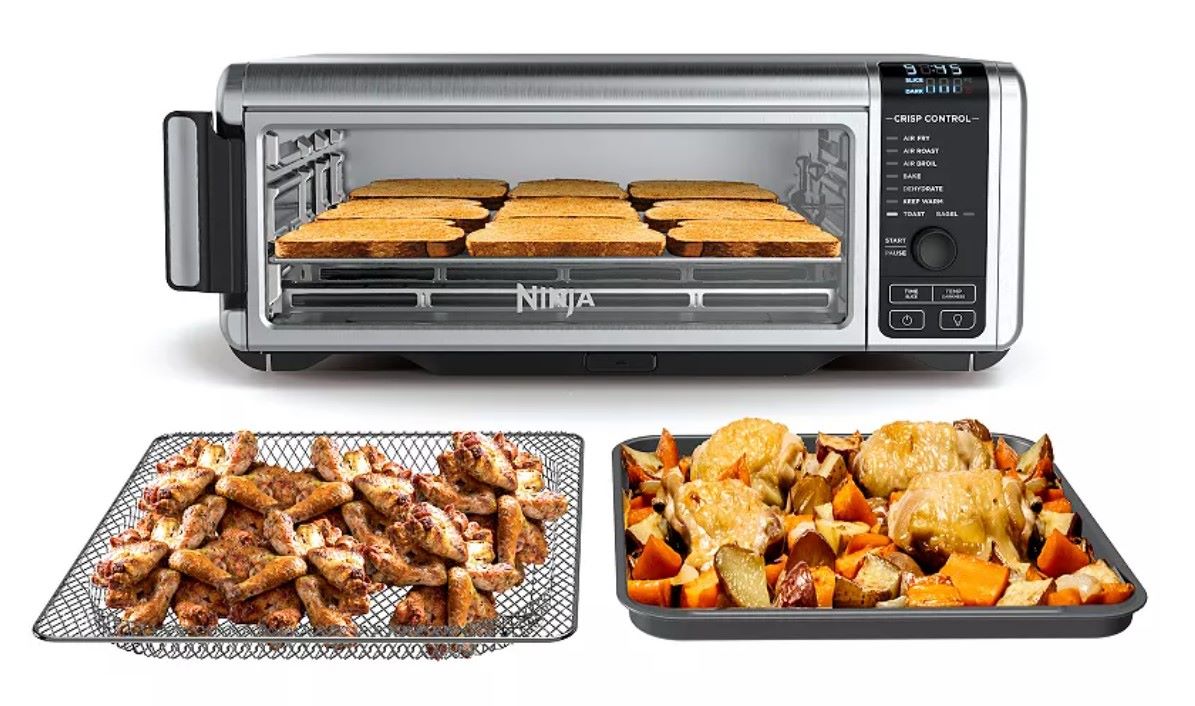 Photo taken from: Kohl's
Revolutionize your kitchen with the Ninja Foodi 8-in-1 Digital Air Fry Oven—an all-in-one culinary powerhouse designed to elevate your cooking experience while preparing your holiday feasts. This versatile appliance combines eight essential functions, from air frying and roasting to baking and dehydrating, giving you the flexibility to create a variety of delicious meals with ease.
The digital interface ensures precision and convenience, allowing you to customize cooking settings for perfect results every time. With its compact design, the Ninja Foodi fits seamlessly into any kitchen, providing a space-efficient solution for your culinary adventures.
Discount Price: From $229.99 USD to $149.99 USD
Sonoma Goods For Life® Estate Border Area & Washable Throw Rug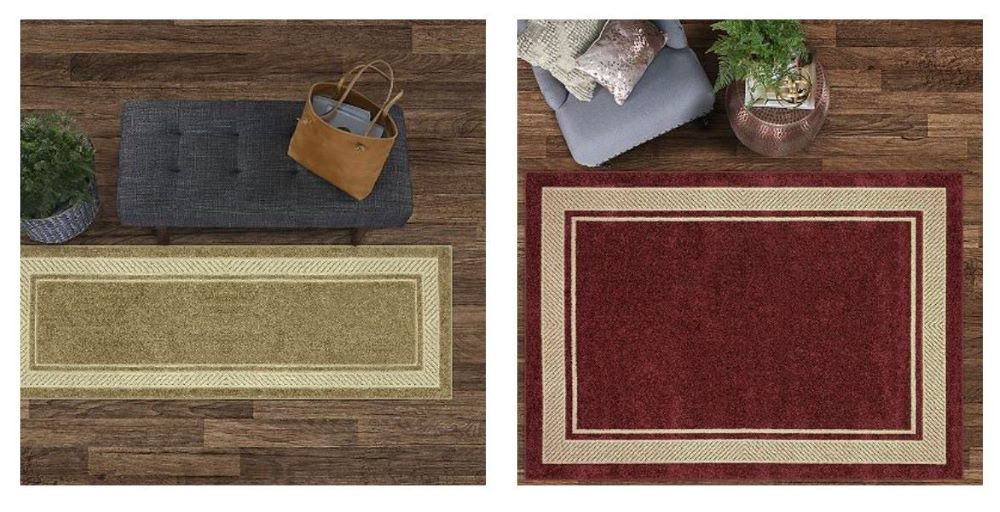 Photo taken from: Kohl's
This holiday season, isn't it great to invite your loved ones over for a small gathering or festive parties? Well, if you're planning to have one, consider elevating the aesthetics of your living space with the Sonoma Goods For Life® Estate Border Area & Washable Throw Rug. Available in 15 colors, this stylish rug not only enhances your home's décor but also provides a cozy and inviting atmosphere.
The estate border design adds a touch of sophistication, while the washable feature ensures easy maintenance and long-lasting appeal. Whether you place it in the entryway, kitchen, or any high-traffic area, this rug seamlessly combines fashion and functionality.
Discount Price: From $79.99 USD to $27.19 USD (with code at checkout)
Target's Best Black Friday Deals
Ready to hit Target's best deal for your Black Friday online shopping spree? The retailer drops more than 1000 early discounts up to 71% on most items. Target's first batch of early deals for Black Friday started on October 29, which includes weekly deals until the US Thanksgiving weekend.
Here's a glimpse of a few of the goodies waiting for you at Target:
FoodSaver Premier Vacuum Sealer

Photo taken from: Target
Don't let your holiday feast preparations and leftovers go to waste! Seal in the freshness and extend the life of your favourite foods with the FoodSaver Premier Vacuum Sealer. This cutting-edge appliance offers versatile functionality with Dry, Moist, and Marinate modes, catering to all your preservation needs. The integrated Roll Storage and Cutter Bar ensure effortless custom sizing of vacuum bags, while the included Bags and Roll Starter Kit provides everything you need to get started.
Enhance your kitchen efficiency and reduce food waste with the precision and convenience of the FoodSaver Premier Vacuum Sealer—a must-have for those who appreciate both flavour and longevity in their culinary creations.
Discount Price: From $159.99 USD to $119.99 USD
Dyson V8 Origin Cordless Stick Vacuum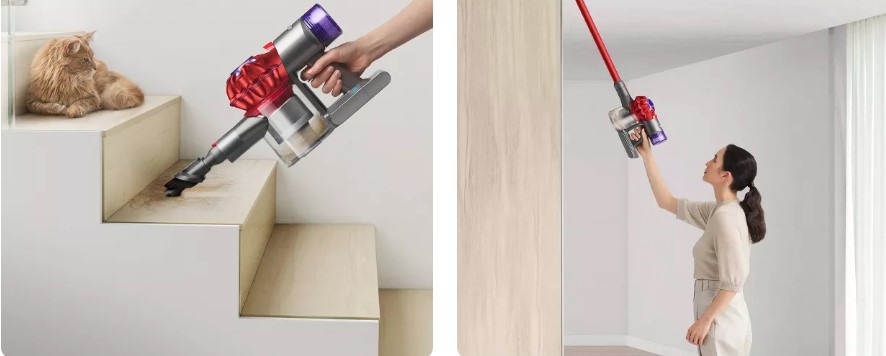 Photo taken from: Target
Experience a hassle-free cleaning session after your holiday parties with the Dyson V8 Origin Cordless Stick Vacuum. This sleek and powerful cleaning companion seamlessly transforms from a stick vacuum to a handheld marvel, offering unparalleled flexibility. The V8 Origin features advanced cyclone technology for strong suction, effortlessly capturing dust and debris.
With a convenient cordless design, it provides the freedom to clean every nook and cranny without being tethered to an outlet. Tackle dirt, dust, and pet hair with ease as the Dyson V8 Origin redefines convenience and performance in the world of cordless stick vacuums.
Discount Price: From $429.99 USD to $249.99 USD
HyperX Gaming Bundle for PC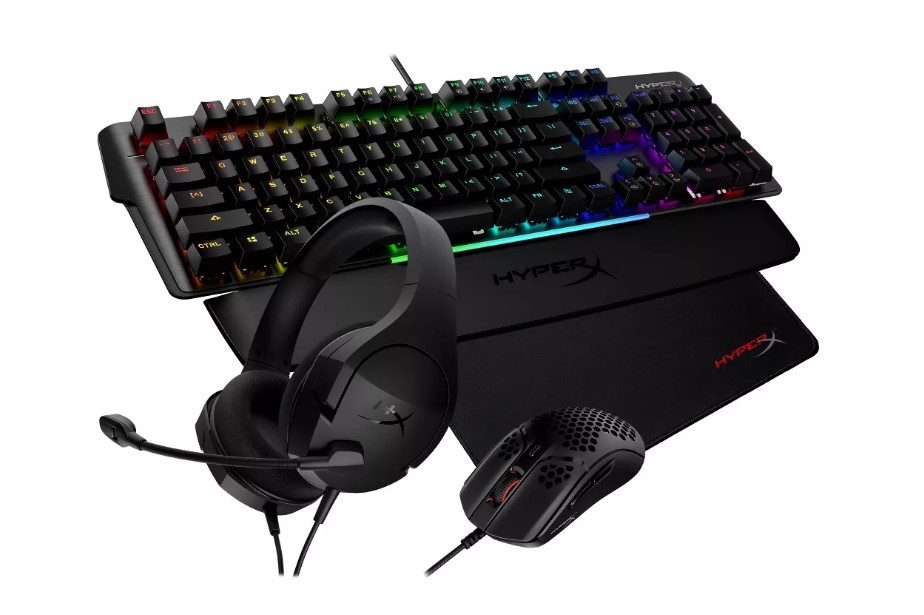 Photo taken from: Target
If you're looking for another great holiday gift idea for gamers - or, if you're a gamer yourself who wants to upgrade your gaming accessories - then this HyperX Gaming Bundle can be your perfect purchase. This powerhouse bundle is curated for enthusiasts who demand top-notch performance and style.
The package includes a precision-engineered gaming keyboard, a high-precision gaming mouse, and a comfortable headset for immersive audio. Each component is designed to enhance your gameplay, providing responsive controls, customizable lighting, and crystal-clear sound.
Discount Price: From $129.99 US to $64.99 USD
Friendly Tips To Enjoy Black Friday Shopping
Avoid the hassle of traveling across the border to shop for the holidays. After all, who doesn't want to save time and money on gas, right? Take pleasure in shopping at the comfort of your home by shopping at the biggest online retailers from the US - where you can find anything and everything!
To make it your Black Friday shopping spree more enjoyable, consider adding this tips to your shopping checklist:
Make An Online Shopping List
One way to efficiently enjoy Black Friday online shopping is to create an online shopping list. Begin by identifying the items you want to purchase and add them to your list. Organize your list by store and prioritize the items based on their importance.
By doing so, you can easily navigate between different online stores and find the items you want to purchase without getting distracted by unnecessary deals and discounts. This will not only save your time but also save you from overspending.
Avoid Impulsive Purchases
This upcoming Black Friday, keep in mind to be careful with what you are adding to your online cart in order to fully savour the experience. This means being mindful of the pitfalls of impulsive purchases that can often be very tempting during this frenzied time.
By following a few simple rules, we can secure a more wonderful shopping experience on the biggest shopping holiday, without going through any unnecessary impulse buys that may leave us with regret. So, resist the temptation, stay focused, and revel in the delights of this shopping spectacle, unburdened by impulsive decisions.
Set A Budget
Before you start shopping for Black Friday deals, it's important to take a careful look at your finances. You need to know exactly how much you can afford to spend without putting yourself in a difficult financial situation.
Setting a budget for Black Friday shopping is a smart move to more carefully plan your purchases and avoid overspending. With a budget plan in mind, you won't get carried away by seemingly great deals and risk buying things you don't need. Moreover, you do not want to get into any debt to purchase gifts for your loved ones.
Save Copies Of Receipts
Remember to keep copies of your receipts to make the most of your Black Friday shopping. These copies serve as proof of transaction, supporting you in resolving any potential problems with the seller or disputing unauthorized charges. They also keep a complete record of your purchases, which helps with budgeting and financial management.
If you receive a damaged or wrong item, the receipt is frequently required for returns or exchanges. Furthermore, keeping a record of online transactions is necessary to accurately report spending and item declaration purposes.
Ship With Shippsy Today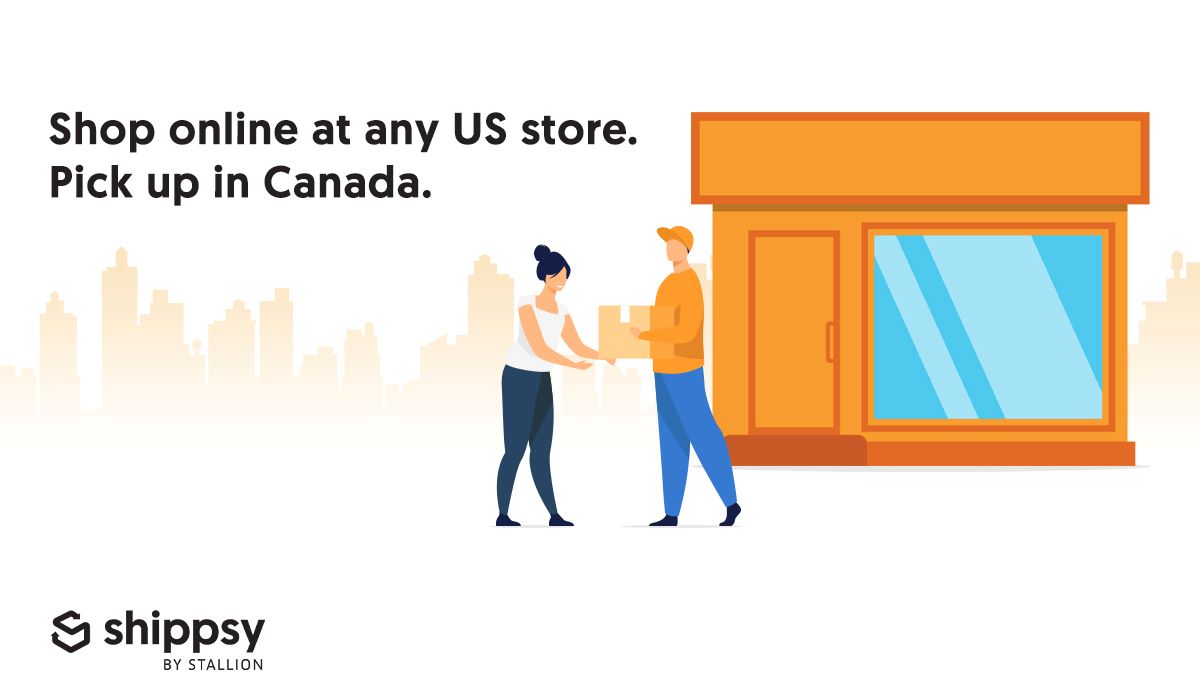 If you've already added items in your account and are ready to ship them over to Canada, remember to choose only the best package forwarder that leads in the industry - Shippsy.
Get on the hype along with other Canadians who love Shippsy's lowest shipping prices, unmatched transit times, and overall exceptional cross-border shipping services. So, what are you waiting for? Switch and ship with Shippsy today!
As a Canadian online shopper, this article is your go-to resource for unlocking the full potential of cross-border pickups when shipping from the United States to Canada.
US Stores At Your Fingertips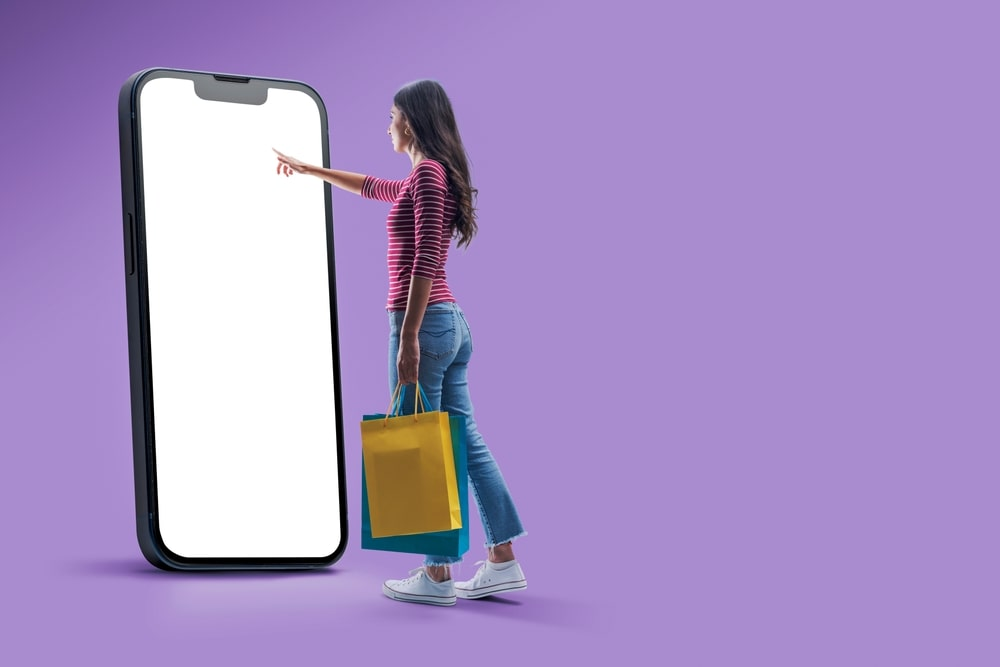 Cross-border pickup services have enabled Canadian shoppers like you to access the US market. Imagine shopping from US stores, discovering unique finds, and snagging exclusive deals—all without stepping outside. This virtual shopping adventure brings the best of global trends right to your location, offering a curated product selection from across the border.
Challenges of Cross-Border Shopping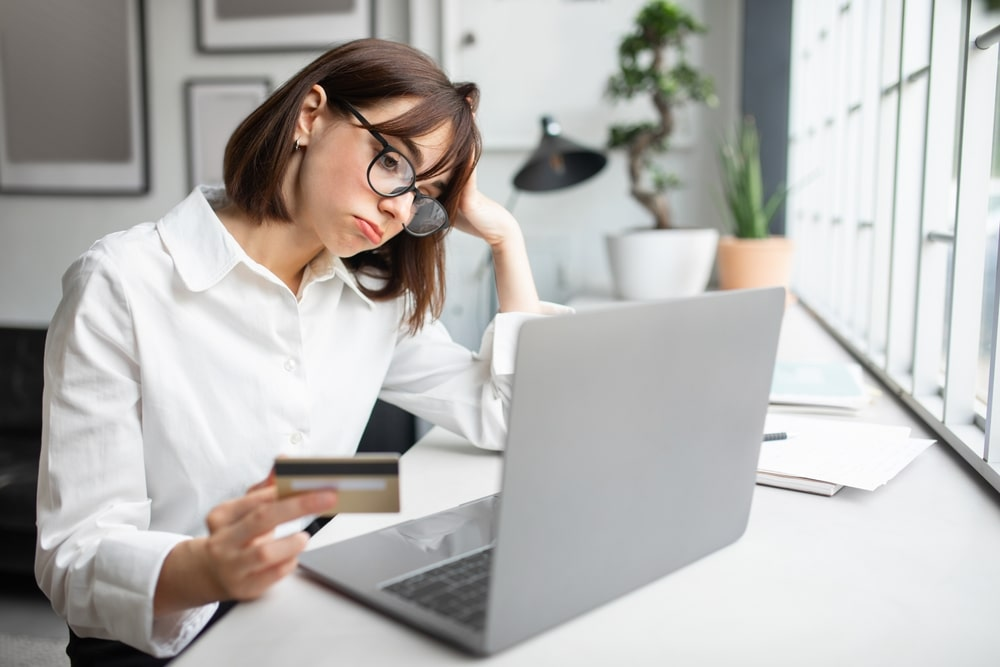 There are unique challenges to overcome when Canadian customers take on the thrilling adventure of cross-border shopping. Getting yourself through shipping complexity, confusing customs processes, and unexpected expenses can be difficult.
As you explore the vast US marketplace, you must be mindful of potential hurdles. Let's break down the typical challenges to cross-border shopping, offering advice and tips to help you find gems across the border.
Shipping Delays
Shipping delays in online cross-border shopping are often due to complex logistics, lengthy customs processing, and varying regulations. Regular Canada shipping and other cross-border shipments involve multiple stages, each subject to unforeseen circumstances. Weather conditions, customs clearance, and transportation issues contribute to delays, emphasizing the need for patience in the shopping journey.
Hidden Fees
Hidden fees in online cross-border shopping arise from customs duties, taxes, and additional charges not initially transparent. Various laws and regulations may result in unanticipated expenses, affecting the overall price. It's crucial to be aware of potential fees to make wise purchase selections and budget accordingly.
Customs Hassles
Customs complications are common due to strict regulations. Packages may undergo a thorough inspection, leading to delays. Understanding and complying with customs requirements is crucial to smooth processing. Addressing these challenges guarantees a more seamless cross-border shopping experience for Canadian shoppers.
Currency Exchange Rates
Currency exchange rates pose common issues, affecting the final cost of items. Exchange rate fluctuations can lead to varying prices, impacting budgeting. Canadian customers should keep up with currency dynamics to make wise, cost-effective purchasing decisions.
Risk of Package Loss or Damage
The risk of loss or damage in cross-border shopping is common due to the extended shipping distances and multiple handling points. Cross-border shipments increase the vulnerability of packages. Canadian shoppers should consider insurance options and choose reliable shipping services to reduce these risks and ensure safe delivery.
Limited Access to Exclusive Deals
It's important to note that some US promotions and discounts may not be readily accessible to shoppers from across the border. Sadly, special offers and exclusive deals are commonly tailored for local customers and may not always extend their benefits to international purchases.
This disparity includes different marketing approaches, regional considerations, and logistical difficulties. If you're a Canadian customer, you must understand this limitation. However, you can still explore other avenues, such as exclusive cross-border promotions, to make sure you enjoy your international shopping endeavours.
Solve Your Shipping Needs: Benefits of Canadian Cross-Border Pickup Services
These services provide a practical solution to shipping issues, offering easily accessible pickup points for streamlined collection. Cost-effectiveness is a key advantage, as shoppers can avoid unexpected fees and enjoy transparent pricing. Customs hassles are minimized, thanks to the guidance and support provided by these pickup services.
Choosing the Right Pickup Service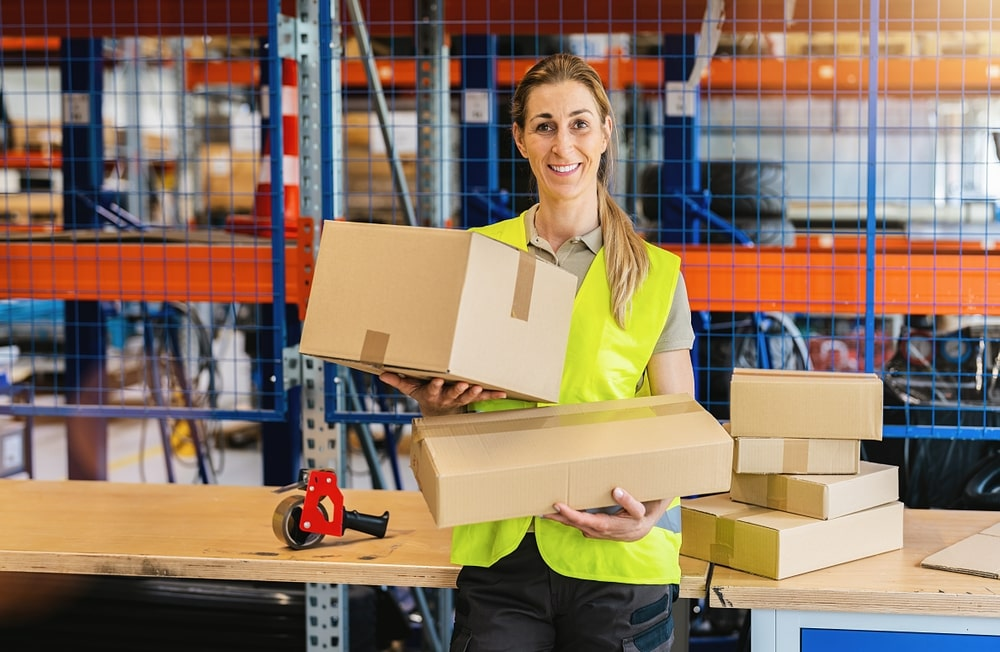 Selecting the ideal pickup service is the key to unlocking a seamless cross-border shopping experience. Every factor—from geographical convenience to shipping choices and customer service—contributes significantly to the timely and cost-effective delivery of your parcel to you.
Location of Pickup Points
It is important to select cross-border pickup points in the most accessible locations. Take a moment to think about how close these pickup sites are to your home and workplace. This thoughtful consideration ensures the ease of claiming your packages and significantly decreases the time and effort invested in the pickup process. You may optimize the effectiveness of the entire delivery and collection procedure by prioritizing providers with conveniently located pickup points.
Service Coverage
Take the time to meticulously verify that the service not only encompasses widely popular online retailers but also extends its reach to include niche platforms. This ensures pickup service continues to be a flexible and accommodating option, regardless of the diversity in your shopping preferences. By selecting a provider with an expansive coverage network, you enhance the accessibility of your chosen and strengthen the adaptability of cross-border pickup to cater to a broad spectrum of online retail sources.
Shipping Options
Take a comprehensive approach by considering key factors such as shipping speed, reliability, and costs. Assessing the shipping speed ensures that your packages are delivered promptly, meeting your expectations for timeliness. The reliability factor speaks to the consistency and dependability of the provider's shipping services. Additionally, a cost consideration takes into account the initial shipping fees and any potential additional expenses.
Shipping Rates and Other Fees
Choosing a cross-border pickup provider requires careful consideration of all costs. This means carefully comparing the expenses, including pickup, delivery fees, and other relevant prices. It's also essential to stay informed about the potential customs duty and tax related to the chosen service, ensuring transparency in financial considerations.
You can make an informed decision that fits your budget by carefully examining these cost-related elements. You can also establish a clear understanding of the financial aspects associated with the cross-border pickup service.
Currently, Shippsy offers the lowest rates amongst cross-border shopping providers within Canada.
Consider Shipping with Shippsy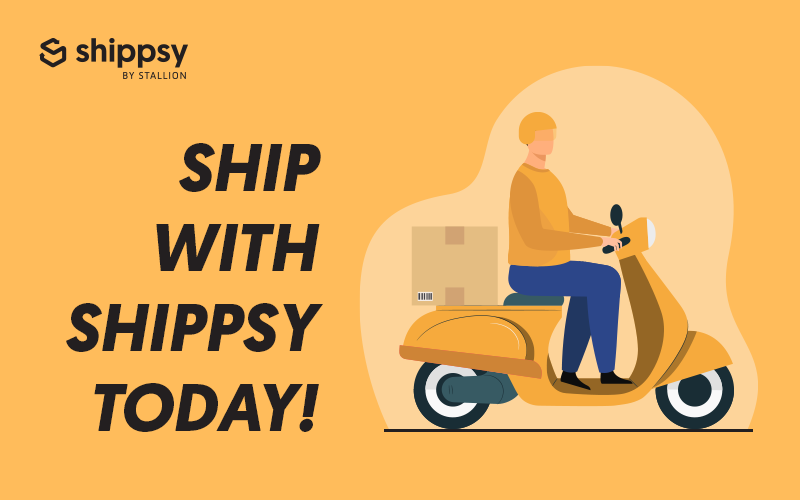 Shippsy is a well-known cross-border shipping company committed to providing a seamless and cost-effective solution for shipping items from the United States to Canada.
Shippsy is a top option for anyone looking for a reliable and practical cross-border shipping solution because of its all-inclusive approach, which guarantees that your things arrive safely and swiftly whether you're sending packages across borders or just shopping online.
How Do Cross-Border Pickups Work With Shippsy?
Create a Shippsy Account. Registering for a Shippsy account will allow you to make use of their excellent cross-border shipping services and receive a free, unique US shipping address. This free US address is your gateway to seamless cross-border shopping, allowing you to indulge in purchases from the United States easily.
Shop From US Retailers. With the unique US address, you can easily explore and buy from various popular American retailers, expanding your access to exclusive products and deals.
Shippsy Recives Your Order. You can expect prompt and efficient notifications as soon as your much-anticipated order reaches Shippsy's US warehouse. Shippsy goes the extra mile to ensure you stay well-informed about the status of your package, keeping you in the loop every step of the way.
Declare Your Items. As part of the seamless process with Shippsy, once your order arrives at their US warehouse, you must provide Shippsy with essential details. Specifically, providing Shippsy with a complete description and accurate value of your items. This step ensures the cross-border shipping process is efficient and aligns with regulatory requirements.
Pay For Shipping and Duties. To complete the final steps of the cross-border shipping process with Shippsy, you must pay the shipping fee and all applicable customs duties and taxes. This step lets you handle all related expenses, ensuring a simple, transparent process and hassle-free delivery to your Canadian location.
Pick Up Your Order. Once the customs clearance process is completed, Shippsy takes convenience further. You gain the flexibility to pick up your eagerly anticipated items at one of Shippsy's strategically located Canadian locations.
With Shippsy, it's not just about delivery—it's about placing control in your hands, offering you the option to collect your cleared order conveniently at a location that suits your schedule and proximity.
How Much Does It Cost to Ship With Shippsy?
| | |
| --- | --- |
| Region | Basic Price |
| Ontario* | CAD 6.99 + applicable tax per package |
| British Columbia | CAD 7.99 + applicable tax per package |
| Québec | CAD 7.99 + applicable tax per package |
*You will get a 25% discount when you request three or more shipments on the same day. The discount does not apply to the regions of B.C. and Québec.
How Many Days Does It Take to Ship With Shippsy?
Enjoy quick transit times of 2-3 business days for Ontario. On the other hand, British Columbia and Québec can anticipate their deliveries within a reasonable 4-7 business days. Shippsy guarantees that your cross-border shopping experience is seamless and tailored to each region's particular requirements, no matter where you are.
Explore the World of Cross-Border Parcel Pick Up With Confidence And Ease
Shippsy empowers you to explore the world of US online shopping with unparalleled confidence and ease. From exclusive deals and timely notifications to efficient customs clearance and region-specific transit times, your cross-border shopping experience will be simplified and personalized.
Ah, Macy's, the place where the coolest fashion trends come to life, and where America holds its biggest holiday parties. Well, Macy's is a big deal, and their online store is like a magnet for shoppers all around the world.
For Canadian shoppers who want to shop online at Macy's, the burning question may be "Does Macy's ship to Canada?". Well, you're in the right place as we got all the details you need. Read through this article as we find out the best way to ship your Macy's order from the USA.
Meet Macy's Store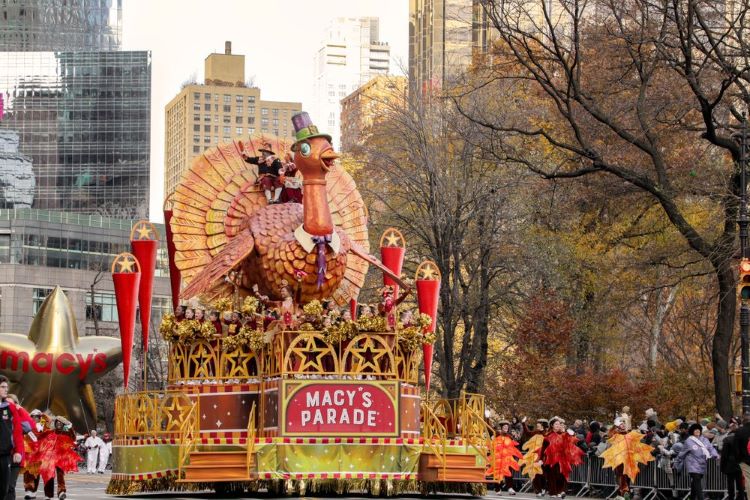 Macy's is a huge department store in the United States. Founded in 1858, it is one of the oldest retailers in the US where shoppers can buy all sorts of products from different brands - clothes, beauty products, jewelry, footwear, handbags, and more!
Known for its eye-catching seasonal displays, Macy's attracts shoppers and tourists in New York in festive themes and hosts some of the most famous holiday events, like the Macy's Thanksgiving Day Parade.
But, of course, Americans are not the only ones who get to enjoy Macy's products. Anyone around the world can shop on their websites in the comfort of their home.
Is Macy's In Canada?
There is no Macy's store in Canada. All its physical stores are located across the US. However, their shopping website is available to all shoppers from different countries.
Does Macy's Ship To Canada?
Yes, Macy's does ship to Canada. They ship internationally to over 200 locations around the world. However, the shipping rates and transit times are pretty high.
Macy's International Shipping Policy
All Macy's international orders go through Borderfree, a third-party global eCommerce company that assists international shoppers with their shipping process. For further details about this service, you may contact Macy's from 9 AM - 12 AM ET any day of the week (holiday exceptions may apply).
Macy's International Shipping Fees
Macy's international shipping rates are calculated by Borderfree upon checkout. Your overall shipping cost depends on the speed (standard or express shipping), total number of orders, item weight, and destination.
For example, if you're checking out a tote bag worth $49.39 to Toronto, here's how much you'll spend on shipping:
| | | |
| --- | --- | --- |
| Delivery Method | Estimated Arrival | Shipping Cost |
| Standard Shipping | 5 - 13 business days | (CAD) $38.13 |
| Express Shipping | 4-10 business days | $65.84 |
(Note: To get more accurate information on your item's shipping fees, visit Macy's website or contact their customer support department.)
Macy's Delivery Timeframe
The estimated delivery time frame for Macy's international orders is between 3-14 business days. However, it still depends on the location, thus, a delivery date is not guaranteed.
How To Ship Parcels From Macy's To Canada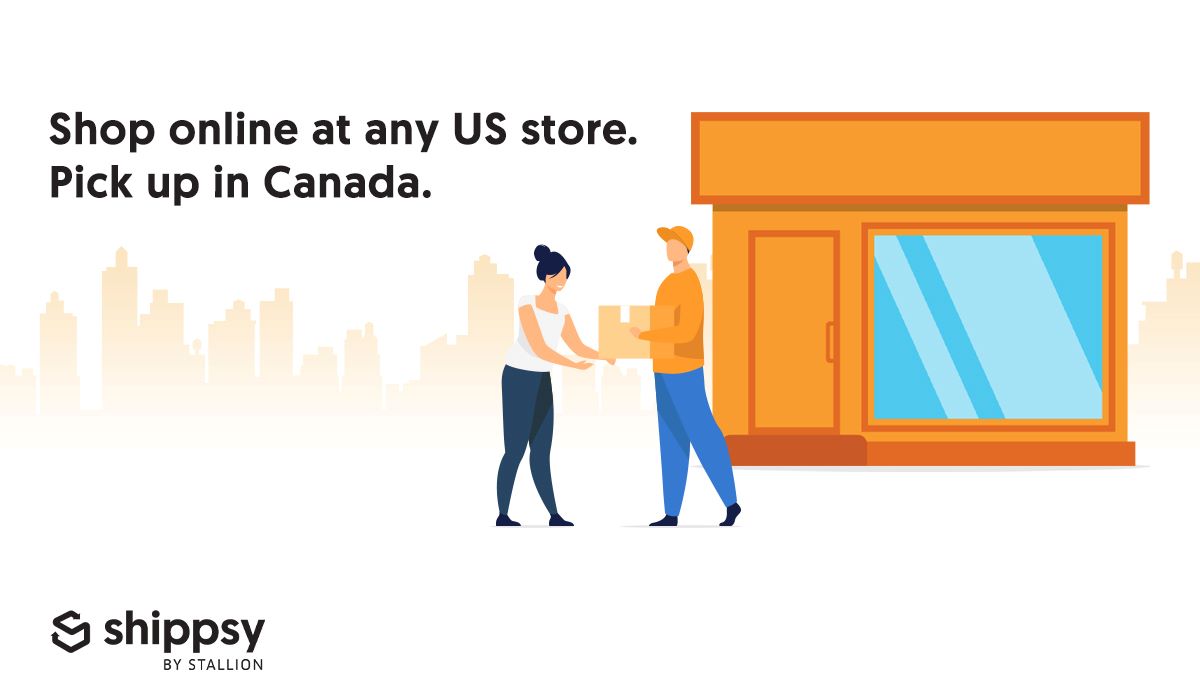 While Macy's ships to Canada, it can be expensive and the process can be hard to follow. But, here's an easier option for you: ship your Macy's purchases with Shippsy!
Shippsy ensures every Canadian online shoppers can experience the smoothest and most affordable cross–border shipping process. Plus, with their proven expertise in customs and shipping, you'll never have to worry about anything. All you really need to do is ship with Shippsy, pay, and pick up your package!
Lowest Shipping Costs
Here's a table to guide you through Shippsy's shipping rates and transit times:
Location
Shipping Rate
Transit Time
Ontario
$6.99*

Bulk Discount Available! Request 3 or more shipments on the same day to get a 25% discount on the handling fee
2 - 3 business days
British Columbia
$7.99
4 - 7 business days
Quebec
$7.99
4 - 7 business days
*Prices are in Canadian currency and are for packages up to 10 lbs (4.5 kgs). Duties and taxes apply.
Important things to know:
Parcels over 10 lbs (4.5 kgs) will incur $0.40/per pound for every pound up to 100 lbs.
For shipments over 100 lbs, please contact our customer support for a shipping quote on high-volume or oversized shipments.
Shippsy fee comes with a 30-day complimentary storage
Ship In 3 Easy Steps
Have your Macy's packages shipped to Canada in 3 easy steps:
Step 1: Create your Shippsy account. Then, use your exclusive US shipping address and Shippsy account number upon checking out your order at Macy's, so we know exactly what to ship!
Step 2: Provide us with accurate item information and request the shipment in your Shippsy dashboard.
Step 3. Pick up your parcel at your assigned Shippsy branch. Don't forget to bring your order pickup sheet to the Shippsy staff, who will assist you. Your US items will be right in your hands in just a few minutes!
Or, you may also opt to have your packages delivered to your doorstep for a small added fee. Shippsy will forward your parcels to its partner courier, Canada Post, to complete the final mile delivery.
Tips To Save Money When Shopping At Macy's
I'm sure you're now excited to shop at Macy's now that you know a hack on lowering your fees and simplifying the process. But, before you proceed to their site, here are some handy tips you can use in saving money while shopping.
Join Star Rewards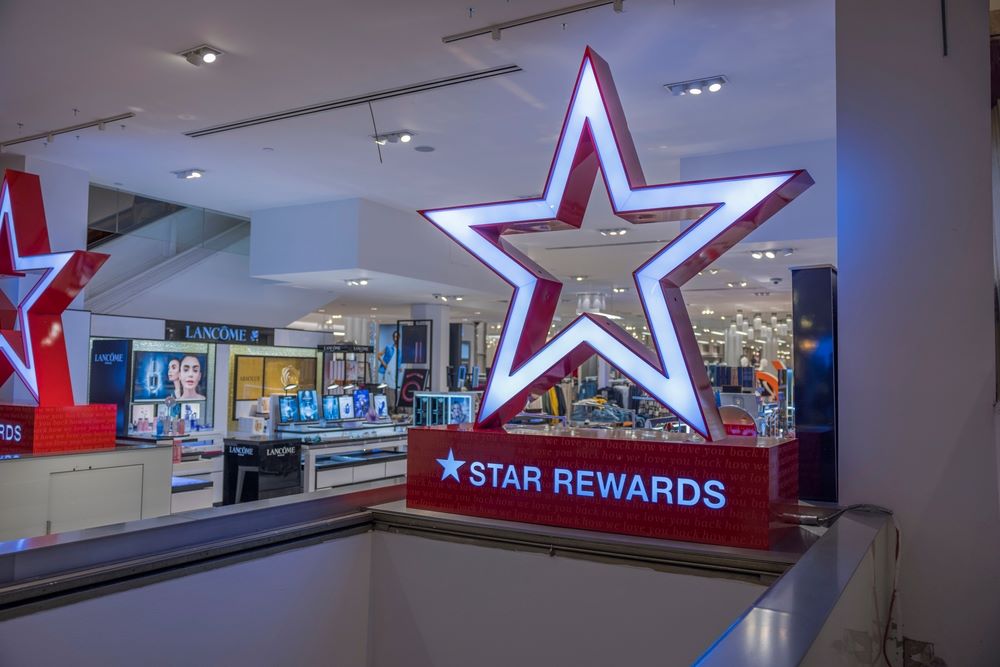 Joining Macy's Star Rewards is like unlocking a world of shopping benefits. You can get additional savings and unique offers simply by becoming a Star Rewards member. There are unique bonus point days that make it even easier to accumulate points.
And the best part? As you earn more points, you'll advance to higher Star levels such as Bronze, Silver, Gold, and Platinum, which unlock even better rewards.
Use The Macy's App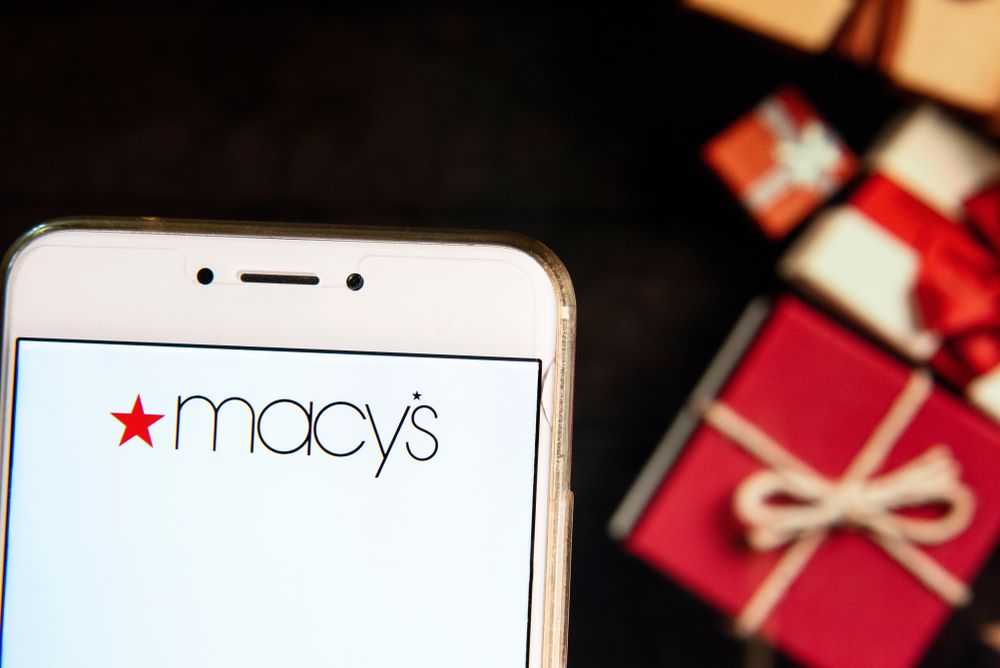 With the app, it's easy to explore Macy's vast collection of products right from your phone or tablet. You'll get access to exclusive deals and discounts that you won't find elsewhere. What's even cooler is that you can see customer reviews and ratings to make sure you're picking the best stuff.
The app also keeps you in the loop about upcoming sales and events, so you never miss out on a great deal. And when you shop through the app, you can enjoy convenient features like easy checkout and order tracking.
Check Out The Sale And Clearance Section
Macy's Sale And Clearance page features items on sale at huge discounts, often with massive savings. It's a fantastic way to get stylish clothes, shoes, home goods, and other items without breaking your budget.
Plus, with their wide variety of options, Macy's guarantees every shopper can find something. So, next time you're shopping at Macy's, remember to visit their Sale And Clearance section and get delighted with the money you can save!
Use Cashback Sites
Cashback sites can help online buyers make their Macy's purchases even more profitable. These websites reimburse your money for your purchases! It's like earning a small bonus every time you go shopping.
Simply sign up for a cashback site, look for Macy's on their list of stores, and click through to the Macy's website from there. When you make a purchase, you will receive a percentage of your purchase price back. It's that easy! Over time, the cashback can build up, putting extra money in your pocket. So, if you enjoy shopping at Macy's online, why not earn some cash back while you're at it? Cashback sites make it a win-win situation!
Final Thoughts
If you want to experience a wonderful online shopping experience, include Macy's in your list of preferred US retailers. Then, if you're ready to check out your orders, don't forget to ship only with the best in the cross-border shipping field - ship with Shippsy today!
Are you looking forward to adding a 'sole 'ful connection to your wardrobe? In a world obsessed with the latest trends, there's one fashion statement that gets better with age: Boots!
Want to know where to find the best pair? Check out Tecovas. We'll show you the hottest items from this US-based brand and how to ship your Tecovas purchases to Canada with ease.
Meet Tecovas
Tecovas is an American retailer of cowboy boots, apparel, and accessories. This US brand is headquartered in Austin, Texas and was founded in 2015 by entrepreneur Paul Hedrick.
Established to make premium Western-styled fashion items accessible to everyone, Tecovas surely blends the timeless craftsmanship of traditional cowboy styles and comfort.
The brand continuously commits to excellence as they produce products using only the finest materials and artisanal techniques. Tecovas has garnered a devoted following not only for its top-notch quality but also for its commitment to affordability, making these iconic boots more attainable without compromising on their rugged appeal.
Is There Tecovas In Canada?
No, there is currently no Tecovas store in Canada. Aside from its online store, their physical stores only operate in 18 states* in the US.
*Georgia, Texas, Louisiana, Alabama, South Carolina, North Carolina, Colorado, Virginia, Tennessee, Florida, Kansas, Oklahoma, Nebraska, California, Arkansas, Utah, Arizona, and Missouri.
Does Tecovas Ship to Canada?
No, Tecovas does not currently ship to Canada. While they only send orders within the USA, you can still have your pair of Tecovas boots in Canada, by having them shipped via a package forwarder.
How To Ship Tecovas Boots To Canada?
Use Shippsy to ship your Tecovas boots (and other things you may have ordered at the said shop). Shippsy ensures you experience high–quality cross-border shipping service no other shipping providers can match.
We know shipping packages from the US into Canada can be expensive, and that surely is frustrating. But, worry no more because Shippsy ensures you enjoy cross-border shipping without spending extra. Finally, you can send your packages into Canada for the lowest price, starting at $6.99*. Plus, if you're in Ontario, you may enjoy a 25% discount on your handling fee. That's a pretty good deal right there!
So, here's how you do it with Shippsy:
Step 1. Create your free Shippsy account.
Step 2. Use your exclusive US shipping address upon checkout of your item. You may find these details in your Shippsy dashboard. Make sure to copy and paste the details as is so we know exactly which package to ship for you to Canada.
Step 3. Provide the accurate item information in your dashboard and choose your preferred shipping option. Then, a confirmation screen will show up with the shipment details including your total costs. Once everything looks good, you may proceed to click the Request button.
Step 4. Pickup your package at your assigned Shippsy branch or request a mail out to your doorstep.
*Shipping rate for British Columbia and Quebec starts at $7.99. See Shippsy's Pricing Page for more information.
Celebrities Who Wear Quality Products From Tecovas
Step up your OOTD look now with Tecovas! Here are some of the celebrities who rocked their Tecovas item which you may use for your next outfit inspo.
Jason Momoa
Jason Momoa is an American actor and model known for his striking looks and physique, and notable performances both in film and television. He gained widespread popularity for his portrayal of Khal Drogo in the hit TV series "Game of Thrones" and for his role as Aquaman in the DC Extended Universe.
Momoa's rugged and charismatic on-screen presence has made him a favorite in the world of action and fantasy cinema.
Get The Look
See how Jason Momoa rocks Tecovas' original pythons? You, too, can have it by getting it directly from Tecovas store! Made with traditional cowboy design, The Brady is a pair uniquely textured with scales and sturdy with ¾ Goodyear welt construction. Make sure to get this limited-edition pair before it gets sold out!
Miranda Kerr
Miranda Kerr is an Australian supermodel popular for her work as a Victoria's Secret Angel and now as a founder of an organic skincare and beauty company, KORA Organics. She gained international recognition for her modelling career and is known for her impeccable fashion sense, which includes a mix of elegance, class, and sophistication.
Get The Look
Doesn't Miranda look fab adding Tecovas Annies to her outfit? This bestselling pair of boots is a must-have for anyone who wants to rock a chic and classy look with a mix of cowgirl style! This item is available in bovine, suede, and goat.
Dak Prescott
Rayne Dakota Prescott, known as Dak Prescott, is an American professional football quarterback who plays for the Dallas Cowboys of the National Football League (NFL). He played college football at Mississippi State and was selected by the Dallas Cowboys in the fourth round of the 2016 NFL Draft. Since then, he has become one of the NFL's prominent quarterbacks, known for his strong arm, mobility, and leadership on the field.
Get The Look
You, too, can look as sleek as Dak Prescott, as he walks around with Tecovas' The Duke pair. This item is made with full-quill ostrich leather in pimpling construction and calfskin shaft to maintain an elegant look. Wear this and be ready to be a head-turner in any occasion - may it be a wedding party, formal gatherings or even for your daily use.
Thomas Rhett
Thomas Rhett Akins Jr., or Thomas Rhett, is an American country music singer and songwriter born in Georgia. He is the son of country singer Rhett Akins and his blend of contemporary and pop influences in his songs has gained him popularity in the country music industry.
Get The Look
Tecovas has recently made a collaboration with Thomas Rhett with their newest collection. The Tecovas x Thomas Rhett collection includes Men's Boots (Gregory and Lankford), Women's Boots (Macy and Kasey), and a Cotton T-Shirt (Bucking Bronco Tee).
Tara Davis
Tara Davis is a popular American track and field athlete, specializing in the long jump and sprint hurdles. Her exceptional performances at both the collegiate and professional levels led her to become a renowned athlete. She is often rocking a blend of athletic and classy fashion choices, reflecting her active lifestyle.
Get The Look
See how Tara Davis blends athletic and cowgirl fashion? Copy her style and get the Liberty Boots from Tecovas! This unique limited-edition item will surely step up your OOTD giving you a timeless and classy Western-fashion sense.
Follow Tecovas And Get Your New Boots Now
Ready to boot up your Western fashion? Check the latest designs and updates from Tecovas by following them on social media. Also, don't forget to search and read customers' reviews to know how they're liking their Tecovas products.
Final Thoughts
Once you're ready to ship Tecovas, don't forget to ship them only with the best cross-border shipping service provider - Shippsy! We'll make sure you get as amazed with the service you receive as you are with your new pair of boots.
Contact Us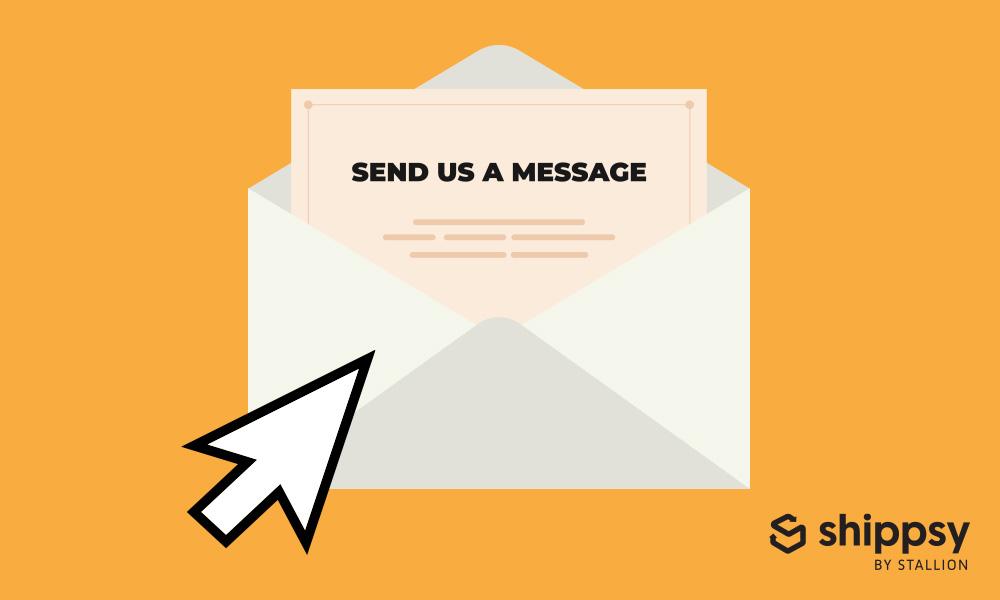 For concerns and inquiries, please dial 888-744-7779 or message us at [email protected]. You may also visit our branch locations across Ontario and British Columbia for more assistance. We'll be glad to help you!
Come on, we've all been there - wondering how to ship from US to Canada can be a real head-scratcher! While it can be done, it still seems complicated to manage expensive shipping fees and documentation, isn't it?
Luckily, there's a technique that can help every Canadian customer make the most out of cross-border shopping while enjoying the lowest fees ever!
How To Ship From US to Canada Without Breaking The Bank?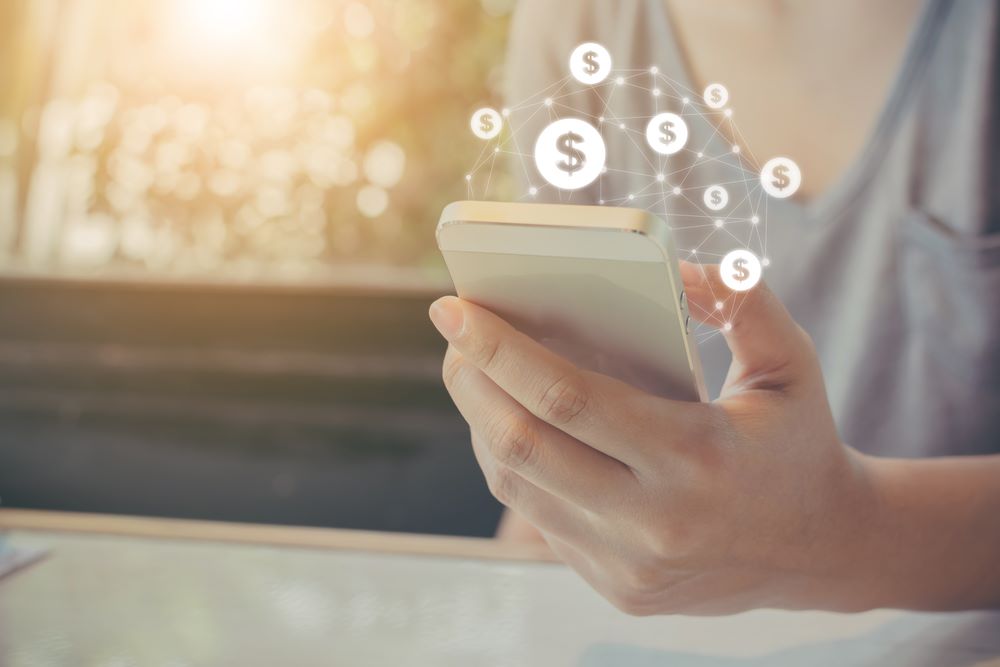 Alright, it's time to spill the beans on this.
To be honest, there are many different ways to pull down the shipping costs and here's what works best for our customers (and may also be best for you!).
Choose A Reliable Package Forwarder
Since there are still a lot of US online stores that do not currently offer shipping to Canada, package forwarders come to the rescue as they ensure that you still get access to the items sold in the US.
However, even shipping parcels into Canada with a package forwarder can be expensive and complicated. Thus, it can still feel like you're spending too much to get your US packages the easiest way possible.
The trick here is to find the most reliable one for you. With all the forwarders from all over Canada, it can be hard to choose one. Luckily, Shippsy offers top-notch features like affordable shipping rates, a simple shipping process, and fast transit time.
Save Money Using The Forwarding Technique
The Forwarding Technique paves the way to pay as low as $10 for cross-border packages' shipping fee and here's how to do it:
Step 1. Ask The Store To Consolidate Your Items
Package consolidation, or combining smaller packages into a single shipment, is an excellent approach to minimizing the empty spaces in shipping boxes, avoiding unnecessary charges, and allowing for a significant reduction in costs.
Here's a trick that worked for me: ask the US retailer and request to pack your multiple purchases into one shipment. Imagine the amount of money you can save by paying for one box, instead of more, right? Plus, you will only have one tracker to monitor your shipment's status.
Step 2. Request 3 Or More Packages On The Same Day (If Shopping From Multiple Vendors)
Requesting multiple packages on the same day is another powerful way to unlock substantial shipping discounts. For example, Shippsy offers a huge discount for customers in Ontario who request three or more packages on the same day. This deal made me save 25% on the handling fee. Taking advantage of this means saving a significant chunk on your shipping!
Step 3. Pick Up In Canada
When you request a home delivery service after a package has arrived in Canada, it costs you extra.
So, to reduce shipping costs it's smarter to pick up packages at a nearby location instead of having them delivered to your doorstep. That's a pretty huge savings right there!
Although the convenience of having it delivered to your doorstep may be hard to beat. It may come down to how far away the nearest branch location of your package forwarder is.
Why Is It Expensive To Ship From The USA To Canada?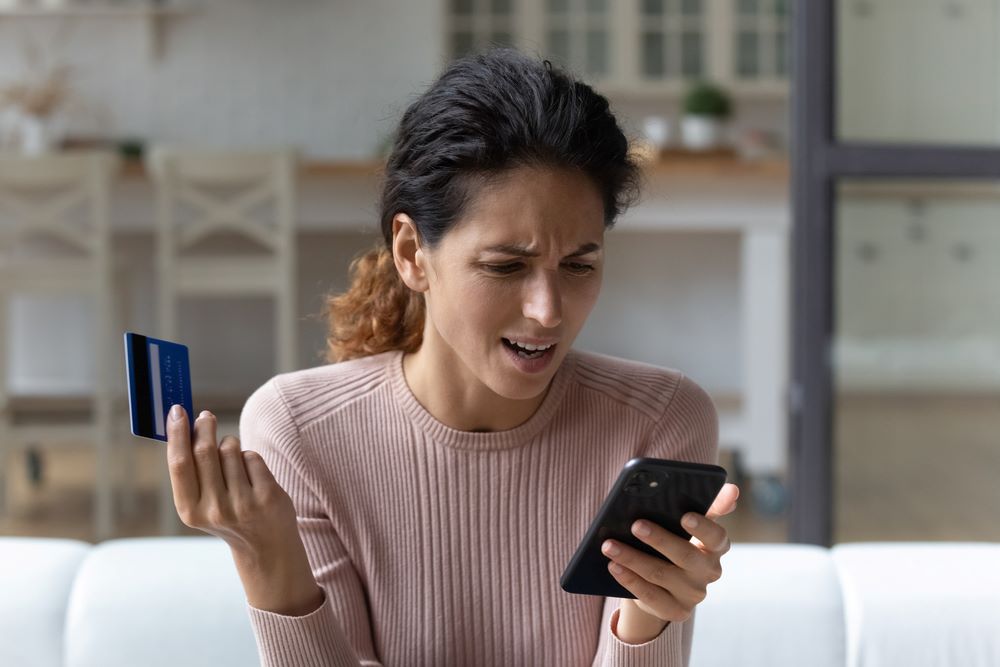 Many Canadian customers have asked this question multiple times while fretting over the total amount they need to pay to get their US orders.
Here are some of the reasons why US-to-Canada shipping is so expensive:
Transportation Costs
Transportation costs for cross-border shipping are really high. After all, shipping packages from the US to Canada include various expenses such as fuel, labour fees, vehicle maintenance, and other operating costs.
Shippsy minimizes these expenses by using ground shipping methods across the border.
Brokerage Fees
Brokerage fees can significantly increase the overall cost of shipping as they cover various services, like customs clearance, documentation, and compliance with import regulations. These fees are often based on the declared package value and can vary depending on the customs process and the shipping carrier's policies.
Note that the customs fees are assessed based on the total item value imported per day.
Tariffs
Let's think of tariffs as taxes on things that we buy from other countries. It may seem like paying extra money on top of what we already spent but it's more than that!
Tariffs are taxes imposed by the Canadian government on certain packages, and the amount we pay in tariffs depends on the type and value of the shipment. Generally, the more expensive the item, the higher we pay in tariffs.
Shipping Options From US To Canada (Major Carriers)
Check out the major shipping options available for shipping from the US to CA. Let's look at the rates for a package weighing 5 lbs (2.2 kg) from New York, USA, to Toronto, Canada.
| | | |
| --- | --- | --- |
| Shipping Option | Cost | Transit Time |
| UPS Standard | $34.49 | 2 business days |
| USPS Priority Mail International | $55.55 | 6 - 10 business days |
| USPS Priority Mail International (Medium Flat Rate Box) | $60.55 | 6-10 business days |
| USPS Priority Mail Express International | $78.80 | 3-5 business days |
| DHL Express | $123.17 | 1 business day |
| UPS Worldwide Expedited | $154.62 | 2 business days |
| UPS Worldwide Saver | $169.35 | 1 business day |
(Note: Prices are shown in USD. You may refer to the shipping carrier's websites for more accurate details and pricing.)
What Is The Cheapest Option To Ship To Canada?
Shippsy is the cheapest cross-border shopping platform in Canada. You can get your packages shipped across the border for as low as $6.99, no other carriers come close to these rates.
Check out our pricing summary below:
Destination
Price
Transit Time
Ontario
$6.99(for up to 10 lbs)
2-3 business days
(Exclusive deal: 25% discount for 3+ packages on the same day)
British Columbia
$7.99(for up to 10 lbs)
4-7 business days
Quebec
$7.99(for up to 10 lbs)
4-7 business days
You may use Shippsy's shipping calculator to find the best rates and options for your shipping needs.
*Amount shown in CAD. Duties and taxes are assessed upon request of the shipment.
Shippsy's Canada Shipping Features To Enjoy
Mail Out Option
If you can't claim your parcel, Shippsy can forward your parcel to Canada Post and they will deliver your parcel to your doorstep for a small added fee.
Tracking Feature
Shippsy provides tracking numbers for you to use in monitoring your parcel's movement. Additionally, you will also receive email notifications of the progress, including when they are ready for pickup.
Live Customer Support
Shippsy's commitment to exceptional customer service begins with live agents who provide a human touch, ensuring that every customer's needs are addressed by a natural person, not automated systems.
Things To Consider Before You Start Shipping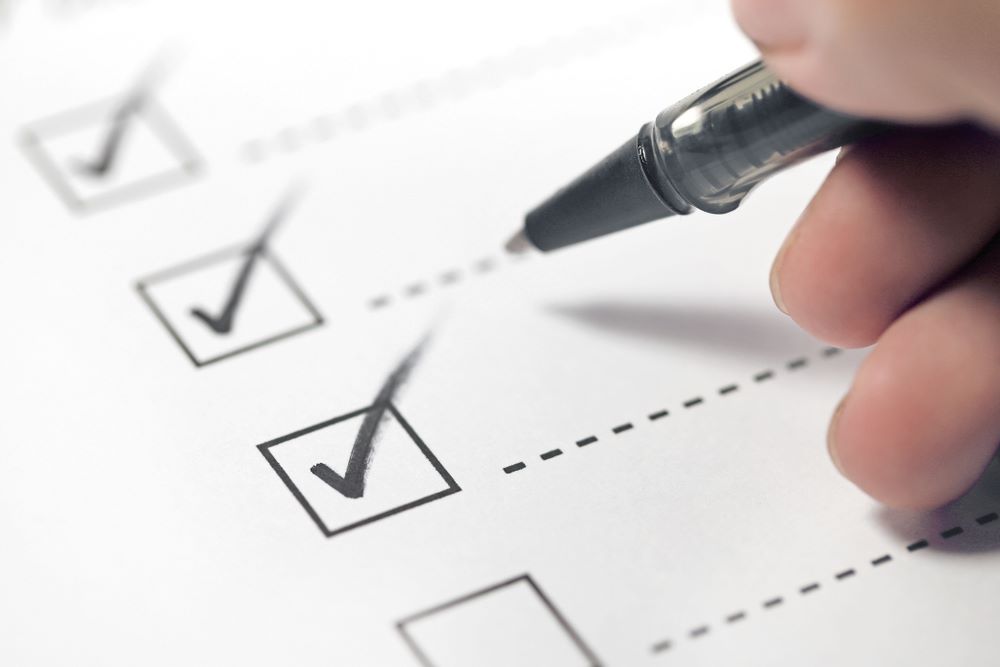 We must always be careful when shopping and shipping from the U.S. Here are some things in my checklist that you may want to include in yours:
Shop Only At Legit US eCommerce Stores
To ensure a smooth and stress-free shopping experience from the US to Canada, always shop only with recognized US eCommerce retailers. These trusted sellers provide secure websites, open policies, accurate product descriptions, and reliable customer ratings and reviews.
By doing so, we can expect to receive high-quality products while avoiding hidden fees and protecting our personal information. Shopping from authorized retailers not only assures that the things we buy are as promised, but it also gives us peace of mind, knowing that we can get help if any issues arise.
Understand Customs Fees
Customs fees are like tolls we pay on our purchases, depending on factors like the package description, value, and origin. Always check the thresholds and guidelines from official sources like the Canada Border Services Agency (CBSA) for the items you are shipping.
Here's another pro tip: Always keep your receipts handy if your shipping carriers ask for them. Knowing about customs fees helps you budget and avoid surprises, making your cross-border shopping journey smoother.
Review The List Of Restricted Items To Ship
For Canadian online shoppers shipping from the US to Canada, reviewing the list of restricted items is a crucial step. These items are the ones you can't casually add to your cart for cross-border shopping. They include things like perishable foods, live plants, and certain electronics.
To find the list, you can visit the CBSA's website or refer to Shippsy's page for the list of prohibited items.
Final Thoughts
Maximize your cross-border shipping experience by minimizing your fees. To make this possible, remember to use the Forwarding Technique and try shipping with Shippsy!
Prime Drink has taken the beverage scene by storm with its delectable and invigorating concoction, which boasts a rich infusion of essential vitamins and minerals. This innovative beverage is rapidly gaining popularity among individuals seeking a nutritious and revitalizing way to quench their thirst while simultaneously replenishing their body's vital nutrients.
But what is it? Let's answer some of the frequently asked questions about this popular beverage.
What is Prime Drink?
Prime Drink is an extensive line of drink mixes and energy drinks created and marketed by Prime Hydration, LLC and is highly promoted by well-known YouTube personalities Logan Paul and KSI. It is a sugar-free beverage that contains electrolytes, B Vitamins, and BCAAs.
It is an ideal beverage for individuals seeking hydration and an energizing lift. Its versatility makes it a perfect fit for any occasion where a thirst-quenching drink is needed. Those leading active lifestyles benefit significantly from its ability to maintain optimal hydration levels, allowing peak performance. Prime Drink is also a healthier alternative to sugary beverages, appealing to people concerned about dietary choices.
Whether you're an athlete aiming to stay at the top of your game, an enthusiast with a health-conscious lifestyle, or simply needing a refreshing and nourishing option, it answers to the challenge as the ultimate choice to invigorate and sustain you throughout your day.
Is Prime Drink Considered A Sports Drink?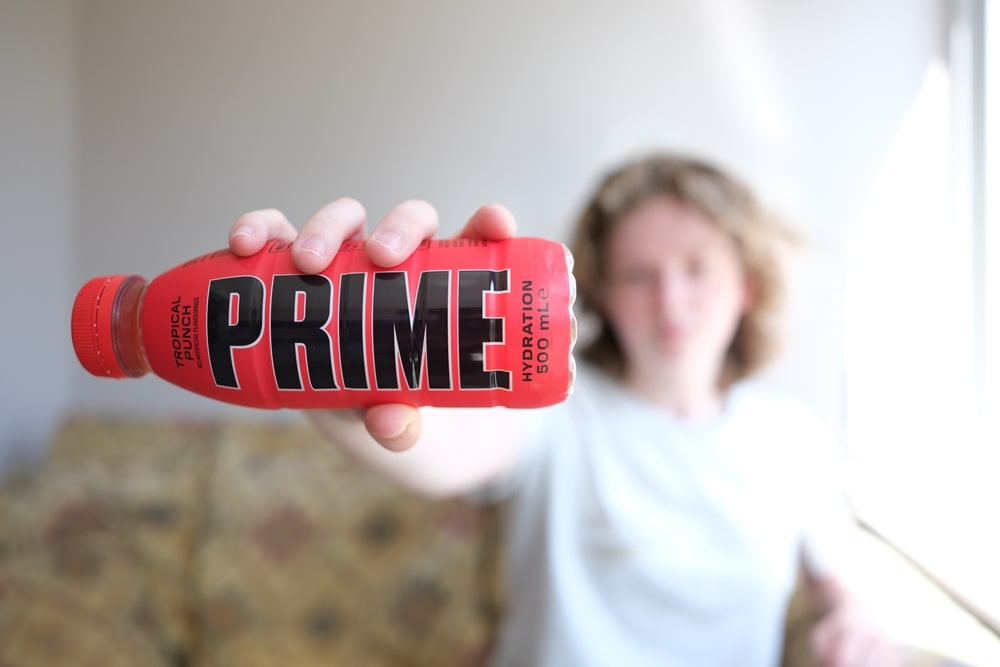 Yes, Prime Drink qualifies as a sports drink because it contains electrolytes, vitamins and minerals that can help maintain optimal hydration and balance. The electrolytes present in Prime Drink can help reestablish the electrolyte balance lost through sweating during physical activities. This is necessary because electrolytes are essential for muscle function and hydration.
The vitamins and minerals featured in every Prime Drink go beyond merely aiding in hydration - they also enhance athletic performance and post-exercise recovery. For example, Vitamin C contains antioxidant properties, reducing muscle damage after physical exercise and supporting the body's healing process. Meanwhile, the B vitamins in Prime Drinks are significant since they stimulate energy, ensuring that athletes can maintain their strength during intense workouts.
However, it's important to stress that Prime Drink is not exclusively created for athletes and may not include the entire range of nutrients they generally need.
What are the available options for Prime Drink?
Prime Drink is conveniently accessible in two distinct varieties: Prime Hydration and Prime Energy.
Prime Hydration is a sports beverage without added sugar designed for active people. It has important things like electrolytes, B vitamins, and BCAAs that help with energy and muscle function. You can choose from different flavors that not only keep you hydrated but also taste great. It's a healthy choice for those who like to be active and want a delicious drink that supports their well-being.
Tropical Punch
Blue Raspberry
Lemon Lime
Ice Shatter
Meta Moon
Glowberry
Lemonade
Ice Pop
Strawberry Watermelon
Orange
Grape
Prime Energy is an energy drink that can give you the perfect boost. It has 200mg of caffeine, which can help wake you up. It also has electrolytes, B vitamins, and BCAAs that are good for your body. You can choose from different flavors to find the one you like best. These flavors are just the definition of "great taste meets function." It can help you stay alert and have the energy you need to get through your day. Whether you prefer fruity, tangy, or sweet flavors, Prime Energy has thirst-quenching flavors to refresh, refuel, and wake you.
Tropical Punch
Blue Raspberry
Lemon Lime
Strawberry Watermelon
Ice Shatter
Orange Mango
Is Prime Energy Drink Canada Popular?
Prime Energy Drink has gained significant traction in Canada, especially among the younger demographic. This surge in popularity can be attributed to the endorsement and association of widely recognized social media influencers such as Logan Paul and KSI with the brand. Their affiliation with the beverage significantly boosted its visibility and appeal to the audience they influence, ultimately contributing to its growing prominence and popularity within the Canadian market.
What are the common ingredients of Prime Drinks?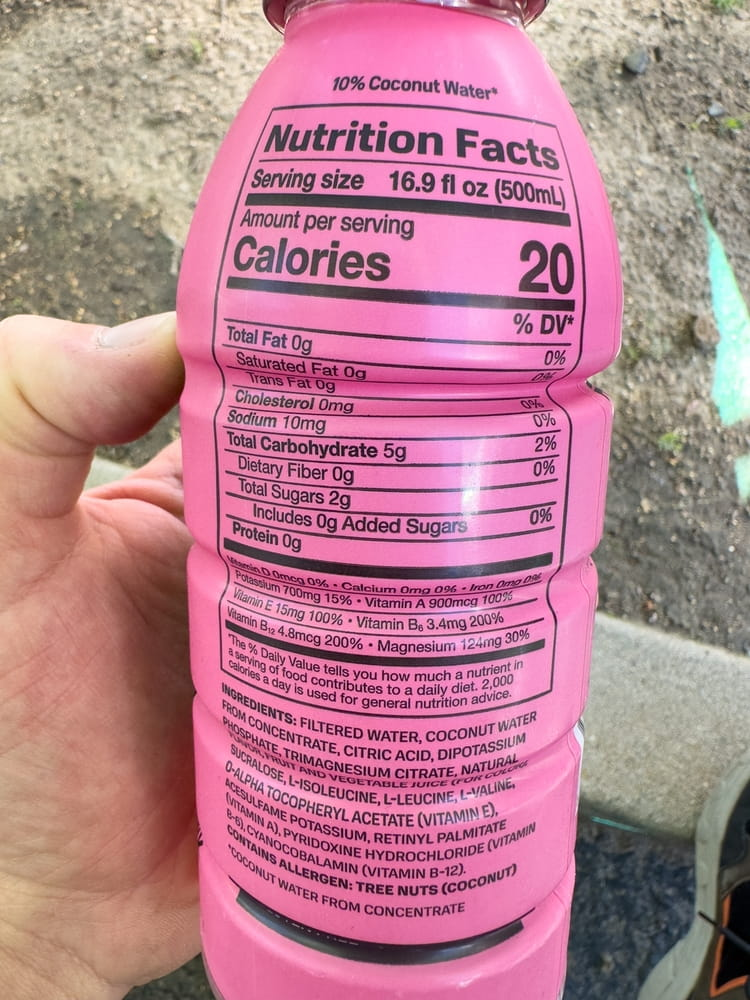 The common ingredients of Prime Drinks are Filtered Water, Coconut Water, Citric acid, Dipotassium phosphate, Trimagnesium citrate, Natural flavor, Sucralose, Beta carotene, L-isoleucine, L-leucine, L-valine (BCAAs), D-alpha tocopheryl acetate (vitamin E), Acesulfame potassium, Retinyl palmitate (vitamin A), Pyridoxine hydrochloride (vitamin B6), and Cyanocobalamin (vitamin B12).
Prime Hydration is sugar-free and caffeine-free, while Prime Energy contains 200mg of caffeine per bottle. Prime Drinks are also free of artificial colors, gluten, and dairy.
Prime Drinks can have different ingredients based on the flavor you pick. Some flavors have extra things like fruit juices or extracts to make them taste unique. So, when you check out the different flavors, you might find special ingredients that give each one its own tasty character. This variety lets you choose a Prime Drink that suits your taste and diet to enjoy a personalized and delicious experience that's just right for you.
Is Prime Hydration Safe For Kids?
Prime Hydration is usually safe for children. It's a sugar-free sports drink with good stuff like electrolytes, B vitamins, and BCAAs, which help with hydration and overall health. Plus, it doesn't have artificial colors, caffeine, or gluten.
But remember, Prime Hydration isn't made specifically for kids. It's meant for active adults. So, keep an eye on how much your children have. Prime Hydration is generally acceptable for kids as long as they don't have too much. Just be careful about caffeine and BCAAs.
Tips for parents:
Keep your kids from having too much Prime Hydration.
Watch out for other foods and drinks with caffeine.
Talk to your child's doctor about using Prime Hydration.
If you're worried, talking to your child's doctor is the best thing to do.
Are Prime Drinks in Canada?
Yes, Prime Hydration Drink is accessible in Canada and can be found on the shelves of selected retail stores throughout the country. On the other hand, Prime Energy Drink is currently unavailable in the Canadian market following a recall in July 2023 due to its caffeine content surpassing the Health Canada stipulated limit. The possibility of reintroducing Prime Energy Drink in Canada at a later time still exists, provided the successful product reformulation aligns with Health Canada's caffeine regulations.
How Much Are Prime Drinks in Canada?
The price for this thirst-quenching drink varies depending on the retailer and the size of the bottle. However, a 500ml bottle of Prime Hydration Drink typically costs around CAD 3.89. Prime Energy Drink is not currently available in Canada due to a recall in July 2023. Therefore, its price is not currently relevant.
Remember that the price of Prime Drink can change based on retail location and the time of year. To get the most accurate price, it's a good idea to ask the store directly. They can give you the current price for your area, considering any price changes that might happen because of the season or where you are in Canada.
Where to Buy Prime Energy Drinks in Canada?
Since the July 2023 recall, you cannot find Prime Energy Drinks in Canada. Alternatively, you can buy other brands, like Red Bull, Monster, Rockstar, Full Throttle, NOS, and AMP.
Where else can I buy Prime Energy?
Prime Energy Drinks are available for purchase in a variety of stores in the US, including Walmart, Target, Kroger, GNC, Vitamin Shoppe, 7-Eleven, Circle K, and Speedway. If you have trouble finding Prime Energy Drinks in your local area, you can order them online from Amazon.com.
While Canadians can still purchase Prime Energy Drinks from the United States and ship them to Canada, there is a risk that Canadian customs officials could seize your shipments. They have the right to hold any goods they suspect do not comply with Canadian regulations.
Ship Your US Items With Shippsy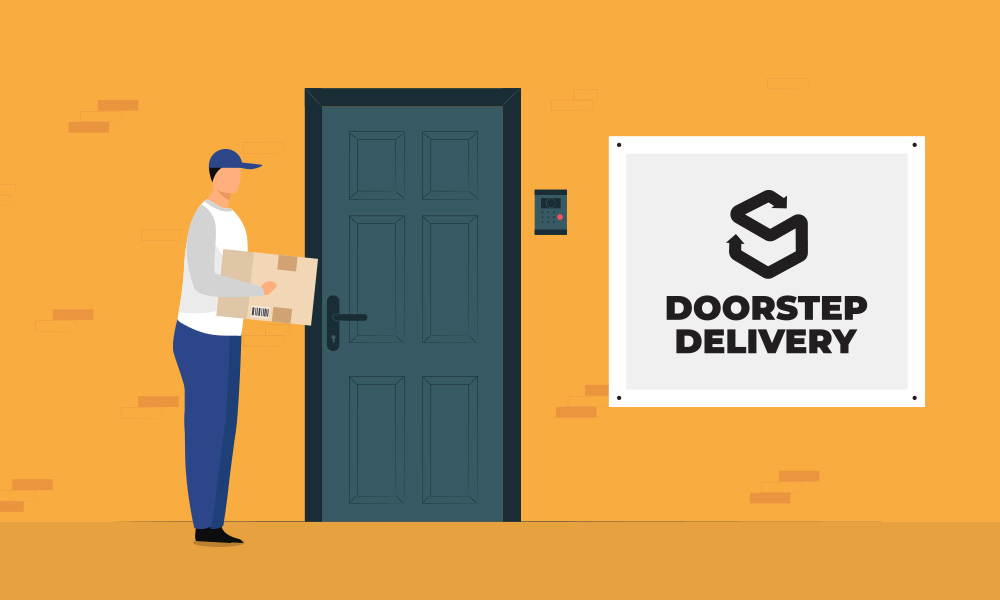 Shippsy is a handy service that helps you bring American products to Canada (including exclusive Prime flavours!). It makes it easy to shop across the border and get items from the U.S. that you might not find easily in Canada. With Shippsy, you can broaden your shopping choices and access more products from south of the border, improving your shopping experience and giving you access to more items.
Parcel Pickup
When your item gets to our place in the U.S., we take care of the paperwork and bring it here. We ensure your stuff comes to one of our places in Canada quickly and safely. Just remember to bring your order pickup sheet when claiming your package!
With Shippsy, the more you shop, the more you save.
Mail Out
Need it delivered to your home? No problem!

When your package arrives at our warehouse in Canada, we put the right label on it, give it to the delivery company, and Canada Post takes care of bringing it to your home. You'll enjoy super-fast delivery and affordable shipping rates for your package.
Contact Us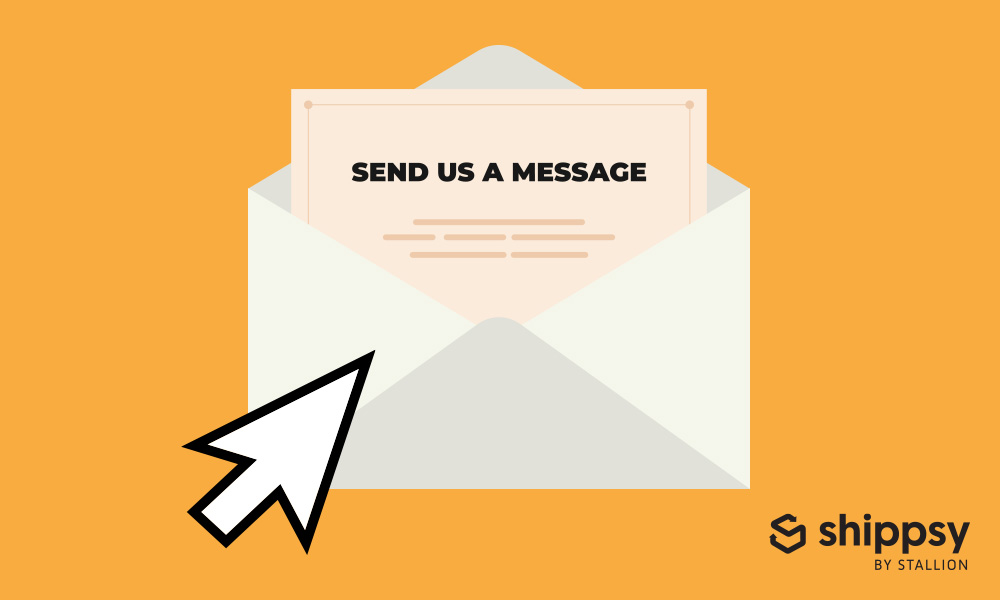 Contact us at Shippsy with any questions or concerns about our shipping services. We are here to help you ship your packages from the US to Canada conveniently and affordably.
You can contact us by phone, email, or live chat. Our customer service team is available Monday through Friday from 9 a.m. to 10 p.m. EST and Sundays from 10 a.m. to 7 p.m.