The holiday season is fast approaching, and everyone is excited about it! People are starting to prepare for their back-to-back Christmas parties. Customers have started lining up at malls to purchase gifts and buy Christmas decorations to adorn their homes. However, others opt to stay in their homes and shop online to avoid the long queues.
Most items bought during the festive season are goodies that sparkle and shine. This is because they resemble the snowflakes that fall in winter, giving that maximum Christmas feel. Moreover, Canadians love to shop for glittery items on Christmas, not only for gifts and home decorations but also for accessories to complete their Holiday look.
In this article, we gathered some trendiest fashion jewelry to sparkle your look as you celebrate the most beautiful time of the year! We also included Shippsy's tips on the best way to ship jewelry. So what are you waiting for? Read now!
Stone & Crystal Necklace
Complete your dainty yet classy look this Christmas with this DKNY Gold-Tone Stone & Crystal Layered Pendant Necklace! It comes in two layers of gold-tone mixed metal 16" long. You will not have to worry about losing this accessory as it comes with a secure lobster clasp closure. Purchase this item and celebrate the holidays with timeless beauty!
Custom Name Bracelet
Here's another must-have item for your overall classy Christmas-y look! GracePersonalized's Personalized Custom Name Bracelet is the perfect piece of jewelry for your outfit and as a gift to your loved one! You can have it personalized with the name that you want to put on this handmade jewelry item. It is available in three different materials (Sterling Silver, 18k Gold Vermeil, and Rose Gold Vermeil) and is adjustable.
Hoop Earrings
Look like royalty this Christmas season with Finecraft Jewellery's Hoop Earrings! This item is a perfect addition to your glamorous look with its diamond accents in platinum-plated brass. It is available in 7 colors (Blue Sapphire, Green Peridot, Purple Amethyst, Red Garnet, Ruby Red, Sky Blue Topaz, and White Opal). Dazzle your holiday nights by getting this item!
Ring Set
This one is for fans of bands! BaubleBar's Maddie 18K Gold Ring Set is the perfect accent for your fingers this Christmas season! It comes in three unique stack rings, which you can wear all at once or on multiple digits. This item carries Cubic Zirconia stones and is crafted in 18K gold-plated sterling silver. Another thing to like about this item is it is hypoallergenic!
Plan your outfits for your Christmas parties and purchase these US items to complete them! And don't forget to choose Shippsy for a secure and the best way to transport jewelry!
Heads Up! We Only Ship Fashion Jewelry
Shippsy does not handle shipping jewelry made with rough diamonds and breakable/fragile elements. Fine jewelry is made of natural and expensive precious stones and metal. They are expensive jewelry sold by top names in the jewelry industry like Bulgari, Cartier, Piaget, etc.
On the other hand, we can very much ship your fashion jewelry! Fashion jewelry is accessories made of synthetic materials and common metals. They are usually gold or silver plated, beaded, and use alternative materials to simulate diamonds or crystals.
Check out Shippsy's list of prohibited items before purchasing items to be shipped from the US.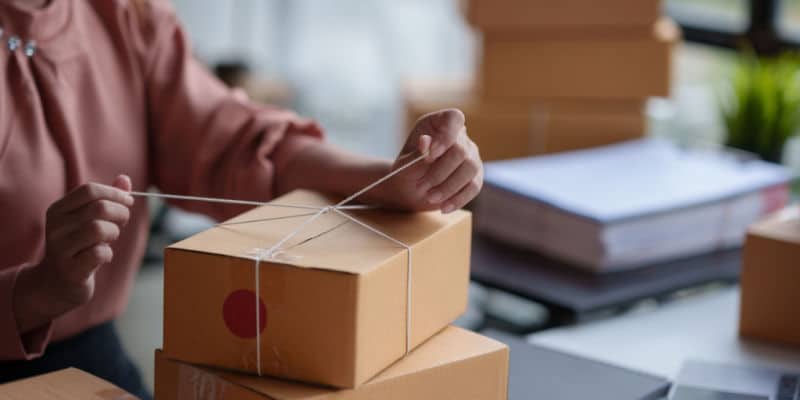 Use Shippsy
We believe every shopper should know the best way to ship a piece of jewelry. For shipping the trendiest fashion jewelry from the US to Canada, go for Shippsy's excellent shipping services and cheap shipping cost. To ensure that these goodies are secured and arrive in good condition, here are some of the tips we have for you:
Seal Them With Proper Packaging - Fashion jewelry is as valuable as fine jewelry when shipping them. That is why we want to remind you to ensure that your items are sealed in proper packaging. Valuables should be secured in bubble wrap for safe transport. Note that Shippsy will not accept items not placed in the right packaging material. Items in paper bags sent to our US facility will automatically be disposed of.
Check The Shipping Label - Shippsy values providing our customers with good service. Additionally, for you to feel at ease, we would also like you to check if all information is correct. Ensure that your packages are marked with the correct shipping label to avoid having lost packages.
Document The Value of Your Item - Please be informed that Shippsy will not be allowing items with no documented value.
How It Works
Shippsy provides a smooth and convenient shipping process!
After shopping in your favorite online US stores, send your orders to your personalized Shippsy US address. Your items will be processed and added to your Shippsy dashboard within 24 hours after we receive the package information. You will receive an email to make payment and the total breakdown of your payable amount (Shippsy fee and applicable taxes and duties).
Once your shipment passes through customs clearance, it will arrive in Canada in 1-2 business days. You will receive another email once we receive the parcels in our Shippsy warehouse. (Note that it will take around 4-7 business days for delivery time for the region of British Columbia)
Suppose you want more information about the best way to ship and insure jewelry. In that case, our customer service is available to assist you. Contact us at 888-744-7779 or message us via our website.
Note that Shippsy only caters to shipping from the US to Canada. For international shipping from Canada to the US, check out Stallion Express.
Key Takeaway
You don't have to pay too much to complete your look in celebrating the happiest time of the year. Fashion jewelry may be cheaper, but these items sure serve their purpose: add accent and flavor to your style! And to achieve that, Shippsy is always ready to help you with shipping jewelry from the US and your other Holiday Season shipping needs.