Canadians love shopping online for goods, especially from the United States. While most US stores ship to Canada, like Macy's, Bloomingdales, and Dillard's, cross-border shipping can be pricey. Paying for expensive shipping costs can be tough for shoppers buying goods from the United States, especially if they have an allocated budget for a certain purchase.
The total costs when shipping goods can be overwhelming, budget-wise. There are many factors to consider when getting the total cost, including the item amount, the shipping rate, and applicable taxes and duties. But you can manage this well with the help of a shipping calculator.
Read this article to understand the importance of a shipping calculator and get to know Shippsy's guide to Canada Post shipping estimate. 
What is a Shipping Calculator?
A shipping calculator is a useful shipping tool that provides an estimate of shipping rates as well as other important details of a shipment. It gives users an idea on what to expect to pay when placing an order and avoids sticker shock.
Canadian shoppers like you should make it a habit to use a US-to-Canada shipping cost calculator. Once you fully understand how it's used, you're off to a great shipping experience without hurting your pockets.
Importance of Using A Shipping Calculator
As mentioned above, a shipping calculator can help you manage your shipping costs. It allows you to set proper expectations on delivery, decide on the best shipping option, track your expenses. 
Setting Proper Expectations
While there are many limited-time offers on prices during peak seasons, a shipping rate can increase. Thus, it is best to shop early when the holidays are nearing. A shipping calculator will help you determine the right time to order your product and help you plan your shipping using the correct shipping method.
Decide on The Best Shipping Option
A shipping calculator not only gives you an estimate of the total cost but also helps you compare the rates between shipping options. It helps you decide which shipping option will save you money. So, plan ahead and avoid premium options like express delivery.
Track Your Expenses
Always use a shipping calculator on every purchase you make and list all the amounts you've paid either weekly (if you're a frequent shopper) or monthly. This way, you can know how much of your money goes to shopping and decide whether you're still right on the budget.
Understand The Costs
Errors are unavoidable in all types of business and transactions. While it rarely happens, it is advisable to be very careful for both the sellers and buyers. Thus, a shipping calculator comes in handy for two reasons: first, it helps you understand the breakdown of cost. Second, it keeps you from choosing an expensive shipping option that might cost you more than you expect.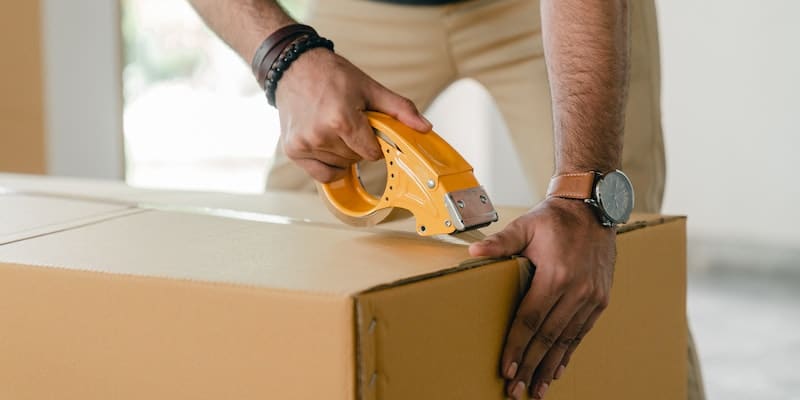 Shipping Cost Considerations
The total cost for a shipment from US to Canada varies depending on the following factors:
Package Destination
It is important to consider your location when calculating the shipping cost. It may be higher if you are located farther from the shipper. Claim your items in person if you have a vehicle or if it costs less to go to a pickup branch. This way, you can avoid paying an additional fee for a delivery courier service to deliver your package to your location.
The type of shipping also matters in the calculation. The shipping charge can differ between standard shipping or expedited parcel shipping.
Package Weight and Size
Many shippers used to send large packages containing items that best fit in a small packet. Carriers now calculate the shipping cost based on the dimensional weight of the box regardless of your item's size. This is to regulate and save space in shipping containers, allowing them to deliver more customer orders in time.
So, if you are purchasing multiple items from the same store, contact the shipper and ask if your orders can fit in one regular parcel box instead of being packaged in multiple boxes. This scenario can cost you more, so don't hesitate to ask before proceeding with your shipping process.
Customs Taxes and Duties
There is no CBSA Tax for imports valued at less than 40 CAD. Moreover, for imports that cost more than 40 CAD, you must pay 13% for personal imports and 5% for business imports. Finally, for imports that are more than 150 CAD, you may pay 13% for personal imports and 5% for business imports. Depending on your product category, duty is also calculated from 0% to 25%. Note that the CBSA tax and duties are assessed based on the value of items imported per day. 
Parcel Forwarding Via Canada Post
Shippsy is your best shipping ally for cross-border shipments. While there are currently six Shippsy branch locations in Canada, shoppers from other parts of the country might not be available to go to one to pickup their packages personally. 
Thus, Shippsy's package forwarding is the best shipping if you're far from branches. Shippsy will forward your parcels to our partner carrier, Canada Post, to deliver* them right to your doorstep for a minimal cost.
Use a Canada Post shipping estimator to estimate how much you will be paying for the home delivery. The delivery fee for a parcel is calculated by entering the shipper's postal code and the package details, including the size (length + width + height) and weight (kg or lbs). (Note: Canada Post rates are not included in the delivery fee for parcel forwarding with Shippsy.)
You're always welcome to talk to our client support team if you have any questions or need assistance with Shippsy's services or calculating your shipping costs.
*Estimated delivery time depends on Canada Post.
Key Takeaway
Isn't it great to enjoy shopping for US goods while saving money on shipping a parcel or two from the US to Canada? Of course, you can achieve this using a shipping calculator and choosing the best cross-border shipping partner, Shippsy.Meanwhile, if you're a Canadian owner of a small business and looking for cheap shipping service for domestic, Canada-to-US, and international shipping , visit our sister company, Stallion Express. Integrate your store now and offer the world your best Canadian products!