Canada is known for its extreme winters. However, Canadians make the most out of it instead of stressing about it. Thus, winter festivals are held in almost every city in the country to bring warmth to the Canadian winter. It usually starts in mid-November and ends in late February of every year. Aside from being traditional winter activities, the winter festivals in Canada also serve as an attraction to tourists and newcomers.
Enjoy the Canadian winter festivals fashionably by purchasing some of the coziest fashion pieces that can heat you while having fun in the snow! Read this article for some outfit ideas and tips on how to ship package to Canada the proper way.
Winter Festivals Across Canada
Here are some of the biggest winter festivals you don't want to miss in Canada:
Winterlude, Ottawa - The Winterlude festival hosts over 20,000 people to experience ice skating in the frozen canal.
Festival of Lights, Niagara Falls - The Festival of Lights displays up to 8 kilometers of light, transforming Niagara Falls into a marvelous and magical winter wonderland.
Carnaval de Quebec, Quebec City - Quebec's Winter Carnival hosts over 400,000 people from across the globe and is usually held for two weeks.
Festival du Voyageur, Winnipeg - This winter festival has many unique and exciting activities, including beard-growing contests and fiddling contests.
Now, here is some winter-friendly clothing from the US you should wear in celebrating the winter festivals in Canada: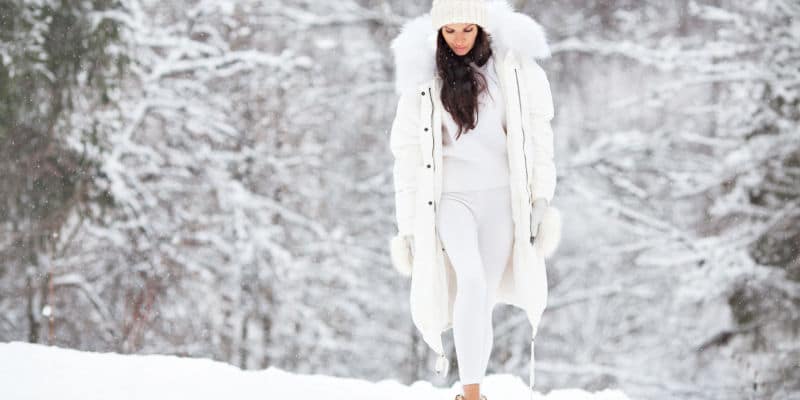 Winter Jacket
You got to love this Michael Kors Hooded Puffer Coat from Macy's! This item is designed with a luxurious faux-fur trim and is water-resistant. In addition, this quilted coat has knit cuffs and thumbhole detail for added protection. It is available in four colors (Wine, White, Black, and Taupe).
Insulated Vest
If jackets are not the thing for you, here's an option that will also warm you up. You can buy this Henry II Extreme Insulated Vest from Mountain Warehouse. It is treated with Durable Water Repellent (DWR) for a water-resistant feature.
Thermal Leggings
Walk around confidently wearing these Sophia Heavyweight Thermal Leggings from Macy's this winter season! Stay comfortable with this high-rise Heat Holder's smooth stretch fabric and moisture-wicking technology. The product is available in different sizes and is also currently on its limited-time special price.
Omni-Heat Boot
Have you bought your footwear for your snow activities already? If not, try this Fairbanks Omni-Heat Boot from Columbia! Hike comfortably in snow, mud, slush, or rain with its thermal-reflective lining and cushioned midsole for extra warmth and support. This item is best for extreme winter activities like skiing, snowboarding, and other snow sports.
HEATTECH Scarf
Protect your neck this winter by getting this HEATTECH Scarf from Uniqlo. You can wear the scarf in different styles! This item is perfect for cold weather because it is designed with bio-warming and insulating heat technology. It is made of acrylic and wool and is available in different colors.
Waterproof Gloves
Don't let your hands go cold! So, purchase these Lands' End Squall Waterproof Gloves from Kohls! It features heavyweight construction and waterproof palm grips. Moreover, this item is also available in different colors and sizes.
How To Ship A Package To Canada
Shipping package to Canada is super easy with Shippsy, where you can get a premium shipping service for a low shipping cost.
Your cross-border shipping journey starts when you create your Shippsy account. Registration is free, and you receive an exclusive US shipping address!
Go to your favorite US retailer websites and order the items you want. Then, copy and paste your US shipping address from your Shippsy dashboard into your online purchase upon checkout.
The item information will be added to your account in 1-2 business days after your parcel arrives in our United States facility. We will notify you via email of the progress along with your total payable amount (shipping fee + applicable taxes and duties).
Payment is securely done via Shippsy's website by adding your credit card. Click this link for detailed information on how much to ship a package to Canada (shipping rates can be different from the regions of British Columbia and Quebec). Don't forget to attach a copy of your receipt to continue your shipping process.
All shipments are subject to physical assessment in customs clearance. Shippsy is compliant with Canada Border Services Agency's regulations on imports. Thus, visit Shippsy's list of prohibited items to ensure your shipment can enter the Canadian border smoothly. You will receive another email once your parcel is ready to be claimed at one of our branch locations.
Please bring your order pickup sheet and a piece of valid identification card upon collecting your shipment. Picking up your parcel is completed in only a few minutes.
Contact customer service to get further assistance on shipping packages from the US to Canada. Furthermore, visit our website to get more information about Shippsy's cheapest shipping service.
Key Takeaway
The winter season is a beautiful time for everyone to end a year and start a new one. Enjoy Canada's winter festival activities by wearing the hottest winter clothing must-haves from the United States! Start your best online shopping and cross-border shipping now with Shippsy!
Shippsy does not handle international shipment and is exclusively for US-to-Canada shipments only. However, if you're a Canadian seller, visit our sister shipping company, Stallion Express, and get a cheap shipping option from Canada to anywhere in the world.