Stranger Things is an American science fiction TV series initially released in 2016 and has had a global influence since its release. In Canada, fans proved their fascination for the series with how it stayed in the top charts for weeks.
We're offering the perfect item guide for Canadian fans or those looking for the best gift for their loved ones who love the series. So check out the items listed below and add them to your cart before they're sold out!
Moreover, why limit yourself to shopping within Canada when goods from the US are made accessible? Shop now and use Shippsy to ship to Canada from US. We guarantee the best services for the cheapest price.
So, what are you waiting for? Read now!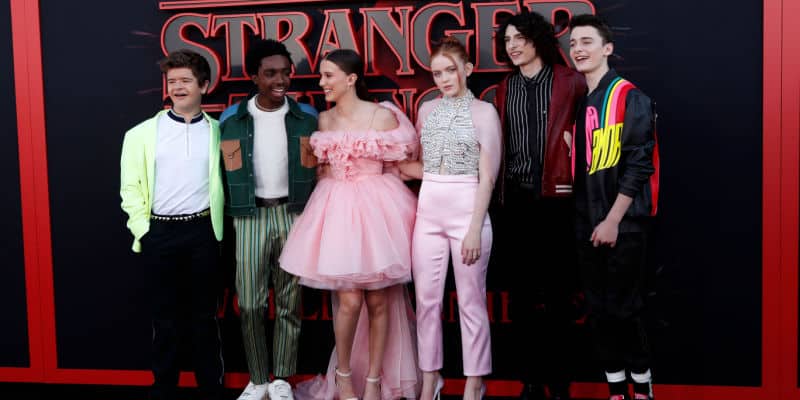 Funko Pop! Vinyl Figures
Check out these hot-selling Funko Pop! Vinyl Figures of Stranger Things from Amazon! Delight yourself with these cute little figures inspired by the casts of the beloved series. On December 1, 2022, the Pop! vinyl figure for the infamous Vecna was released and has already sold a lot. Complete the characters Pop! figures and bring home the excitement and breakthroughs of the series in your homes.
Dungeons and Dragons Set
Did you know that this popular tabletop game is one of the creators' biggest inspirations for the worldwide hit TV series? Fans have seen the characters play this game in several episodes. If you don't have one yet, this is the perfect time for you to purchase yours! Visit Walmart's section for Dungeons and Dragons sets to order one. Then, make your free time more fun and exciting by playing this with your family and friends!
Stranger Things Apparel
You can never go wrong with gifting a fan with Stranger Things apparel! Look into Pop In A Box's wide selection of apparel designed with your iconic logos and graphic designs from the series. Choose from shirts, pullovers, socks, hoodies, sack bags, tote bags, bucket hats, shoes, and more! Imagine yourself wearing these and walking around like one of the series' main characters. Isn't that exciting? So, visit the store and shop now!
Stranger Things Posters
Give life to your walls by hanging up some cool wall art and posters from eBay! Choose from this wide array of wall decorations that different artists creatively design from the United States. Posters are available in different sizes showcasing scenes, characters, inspirations, and scenes from different seasons.
Keychains
Are you looking for some giveaways for your Stranger Things fanatic friends? Then, visit Etsy's wide selection of Stranger Things-inspired keychains made in different materials, designs, and sizes. If you get lucky, you may find some sellers that offer customization. Thus, you can have your orders personalized with the names of your family and friends or even with a code of your favourite soundtrack from the series!
Monopoly: Stranger Things Edition Board
If you enjoy playing monopoly games and are a big fan of the Stranger Things series, then treat yourself to this item. Purchase Hasbro Shop's Monopoly: Stranger Things Edition Board and take your game nights into the adventurous world of the Upside Down. This game can be played by 2-6 players aged 14 years and above! The product includes the game board, tokens, grandfather clock spinner, Title Deed cards, Cerebro cards, Hellfire Club cards, cassette tapes, dice, money pack, and game guide.
Hassle-free Cross Border Shipping
Many online shoppers from Canada often get stressed out about paying too much to ship an item from the US. While shopping within Canada surely costs less, online shoppers may find more variation of their favorite products in the US. Fortunately, Canadians can ship to Canada from US* in the cheapest way through Shippsy. They offer the best shipping options for a low price.
*Shippsy does not handle international shipment from other countries.
How to Use Shippsy
Here's a quick guide on how to ship to Canada from US.
Your best US-Canada shipping experience with Shippsy starts with signing up at the website! Account registration is free and takes only a few minutes to complete. Sign up for your free account, start shopping online and use your unique Shippsy address! Meanwhile, all you need to do is request for the shipment and pay your dues, and we'll take care of any paperwork and the border clearance into Canada.
Your US shipping address will appear on your dashboard as soon as you complete the registration process. Make sure to copy and paste the address in purchasing your orders from any online store in the United States.
The shipment will arrive at Shippsy's US facility within 24 hours. You will receive an email notification to pay for your total, which includes the Shippsy fee* (shipping cost + brokerage + transportation) and applicable tax and duty.
*Visit Shippsy's pricing page for more details. 
How To Pay for Shippsy
Paying for Shippsy's services is effortless. Payment is securely done on Shippsy's website by adding credits to your account via Visa and Mastercard.
How To Get The Items
Shippsy offers the most convenient shipping options for customers depending on their needs.
Shippsy currently has six branch locations where you can personally claim your package via Parcel Pickup Service. Show your order pickup sheet and a piece of your photo ID and it will take only a few minutes to complete your process.
However, if you wish to have your package delivered to your destination, you may choose the Mail Out Service. Shippsy will forward your shipment to its partner carrier, Canada Post, to complete the final mile delivery* for a small additional fee. Moreover, the Pallet Service is your best option if you're shipping oversized packages or shipments in large quantities.
Contact our customer service for inquiries and assistance. Shippy's client support agents are always ready to help you with anything concerning shipping from US to Canada.
*Delivery time depends on the carrier.
Key Takeaway
Canada has many TV shows of its own, but Canadian viewers can get fascinated with TV shows from the US. Thus, fans contribute a lot to merchandise's increasing numbers in the market. For Canadian shoppers, cross border shipping is made fast, easy, and affordable with Shippsy.