As January ends, February makes its way, and people start anticipating the next big occasion celebrated by many: Valentine's Day.
The United States is home to many renowned chocolate brands and producers, offering various chocolate types and flavors. So, suppose you're looking for milk chocolate, dark chocolate, or something more exotic. In that case, you can surely find the one that will satisfy your taste buds in many US-based chocolate stores.
In this article, we'll provide some US brands that offer the best limited-edition chocolates you will love and some tips on buying chocolates. Leaf through and learn how to get them via Shippsy's Package Forwarding US to Canada.
Jacques Torres
Jacques Torres, also known as Mr. Chocolate, is a renowned New York-based Pastry Chef and Chocolatier. The Jacques Torres Chocolate shop in Brooklyn, New York, sells the best Valentine's Day Collection. Visit the site and shop their current bestsellers. Some of its popular chocolate products are the Valentine's Assorted Bonbon Heart Box, Sweet Love Bonbons, Valentine's Foiled Heart Box, Sweet Love Bundle, and more!
Shelf Life: Jacques Torres chocolate bars and chocolate discs can last up to 6 months in their original packaging or in airtight containers.
L. A. Burdick
This US-based chocolate store sells European-inspired, handmade, and artisanal chocolates and confections. The L.A. Burdick Handmade Chocolate is founded by Larry Burdick, who is widely regarded as the pioneer of fine chocolates in America. Enjoy their wide range of chocolate assortments, such as the famous Chocolate Mice and Penguin, Chocolate Bars, and Vegan Chocolate Selection.
Shelf Life: You may enjoy L.A. Burdick chocolates' optimal freshness and flavor for up to 1 year!
See's Candies
See's Candies is a popular chocolate and candy store in the USA. The See family founded it in 1921 in Los Angeles, California. What began as a humble candy store now produces over 26 million pounds of chocolates and candies yearly! So check out their store now and enjoy shopping for their wide selection of aged chocolates for a richer, smoother taste. Fun fact: See's Candies carries a Guinness Record for the biggest chocolate lollipop weighing 7,000 pounds!
Shelf Life: See's Candies products are meant to be consumed within 2-3 months of production, when the products are at their peak level of flavor.
TCHO
If you're in the market for high-quality chocolates, you should consider TCHO. This US-based chocolate brand sources cocoa beans at its state-of-the-art chocolate factory in Berkeley, California. Moreover, TCHO produces great chocolates and values sustainability and ethical practices. So shop their chocolate bars with different flavors and give them to someone you love!
Shelf Life: TCHO chocolates' premium ingredients have a shelf life of 18 months from their manufacture date.
Ethel M Chocolates
Ethel M Chocolates is a popular choice when buying chocolates for Valentine's Day. All of their chocolate products are made with premium ingredients and are crafted by skilled chocolatiers, ensuring a rich experience for anyone who indulges. They offer a wide variety of options like Satin Heart Limited Edition Chocolate Assortment, Red Ribbon Copper Gift Box, The Love Collection, and more.
Shelf Life: Ethel M Chocolates products should be consumed within 14 to 30 days to ensure their freshness and taste.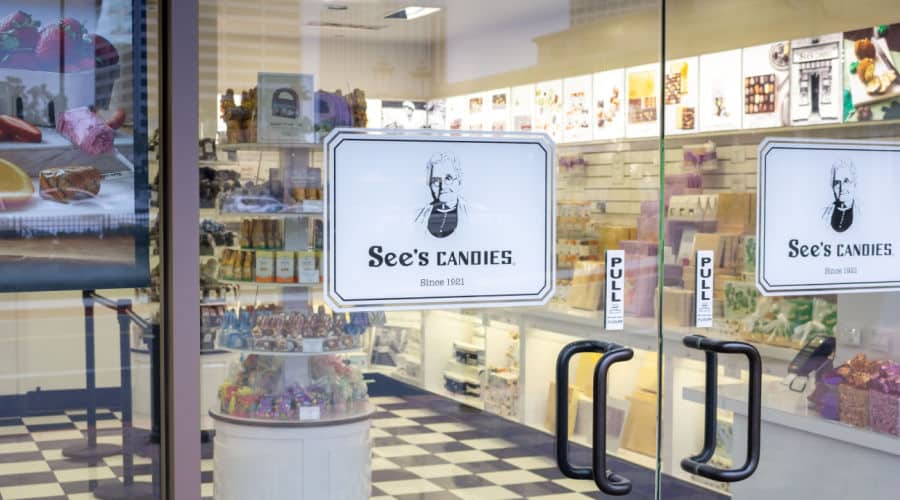 Tips For Buying Chocolates
Here are some considerations you should consider when buying chocolates for Valentine's Day or any special occasion worth celebrating. Take note of the points below before you ship to Canada:
Shop Early - Don't wait until the last minute to place your order, as popular chocolates can sell out quickly. In addition, shipping and delivery may be longer due to the high demand during the holidays, including Valentine's Day.
Check The Seller - Make sure to buy from a reputable seller for high-quality chocolate products. Read reviews and check the seller's reputation before making a purchase.
Secure Packaging - You can contact the seller and make a request to have your orders placed in double packaging for extra-protection. This is to ensure that your chocolates arrive in good condition.
Consider The Recipient's Preferences - Consider the person you are buying for and their preferences. Tailoring your gift to their tastes will make it even more special. Also, it's always a good idea to check the ingredients to ensure that you or your loved one can indulge in the richness of the chocolate.
Looking for something other than chocolates? Check out these designer dolls from Disney.
Surprise Your Loved Ones Via Mail Forwarding
Are you thinking of purchasing chocolates from the USA and surprising your loved one at home for Valentine's? We got you! Always choose Shippsy whenever you're looking for the best package forwarding US to Canada. Shippsy makes your shipping experience more convenient by having your item delivered to your location for a small fee.
How It Works
The Package Forwarding service is one of Shippsy's premium shipping services for US package forwarding to Canada. Once your shipment arrives at Shippsy's Canadian warehouse, the warehouse team will attach the proper label to your parcel. Shippsy works with Canada Post to ship your item* for a minimal cost.
*Note that Shippsy can only mail out goods that weigh 50 lbs and below. A parcel above the weight mentioned earlier will have to be picked up at the Canadian warehouses.
Contact Us
Call us at 888-744-7779 or message us on our website if you have further questions about Shippsy's shipping cost and services or need assistance with your cross-border shipment. Also, follow us on our social media accounts to get the latest updates about Shippsy!
Key Takeaway
Many great chocolate brands in the United States are worth considering when looking for high-quality chocolate. Concerned about the pricey shipping fee? Don't worry about it. Instead, use Shippsy and enjoy the best cross-border shipping service for the lowest shipping rates.