The cosmetics industry has been rising recently, with many celebrities venturing into the business. With the help of social media and fanbases, beauty brands released by famous names quickly sell out at different stores.
One music personality who successfully created a name in the beauty industry is Rihanna. Her famous brand, Fenty Beauty, garnered the approval and support of many makeup enthusiasts and cosmetics customers from different countries, including Canada.
Read further into this article to get ideas on the hottest Fenty Beauty Products you should use in welcoming the new year. Plus, be amazed by how affordable cross-border shipping is with Shippsy's US to Canada shipping cost.
From Pop Icon to Self-Made Female Billionaire
Robyn Rihanna Fenty, famously known as Rihanna, started her epic music career in 2007 with the release of her chart-topping hit, "Umbrella." Ten years later, she launched her cosmetics and skincare brand, Fenty Beauty, in 2017. The brand was created "so that women everywhere would be included." Fenty Beauty develops makeup formulas that fit all skin types and shades.
In June 2022, Forbes unveiled its latest list of "America's Richest Self-Made Women," with Rihanna getting the 21st spot and being the youngest on the list to have a net worth of more than one billion dollars.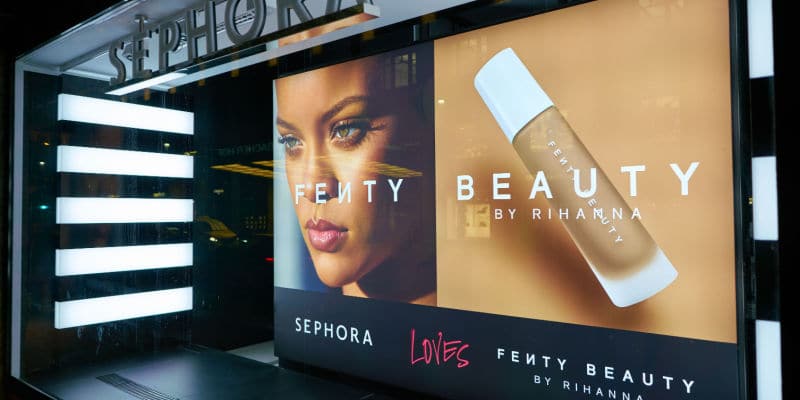 Lip Luminizer
This item is a holy grail for those who want that expensive and luscious-looking shine on their lips. The Glass Bomb Universal Lip Luminizer is available in seven shades made of vegan ingredients (Fenty Glow, Diamond Milk, Fu$$y, Glass Slipper, $weet Mouth, Cheeky, and Hot Chocolit). And what does Rihanna have to say about the product? "I made it because I wanted everyone to get kissed more."
Longwear Foundation
Here's a soft, matte, long-wear foundation that is made with Climate Adaptive Technology allowing your skin to fight heat and sweat while looking fresh as ever. The good thing about the Pro Filt'r Soft Matte Longwear Foundation is it is lightweight and instantly smooths your skin.
Full-Size Bundle
Do you want to know Rihanna's three must-have steps for good skin? The answer is in her Fenty Skin Start'rs Full-Size Bundle. To follow Rihanna's skincare routine, order this bundle, which comes with the Total Cleans'r Makeup-Removing Cleanser With Barbados Cherry, Fat Water Niacinamide Pore-Refining Toner Serum With Barbados Cherry, and Hydra Vizor Invisible Moisturizer Broad Spectrum SPF 30 Sunscreen With Niacinamide + Kalahari Melon.
Body Cream
Love your skin more by giving it more attention and hydration! This Butta Drop Whipped Oil Body Cream is made with tropical oils and shea butter that gives your skin deep hydration and intense moisture. This product also has glycerin as one of its main ingredients, leaving your skin with a healthy-looking sheen and vibrance.
Refillable Lipstick
The last item on this list is another 100% cruelty-free game-changer in your makeup set. This Fenty Icon Semi-Matte Refillable Lipstick Set comes in 13 shades of reds and neutrals curated by Rihanna herself! It leaves a creamy, semi-matte finish packed with moisturizing and plumping hyaluronic acid and vitamins C and E.
Click this link to find more products Rihanna wishes to bring out every customer's best and most beautiful version. Purchase them now and ship your orders from the United States to Canada only with Shippsy!
Unmatched Shipping Options
Shippsy is always proud of the services it provides to customers with different shipping needs.
Customers can personally claim their items via Parcel Pickup Service by going to a Shippsy branch with the order pickup sheet and a copy of their photo ID. Claiming process takes only a few minutes and you're good to go with your packages.
However, if you wish to have your goods delivered to your homes, choose the Parcel Forwarding Service. Your goods will be forwarded to a carrier (Canada Post) to process the home delivery* for a minimal fee. Lastly, if you're purchasing items in volumes or oversized measures, the Pallet Service is the best option for you.
Not sure what to choose? Don't hesitate to give us a call and our friendly customer service agents will be happy to assist you.
*Delivery time depends on Canada Post.
High-Quality Service for Low Prices
With Shippsy, the prices to ship from US to Canada cost less than you expect. While most Canadian customers think cross-border shipping is expensive and strenuous, Shippsy begs to differ. Shippsy always does its best in services and rates.
Here's a quick price guide for you. A regular package's Shippsy shipping cost from US to Canada is $6.99*. It should weigh not more than 10 lb; otherwise, a +$0.45 will incur for every additional pound up to 100 lbs. A shipment over 100 lbs in weight or 100 inches in total dimension will be charged as a skid/pallet.
Moreover, you may also take advantage of a 25% discount on the total handling fee when you request three or more packages on the same day (not applicable in the regions of British Columbia and Quebec). Plus, you are given free storage for up to 30 days (a $1.00 storage fee per day will apply after the first 30 days. Unclaimed shipments for more than 50 days will be disposed of).
Use a US-to-Canada shipping cost calculator to estimate your total payable amount.
Check out Shippsy's pricing page or contact customer service for more details about the shipping rates.
*Shipping rate for British Columbia starts at $7.99. Shipping rate for Quebec starts at $9.99. Taxes and duties still apply.
Key Takeaway
Rihanna's Fenty Beauty makes anyone from anywhere in the world shine bright like a diamond with its excellent and skin-friendly products. Thus, Canadian shoppers will love the wide array of cosmetic goods on their website. So, what are you waiting for? Shop now and ship them to Canada only with the best in providing a one-of-a-kind cross-border shipping experience for any shipping option: Shippsy.