The Walt Disney world gives a lot of happiness to fans of different ages. Kids and kids at heart are fond of its movies that feature lovable characters. So, to satisfy this liking, Disney manufactures items of your favorite characters and movies in many stores and outlets worldwide.
Among Disney's most popular characters are Disney princesses. They give a positive impact on children as they portray good role models. From Disney's classic movies to its newest franchises, these girls never fail to show values that viewers love.
For fans of Disney princesses, you're in the right place! Read this article to know more about the limited-edition designer dolls from Disney Store, Canada shipping with Shippsy, and more!
Jasmine Doll
This Limited Edition Jasmine Doll is presented in celebration of the 30th year of Disney's animated classic, Aladdin. In this edition, Princess Jasmine is clothed in a navy blue bare midriff gown with sheer puff sleeves and embroidered details that represent this character's royalty, strength, and independence. This product comes with a Certificate of Authenticity and elegant window display packaging.
Belle Doll
This Princess Belle is among Disney's Designer Collection Limited Edition dolls. Princess Belle is a character who shows intelligence, boldness, and selflessness. Its designer, Heidi Ticehurst, presents Belle's aforementioned characteristics through this doll's burgundy velvet gown with golden embroidered rose details. The doll comes with a display stand and a Certificate of Authenticity.
Tiana Doll
Another Designer Collection Limited Edition doll is Tiana from The Princess and the Frog. Inspired by 1920s and 1930s fashion, Princess Tiana's gown is created with embroidered shooting stars, elegant lining, a velvet cape with a faux fur collar that depicts her high-class personality, intelligence, and talent. Moreover, this doll also comes with an art deco display stand and a Certificate of Authenticity.
Merida Doll
Disney and Pixar feature this Merida Limited Edition Doll celebrating Brave's 10th anniversary. This Merida Doll comes with the character's signature bow and arrow. Moreover, our bold, brave, and daring princess is clothed in a plush, velvet gown with golden embroidery at the hem and beautiful ringlet hair. It includes a Certificate of Authenticity, elegant window display packaging, and a stand.
Snow White Doll
Disney also presents the Snow White Limited Edition doll to honor its 87th anniversary. In this edition, Snow White is reimagined as an enchanting bride wearing her detailed storybook white bridal gown with embroidered gemstones and details. She also wears a jeweled brooch and a dramatic veil with rosettes that are perfect to match her innocence and pure beauty. The item is fully poseable on a display stand.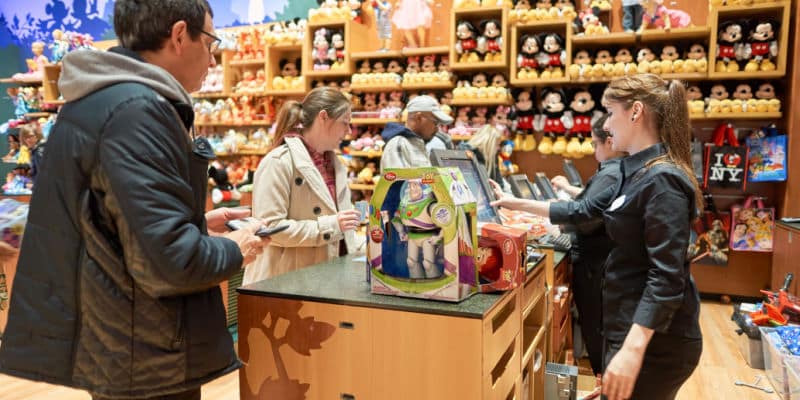 Does Disney Store Ship To Canada?
If you're asking, "Does the Disney Store ship to Canada?" The answer is "Yes, it does!" The Disney Store offers international shipping to many countries, including Canada. However, you might have to pay a hefty amount since the shipping and handling charges are determined by your order value (including the subtotal of all your items, gift wrap, gift box, and personalization requests).
But, you can minimize your shipping expenses with the right shipping provider. After shopping for your favorite items from the Disney Store, shipping to Canada should be done only with Shippsy's shipping method. Cross-border shipping is guaranteed to be easy, fast, affordable, and high-quality!
How Much It Costs to Ship With Shippsy
Regardless of your item's worth, the rate for a regular parcel that weighs less than 10 pounds starts at $6.99*, plus the applicable taxes and duties. Shippsy offers a 25% discount on the handling charges if you request more than three packages on the same day (this discount is not applicable in British Columbia and Quebec). For packages that exceed 10 pounds, a $0.45 fee will incur per pound (up to 100 pounds). A package that weighs more than 100 lbs and measures 100 inches in dimension will be charged for skid/pallet pricing.
Your payment covers the border clearance and transportation. Plus, you have 30-day free storage if you cannot claim your parcel immediately. Meanwhile, unclaimed packages for more than 30 days will incur a $1.00 storage fee per day for another 30 days. Moreover, Shippsy serves the right to properly dispose of unclaimed packages after 60 days.
*Prices are shown in Canadian dollars. The shipping cost starts at $7.99 for British Columbia and $9.99 for Quebec. Taxes and duties apply.
How Is Payment Done?
You need to add your credit card to your account before you can create a request for your shipments. The Shippsy fee, along with the applicable tax and duty that Canada Customs assesses during border clearance, will be charged to your account. Payment is done by adding account credits. Your card information is secured and will not be kept by the system for other purposes. Once payment is done, you can proceed to pick up your package.
Contact customer service if you have any questions concerning Shippsy's rates and services.
Key Takeaway
Visit the Disney Store now and order your all-time favorite Disney characters' collectible items. Enjoy their wide selection of products and special offers to make your Disney heart happy! Then, don't forget to use Shippsy to send your packages across the Canadian border.
Shippsy does not handle international shipments from other countries to Canada. All services are exclusive to cross-border (United States-to-Canada) shipments only. Meanwhile, Canadian business owners can take advantage of Stallion Express' services. Enjoy the best and most affordable shipping services for domestic shipping, Canada to the United States, and international shipping.
Looking For Shopping Ideas?
Here are some of our top shopping recommendations: