No, Brandy Melville does not ship directly to Canada. However, this should not hold you back from shopping for their products as you could use a reputed package forwarder to bring their products across the border.
What Is Brandy Melville?
Brandy Melville is an Italian fashion brand selling clothing and accessories. This popular brand has an all-American teen fashion style and aesthetic that targets young and fashionable female teens (and, of course, those young at heart!).
With over 97 store locations across the world, it is no surprise that young fashionistas just can't get enough of all the fashion pieces from the said brand. If you're a Canadian online shopper looking for comfortable, high-quality, and trendy fashion items, consider shopping at Brandy Melville!
By wearing their products, you will definitely pass the Coachella vibe or look like you come from straight out of Pinterest.
Is Brandy Melville Shipping To Canada Service Available?
While there are Brandy Melville physical stores in Canada (in Montreal, Vancouver and Toronto), the product options and size variations are limited. But, don't let this stop you from getting your hands on all the great items from Brandy Melville. To enjoy their stylish products, simply go to their US shopping site and create your account.
Note that while they do not currently offer direct Canada shipping, you can always use a US-to-Canada package forwarder to get your items within a few days for a small shipping fee.
How To Ship Brandy Melville Items To Canada?
Package forwarders play an important role when shipping items from American stores that do not ship to Canada. Thus, to lock in a great cross-border shopping and shipping experience, choose a reliable package forwarder that ensures the quality of shipping options.
A reliable package forwarder - like Shippsy - will help you get access to an unlimited number of stores and items from the USA so you won't have to worry about dealing with complicated customs paperwork and a lengthy transit time.
So, next time you shop at your favourite shopping site from the US, choose to ship your orders using Shippsy. Remember to use your free Shippsy US shipping address when placing your orders.
Celebrities That Shop At Brandy Melville
Now, let's go to the best part: getting the look from celebrities! Here are some of the iconic beauties in the fashion and film industry who were spotted wearing some trendy items from Brandy Melville.
Kaia Gerber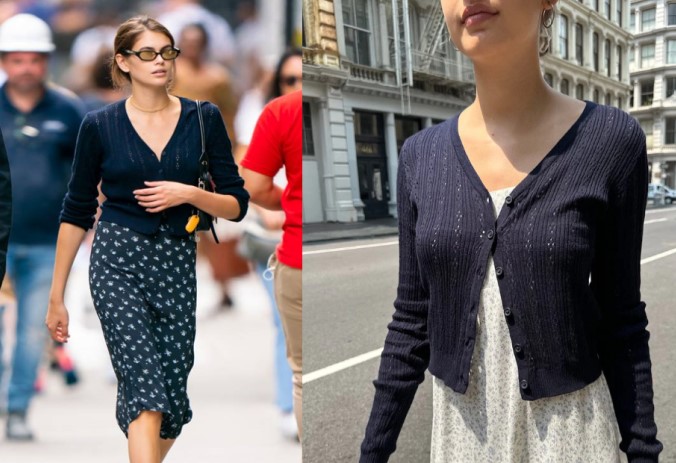 Photos taken from: whowhatwear.co.uk and Brandy Melville
Kaia Jordan Gerber is an American actress and model. She is the daughter of the famous model, Cindy Crawford, and businessman, Randy Gerber. Born in 2001, Kaia follows her mother's success in the spotlight as she has partnered with multiple brands and starred in Babylon (2022), American Horror Story (2011), and Shell.
Get The Look
Kaia was spotted wearing Brandy Melville's super-affordable button-down cardigan. This Brandon Melville Shannon Super Thin Cotton Sweater in Navy colour is surely a must-have for family events or special occasions when you want to look neatly covered yet still very chic!
Kendall Jenner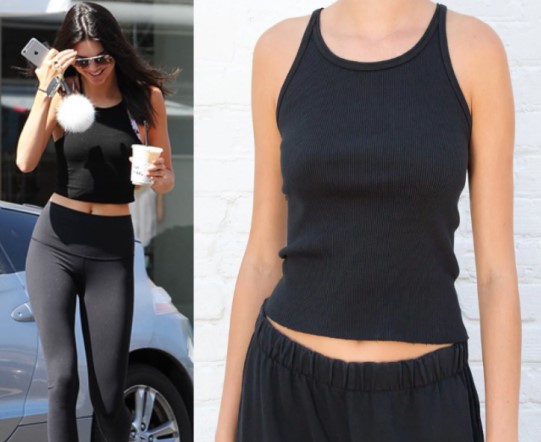 Kendall Jenner is an American model, media personality, and socialite. She rose to fame in the American hit reality television show, Keeping Up With The Kardashians, and became one of the most sought-after runway angels of Victoria's Secret.
Get The Look
Achieve Kendall Jenner's simple yet stylish casual look with Brandy Melville's Marisa Cropped Tank Top. This basic ribbed cotton tank top with a racerback and raw hem will surely make you feel comfortable and stylish whenever and wherever!
Lily Rose-Depp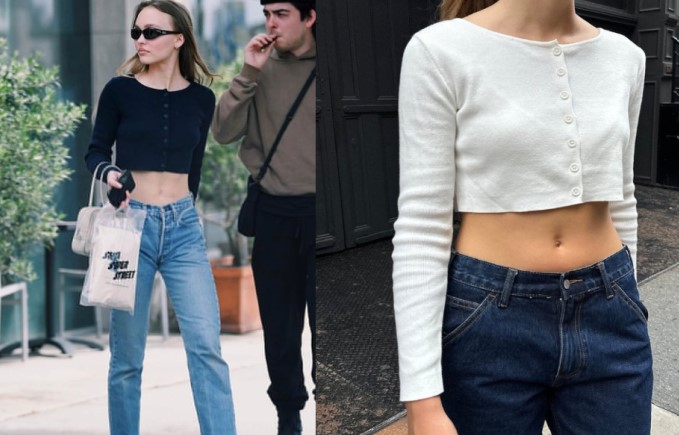 Lily Rose-Depp is a French-American actress and model. Born to actors Johnny Depp and Vanessa Paradis, Lily is also making her way toward making a mark in the world of film and fashion. She was included in the casts of Yoga Hosers (2016), The King (2019), and in the ongoing American drama television series, The Idol.
Get The Look
We surely can't get enough of Lily Rose-Depp's fashionable styles. With over 8 million followers on Instagram, this stunning artist shares her styles - from glam to casual. To copy one of her street styles, you may want to get your hands on Brandy Melville's Athelia Knit Top.
Sofia Richie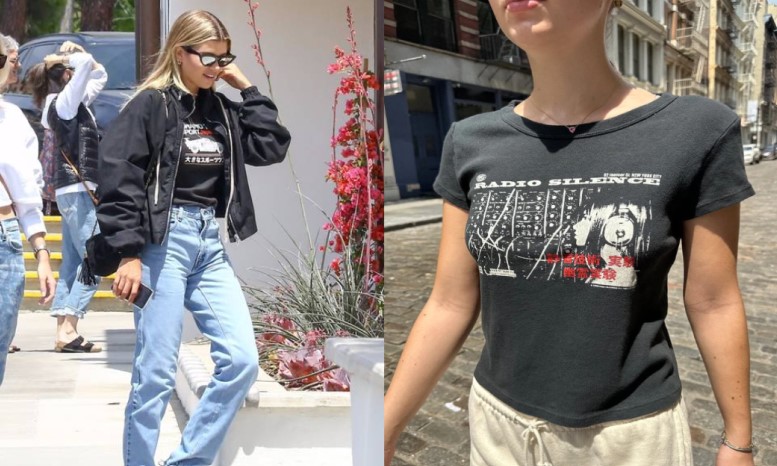 Sofia Richie Grainge is an American social media personality and model born to singer Lionel Richie. She first caught the attention of the public when she was featured in Vogue. She is also known for being the face of brand campaigns from big companies including Tommy Hilfiger, Michael Kors, and Adidas.
Get The Look
Everybody loves a cool shirt that goes with whatever style you want - such as this Brandy Melville Hailie Top which Sofia Richie was once spotted wearing. With its vintage print, this shirt will definitely make you a stunning head-turner on the streets!
Follow Brandy Melville On Social Media
Get the latest updates and announcements from Brandy Melville by following @brandymelvilleusa on social media! Watch out for their features about the newest trends, updates, and even their brand events.
Conclusion
Whether you're shopping for clothes for your personal use or looking for the perfect gift for a loved one, consider shopping at Brandy Melville. Don't worry about shipping restrictions, we bring top US brands to Canadians with ease.
Call Us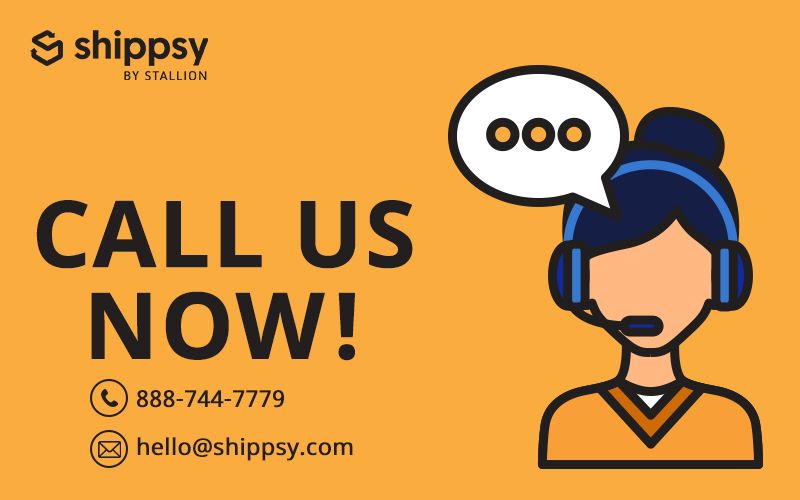 For more details about how Shippsy makes cross-border shipping wonders, you may visit our website or you may also call us at 888-744-7779. We want to hear from you!